1-877-4-SPRUCE | info@aircraftspruce.com
Aircraft Spruce & Specialty Co.
Corona, CA | Chicago, IL
Wasilla, AK | Peachtree City, GA
Brantford, ON Canada
FREE SHIPPING ON ORDERS OVER $350 (USA ONLY - SOME EXCLUSIONS APPLY) | 877-4-SPRUCE
EAM TITAN-XF LIFE VEST
Select Cover:
Blue
Select Harness:
With D Rings
Without D Rings
Overview
Approvals: USA FAA TSO-C13f

The Titan-XF Life Preserver is a manually inflatable life preserver designed for wear by passengers and crew aboard an aircraft during flight over water. While in flight, the Titan-XF is worn deflated and folded to a compact size to provide maximum comfort and mobility for the wearer. When fully inflated, the Titan-XF provides 35 lbs. of buoyancy to help the wearer stay afloat while in the water.

The Titan-XF Life Preserver is designed with an open area collar to be placed over the head and onto neck and shoulder area, so that the vest rests on the chest of the wearer. The vest is secured about the waist to the wearer using a harness strap. Inflation is accomplished by either CO2 or oral inflation.

Each Titan XF is equipped with retro-reflective tape on the buoyancy cell, whistle and light and battery assembly.
Features
Dual inflatable buoyancy cell
High visibility with urethane coated nylon
Flame resistant orange or blue fabric (420 denier nylon)
Three retro-reflective tape strips and a light assembly system
Compact size and shape
Optional signal kit
Specifications
Inflated Buoyancy 35 lbs. (150 Newtons) nominal
Inflated Volume 970 cu. in. (16 liters) nominal
Approvals USA: FAA TSO-C13f
Category of Preserver Adult Constant Wear
Weight range of user For persons weighing more than 90 lbs. (41 kg)
Dimensions
Inflated 20 x 12 x 12 inches, typical (50.8 x 30.48 x 30.48 cm)
Weight 2.75 lbs. (1.25 kg)
Inflatable Buoyancy Cell
Material
Construction 2 Independent Cells
Urethane Coated nylon
RF Heat Sealed Seams
Inflation System Manual CO2 and an Oral Inflation Tube
Cover Color Orange or Navy Blue
Environmental
Temperature Functional Range: -40 to 140 oF (-40 to 60 oC)
Storage Range: 0 to 120 oF (-17.8 to 48.9 oC)
Humidity Functional Range: Up to 95% Relative Humidity
Storage Range: Up to 70% Relative Humidity
Altitude -2000 to 45,000 feet above sea level
CO2 Gas Charge 2 x 0.035 lbs. (2 x 16 g)
Standard Features - Whistle
- Retro-reflective Tape, SOLAS Grade
- Water Activated Light
Service Life Indefinite if unit continues to pass periodic maintenance inspection
Frequency of Inspection Every 24 months
Dimensions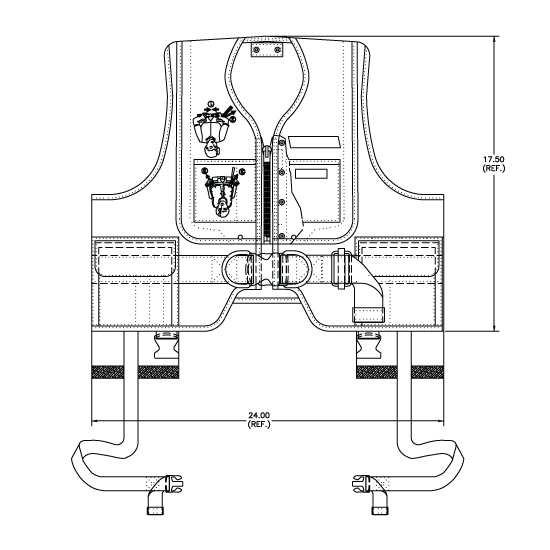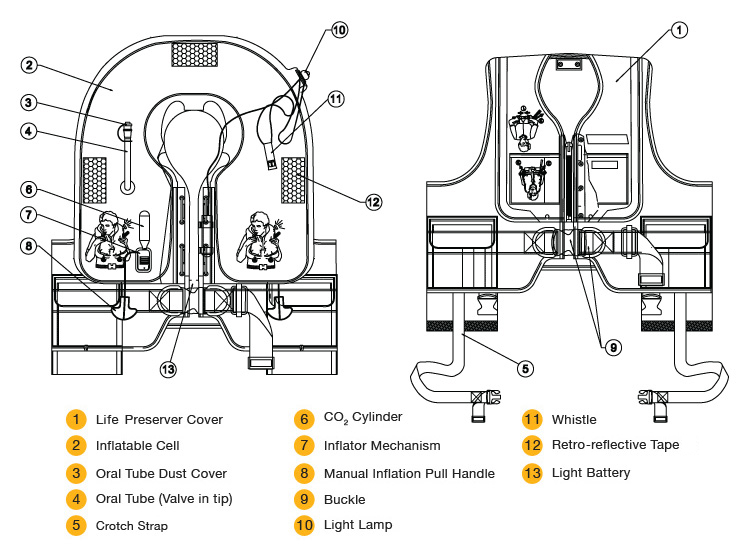 Instructions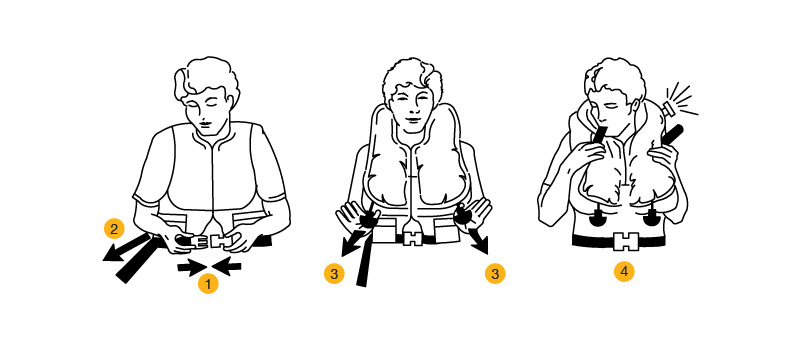 Customers Also Viewed
Frequently Purchased With
Q&A
Please note, Aircraft Spruce's personnel are not certified aircraft mechanics and can only provide general support and ideas, which should not be relied upon or implemented in lieu of consulting an A&P or other qualified technician. Aircraft Spruce assumes no responsibility or liability for any issue or problem which may arise from any repair, modification or other work done from this knowledge base. Any product eligibility information provided here is based on general application guides and we recommend always referring to your specific aircraft parts manual, the parts manufacturer or consulting with a qualified mechanic.
Q: Are there pockets on this EAM Titan XF Life Vest? The picture shows them but nothing is mentioned (such as their dimensions) in either the 'features' or 'overview' descriptions. I need to know what, if anything, can be carried on the vest.
Per the supplier: The typical size of the Titan-XF pockets is 7.25"(L)X 5.5"(W)X 1.25"(D). You can carry what you want in these pockets.