1-877-4-SPRUCE | info@aircraftspruce.com
Aircraft Spruce & Specialty Co.
Corona, CA | Chicago, IL
Wasilla, AK | Peachtree City, GA
Brantford, ON Canada
EVERYTHING FOR PLANES AND PILOTS SINCE 1965 | 877-4-SPRUCE
YETI® HOPPER™ FLIP 18 SOFT COOLER
Select Color:
Charcoal
Coral

Sagebrush Green
Overview
The weekend is young, so pack up your new Hopper Flip 18 and head for the hills. The bigger build suits your larger hauls and longer expeditions. Set out with your lunch while you work for your dinner, and have a couple cold ones to kick back with after. Hopper Flip 18 is durable, leakproof and versatile with the HitchPoint™ Grid for tools and accessories. And like all YETI coolers, it's equipped with superior insulation to keep the cold for days.
Features
DRYHIDE™ SHELL: The Hopper's high-density fabric is waterproof and resistant to mildew, punctures, and UV rays. The liner is made from an FDA-approved food-grade material.
COLDCELL™ INSULATION: Closed-cell rubber foam offers far superior cold-holding to ordinary soft coolers.
HYDROLOK™ ZIPPER: The toughest, highest-performing waterproof and leakproof cooler zipper in the world.
WIDE-MOUTH OPENING: Allows easy access and visibility to your contents.
HITCHPOINT™ GRID: Easily attach pretty much anything, including the MOLLE Zinger & MOLLE Bottle Opener.
Specifications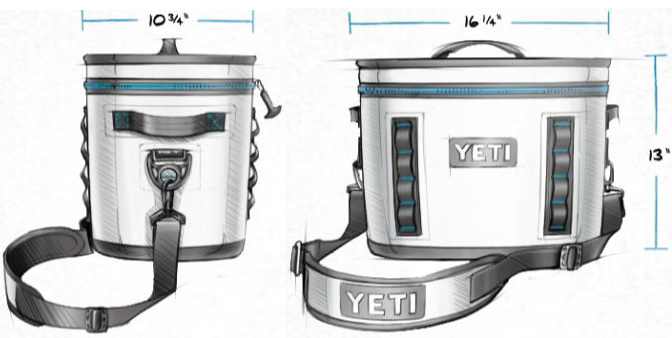 Outside: 10-3/4" X 13" X 16-1/4"
Inside: 8-1/2" X 10-1/4" X 14-1/4"
Empty Weight: 5.1 LBS
Cans of Beer: 20
Pounds of Ice (Only): 24
Benefits
The Hopper Flip is designed to hold its own outdoors. With its rugged exterior and extreme cold-holding insulation, you'll find this soft cooler to be anything but. Check out the features below to learn more.



We get up and go when we're in need of an adventure. But lugging a large cooler out onto the kayak or on a hike — that puts a damper on our day. Yeti needed to make a cooler that was comfortable to haul around but still over-performed in the heat. The Hopper Flip is the perfect solution, with its cubed body, leakproof HydroLok Zipper, and intense ColdCell Insulation. For Yeti, it's the perfect accessory to your day outdoors.
Videos
Accessories
Customers Also Viewed
Frequently Purchased With
Related Items