1-877-4-SPRUCE | info@aircraftspruce.com
Aircraft Spruce & Specialty Co.
Corona, CA | Chicago, IL
Wasilla, AK | Peachtree City, GA
Brantford, ON Canada
FREE SHIPPING ON ORDERS OVER $350 VIA UPS GROUND | 877-4-SPRUCE
CLEVIS PINS
From $0.42 to $9.50
Reference Chart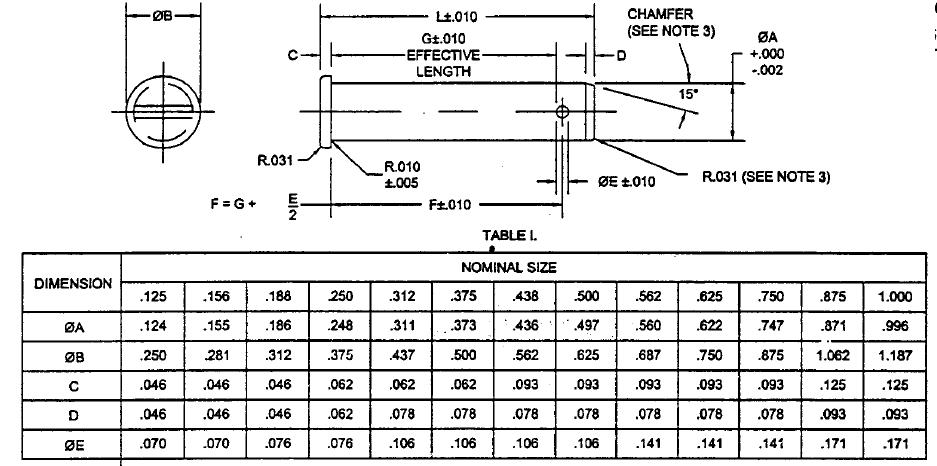 Dash No.
Effective
Length
(in.)
AN392
MS20392
-1C 1/8"
AN393
MS20392
-2C 3/16"
AN394
MS20392
-3C 1/4"
AN395
MS20392
-4C 5/16"
AN396
MS20392
-5C 3/8"
-7
7/32
$0.42
$0.51
--
--
--
-9
9/32
$0.49
$0.48
$0.88
--
--
-11
11/32
$0.63
$0.61
$0.77
$0.79
--
-13
13/32
$0.47
$0.59
$0.68
$2.47
--
-15
15/32
$0.54
$0.61
$0.60
$1.61
--
-17
17/32
$3.35
--
--
--
--
-17
17/32
$0.52
$0.55
$0.62
$0.98
$1.65
-19
19/32
$0.56
$0.60
$0.56
$0.99
$0.98
-21
21/32
$0.54
$0.49
$0.96
$0.86
$1.20
-23
23/32
$0.62
$0.66
$0.60
$1.33
$1.45
-25
25/32
$0.70
$0.55
$0.98
$2.32
$1.18
-27
27/32
$0.65
$0.49
$0.89
$1.05
$1.38
-29
29/32
$0.68
$0.70
$0.58
$1.38
--
-31
31/32
$0.61
$0.69
$0.74
$1.16
--
-33
1-1/32
$0.69
$0.55
$0.66
$0.97
$2.42
-35
1-3/32
$0.61
$0.62
$0.73
$1.21
$2.96
-37
1-5/32
$0.77
$0.82
$0.80
$1.75
--
-39
1-7/32
$0.79
$0.69
$1.12
$0.97
--
-41
1-9/32
$0.65
$0.78
$0.69
$1.11
$1.63
-43
1-11/32
$0.94
$0.89
$0.94
$2.50
--
-45
1-13/32
$0.81
$0.61
$1.04
$1.42
$2.75
-47
1-15/32
$0.94
$0.70
$1.10
$0.98
$1.54
-49
1-17/32
$1.10
$1.32
$0.79
--
--
-51
1-19/32
$1.33
$0.99
$1.29
$1.26
--
-53
1-21/32
$0.77
$0.94
$1.24
$1.79
$4.85
-55
1-23/32
$0.87
$0.81
$0.93
--
$7.88
-57
1-25/32
$0.94
$1.32
$1.35
$4.95
--
-59
1-27/32
$1.02
$1.12
$1.65
--
$1.85
-61
1-29/32
$0.99
$1.47
$1.26
--
-63
1-31/32
$3.80
$0.77
$0.97
$8.90
$2.64
-65
2-1/32
$0.88
$2.12
$0.89
--
$3.85
-67
2-3/32
$1.83
$1.18
$1.45
--
$1.40
-71
2-7/32
--
$1.76
$1.79
$8.60
--
-73
2-9/32
--
$3.45
$2.17
--
$3.65
-75
2-11/32
--
--
$0.99
--
CALL
-77
2-13/32
--
--
$1.36
--
--
-79
2-15/32
--
$0.87
$3.95
--
--
-81
2-17/32
--
$4.35
$1.24
--
$9.50
-83
2-19/32
--
$1.89
--
--
--
-85
2-21/32
--
$1.69
$0.87
$1.93
--
-87
2-23/32
--
$1.47
--
--
--
-89
2-25/32
--
$2.12
--
$1.32
--

-91


2-27/32
--
--
--
--
--
-93
2-29/32
--
$1.10
--
--
--
-95
2-31/32
--
--
$1.23
--
--
-97
3-1/32
--
--
$4.60
--
$5.50
Overview
Made of alloy steel per specification MIL-P-5673 and cadmium plated per QQ-P-416A, Type lI, Class 3. Provided with drilled hole for cotter pin. Used with clevis forks and in secondary controls which are not subjected to continuous operation.
Drawing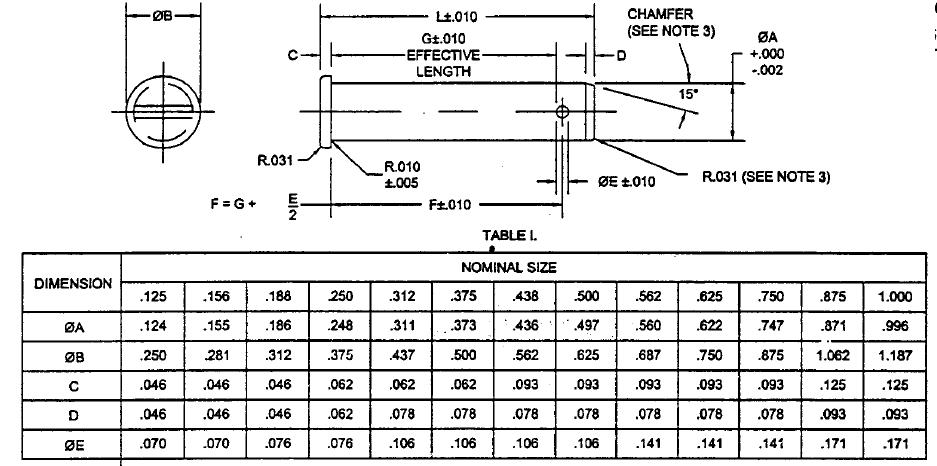 Customers Also Viewed
Frequently Purchased With
Reviews
Im not really reviewing clevis pins. I just wanted to say thanks to Spruce for the continuous great job they do on everything. Thanks for the super selection and great prices and customer service. Thanks for not gouging us on shipping and for the superior shipping service and choices and customer communication. All companies should operate like Aircraft Spruce does. 10 Stars for Aircraft Spruce.
Kurt E
July 15, 2019
Perfect
Philip H
July 13, 2019
As advertised - Arrived on time - No surprises.
Gary L
December 7, 2018
Strong compact size makes for a clean look and secure installation even on non-aircraft projects.
Tim C
October 25, 2018
What an amazing product, was so excited when it arrived had to show all of my friends.
Dan C
July 26, 2018
precisely what I ordered,
Frank K
June 5, 2018
Works like a clevis pin should. The whole order of the pins and other things was handled very well. No complaints. Great service.
Douglas E
June 3, 2018
Excellent as ordered
Wesley D
November 30, 2017
This is the replacement clevis pin for the Beechcraft NLG retract rod. Classified as shear pin, this cuts before any damage to the gear system, in case of an obstruction in gear cycling. They need to be checked, and new one installed.
Larry M
October 23, 2017
Q&A
Q: I am ordering some clevis pins (AN394-21 and AN394-41). What is the size of the hole diameter for the cotter pin?
This measures out to .080" but has a +/- .010 tolerance.
Q: What is the CLEVIS PIN item # for turnbuckles AN150-32S?
You will need a AN394 clevis pin for a AN150-32S turnbuckle.