1-877-4-SPRUCE | info@aircraftspruce.com
Aircraft Spruce & Specialty Co.
Corona, CA | Chicago, IL
Wasilla, AK | Peachtree City, GA
Brantford, ON Canada
EVERYTHING FOR PLANES AND PILOTS SINCE 1965 | 877-4-SPRUCE
CLEVIS PINS
From $0.42 to $9.50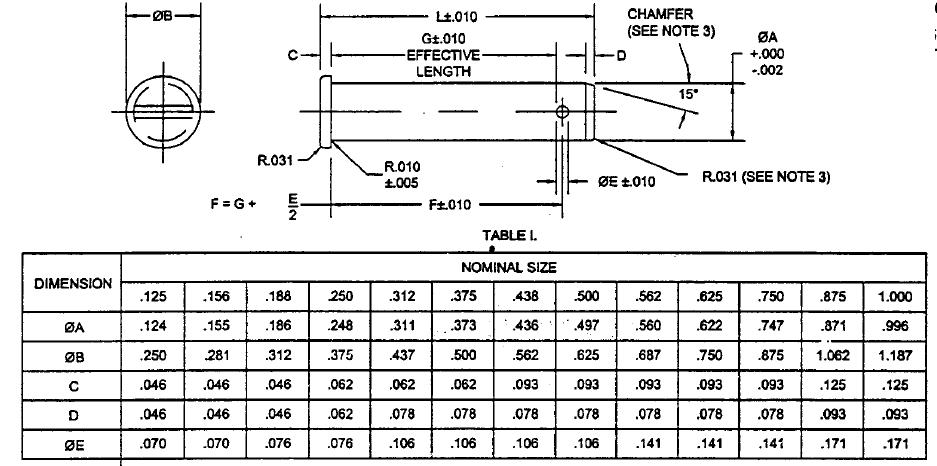 (Hover to zoom | Use mouse wheel for +/-)
Dash No.
Effective
Length
(in.)
AN392
MS20392
-1C 1/8"
AN393
MS20392
-2C 3/16"
AN394
MS20392
-3C 1/4"
AN395
MS20392
-4C 5/16"
AN396
MS20392
-5C 3/8"
-7
7/32
$0.42
$0.51
--
--
--
-9
9/32
$0.67
$0.58
$1.38
--
--
-11
11/32
$0.63
$0.61
$0.77
$2.67
--
-13
13/32
$0.47
$0.59
$0.68
$2.47
--
-15
15/32
$0.54
$0.61
$0.60
$2.43
--
-17
17/32
$0.52
$0.70
$0.79
$1.38
$2.72
-19
19/32
$0.56
$0.73
$0.56
$1.57
$2.55
-21
21/32
$0.66
$0.57
$0.96
$2.68
$2.22
-23
23/32
$0.62
$0.66
$0.70
$2.51
$2.23
-25
25/32
$0.70
$0.72
$0.98
$2.32
$8.50
-27
27/32
$0.65
$0.66
$0.89
$1.05
--
-29
29/32
$0.68
$0.92
$1.01
$2.37
--
-31
31/32
$0.97
$0.69
$0.84
$1.16
--
-33
1-1/32
$0.69
$0.55
$0.82
$1.95
--
-35
1-3/32
$0.61
$0.62
$0.73
$1.21
$3.35
-37
1-5/32
$0.79
$0.82
$0.80
$1.75
--
-39
1-7/32
$0.79
$0.91
$1.12
$0.97
--
-41
1-9/32
$0.78
$0.78
$0.97
$1.11
$1.63
-43
1-11/32
$4.80
$0.89
$0.94
$2.50
--
-45
1-13/32
$1.59
$0.77
$1.04
$1.42
$5.35
-47
1-15/32
$1.33
$0.70
$1.10
$2.73
$1.54
-49
1-17/32
$1.10
$1.32
$0.79
--
--
-51
1-19/32
$1.33
$0.99
$1.88
$1.26
--
-53
1-21/32
$0.77
$1.26
$1.24
$1.79
$5.85
-55
1-23/32
$0.87
$1.80
$0.93
--
$7.88
-57
1-25/32
$1.54
$1.32
$1.35
$4.95
--
-59
1-27/32
$3.35
$1.12
$1.65
--
$3.80
-61
1-29/32
$2.18
$1.47
$1.26
--
-63
1-31/32
$3.80
$1.43
$2.72
$8.90
$2.64
-65
2-1/32
$2.45
$2.12
$0.89
--
$3.85
-67
2-3/32
$6.65
$1.75
$2.71
--
$2.71
-71
2-7/32
--
$1.76
$1.79
$8.60
--
-73
2-9/32
--
$3.45
$2.17
--
-75
2-11/32
--
--
$0.99
--
CALL
-77
2-13/32
--
--
$1.36
--
--
-79
2-15/32
--
$1.45
$3.95
--
--
-81
2-17/32
--
$5.35
$3.80
--
$9.50
-83
2-19/32
--
$5.35
--
--
--
-85
2-21/32
--
$1.69
$3.99
$3.90
--
-87
2-23/32
--
$1.47
--
--
--
-89
2-25/32
--
$2.90
--
$2.74
--

-91


2-27/32
--
--
--
--
--
-93
2-29/32
--
$2.58
--
--
--
-95
2-31/32
--
--
$2.45
--
--
-97
3-1/32
--
--
$5.80
--
--
Overview
Made of alloy steel per specification MIL-P-5673 and cadmium plated per QQ-P-416A, Type lI, Class 3. Provided with drilled hole for cotter pin. Used with clevis forks and in secondary controls which are not subjected to continuous operation.
Drawing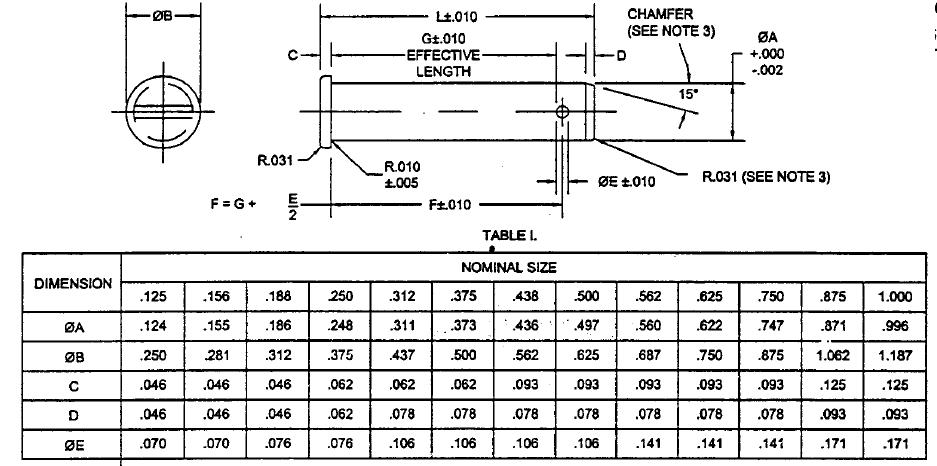 Customers Also Viewed
Frequently Purchased With
Reviews
These arrived in good shape and very quickly. I am very happy with Aircraft Spruce Service and prompt shippment!
William J
March 22, 2021
it is correct
Riad I
November 16, 2020
All of your team is extremely helpful and I receive a terrific service. Especially Suzzane and Monica :) which are I am in continuous contact with Thank you all Oren
Oren R
October 23, 2020
FAST SHIPPING. VERY HELPFULL. WOULD HIGHLEY RECOMEND THEM TO MY FRIENDS.
Chris M
October 19, 2020
One company wanted $42 with shipping. Another$19 when they could get it. Spruce was OTD shipped less than $7. Splendid! 2 day delivery! Thanks Spruce!
Harold R
September 4, 2020
Exactly what I needed at a very reasonable price. Fit my application as needed.
Don
August 13, 2020
Perfect fastener for my rc plane wing struts.
Gary G
June 11, 2020
Thank you the pins worked just like I had them planned. Thanks for the fast service
Terry W
May 18, 2020
just as ordered....very fast shipping.
Daniel H
April 24, 2020
Excellent service.
Barry S
April 11, 2020
Q&A
Q: I am ordering some clevis pins (AN394-21 and AN394-41). What is the size of the hole diameter for the cotter pin?
This measures out to .080" but has a +/- .010 tolerance.
Q: What is the CLEVIS PIN item # for turnbuckles AN150-32S?
You will need a AN394 clevis pin for a AN150-32S turnbuckle.
Q: Which clevis do I need that is MS20392-2C63? Thanks
AN393-63 is the correct cross reference for MS20392-2C63.