1-877-4-SPRUCE | info@aircraftspruce.com
Aircraft Spruce & Specialty Co.
Corona, CA | Chicago, IL
Wasilla, AK | Peachtree City, GA
Brantford, ON Canada
EVERYTHING FOR PLANES AND PILOTS SINCE 1965 | 877-4-SPRUCE
AVERY EFIS SYSTEM PLUMBING KIT
Part# 12-03284
MFR Model# SA-A2
Overview
The fittings capture the tubing with stainless steel retainers. By suppressing the release ring (around the tubing entry port on the fitting), the tubing is easily removed. Within just a few minutes, you'll be able to disconnect and reconnect tubing. O-ring seals, and maintaining precise tubing diameter during the manufacturing process, ensures a reliable seal.

For Experimental Aircraft ONLY. Applicability and suitability of this kit is the responsibility of the builder.

Kit Includes:
7 - 90° Male Elbow
4 - Male Branch Tee
1 - Union Tee
2 - Union 90°
2 - Synthetic Rubber Grommet
30 - Snap Bushing
2 - Female Connector
2 - Static Port
2 - AN Hardware Assembly
1 - 25' 1/4" Green Tubing (Pitot)
1 - 32' 1/4" White Tubing (Static)
1 - 23' 1/4" Blue Tubing (AOA)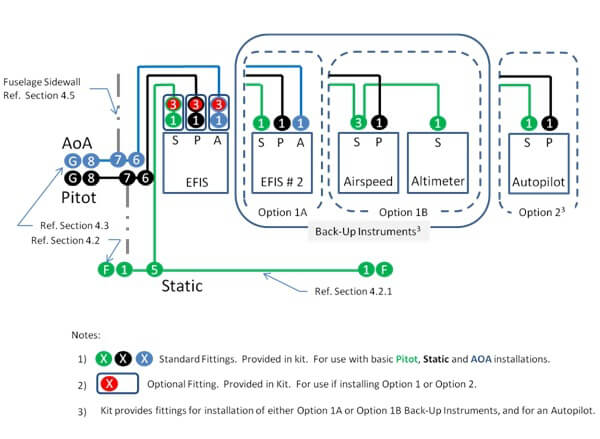 Click Here to Enlarge
Customers Also Viewed
Frequently Purchased With
Reviews
The parts are all you would need for a homebuilt. Easy to install fittings tubing. Theinstruction are good but the pictures are not all clear, some are so dark you cannot read them. Overall a good investment.
Nick A
March 26, 2017
Q&A
Q: Can this tool kit be used with the Garmin pitot/AOA? Or does it work with only Dynon?
Yes, this tool kit can be used with a Garmin Pitot / AOA system.