1-877-4-SPRUCE | info@aircraftspruce.com
Aircraft Spruce & Specialty Co.
Corona, CA | Chicago, IL
Wasilla, AK | Peachtree City, GA
Brantford, ON Canada
FREE SHIPPING ON ORDERS OVER $350 (USA ONLY - SOME EXCLUSIONS APPLY) | 877-4-SPRUCE
WHELEN STROBE SYSTEM A429
From $16.85 to $261.95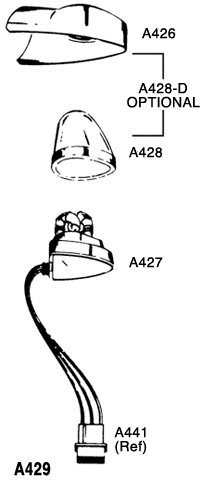 (Hover to zoom | Use mouse wheel for +/-)
| Model # | Description | Part Number | Price | Buy |
| --- | --- | --- | --- | --- |
| A426 | Wingtip Strobe Lens Retainer | | $125.75 | |
| A428 | Wingtip Strobe Lens | | $132.95 | |
| A428-C | Wingtip Strobe Radio Shielded Lens | | $119.75 | |
| A428-D | Wingtip Strobe Radio Shielded Lens plus A426 Retainer assy. | | $261.95 | |
| A427 | Flash Tube Assembly | | $228.00 | |
| A427-M | Flash Tube Assembly with Molex Connector | | $198.95 | |
| A427-4 | Rubber Pad Spacer | | $17.50 | |
| A441 | AMP Connector and 3 Pins | | $16.85 | |
Overview
WHELEN STROBE SYSTEM A429

Customers Also Viewed
Frequently Purchased With
Reviews
The pig tail is 6 inches shorter than the original aero flash product. It's in the avionics shop now for lengthening.
Joe J
Verified Purchase

WHELEN A427 STROBE TUBE ASSY
July 14, 2021
The spacer is an exact replacement for the original.
Dick G
Verified Purchase

WHELEN A4274 SPACER
July 12, 2021
The product was excellent and worked as described.
Edwin W
May 7, 2021
The retainer was the correct retainer, but it was necessary to call Whelen to determine which retainer was the correct one to use as a retainer. The A429 is an older system than the newer A650 system and both look very similar. Note that there was no connecting screw included. The connection of the retainer is somewhat fragile an it is necessary to obtain the proper size and type of screw to use to fix the retainer to the assembly. If the original retainer was lost in flight that may mean that the attachment point has worn and an oversized screw may be required.
John M
September 30, 2019
This was the correct lens. It was necessary to call Spruce to determine that this lens was the correct lens to use as a replacement.
John M
September 30, 2019
Order was requested red UPS and arrived the next day. While it was important to have the pins and connectors as back-up, they were not needed. JKM
James M
April 26, 2018
Works great. Must use AMP connector for Cessna SkyHawk-NOT Molex. Learned the hard way!
Trex
February 28, 2016
This replacement strobe tube assy was for a legacy Grimes system that worked perfectly as a Whelen replacement. It required calling the help line at Whelen, however to find the correct part number. Amazing that Spruce had two in stock! Thank you!!
Brian S
Verified Purchase

WHELEN A427 STROBE TUBE ASSY
June 2, 2021
The connector is well but the photo is confusing for order. Best regards Yves
Yves
February 27, 2018
I was actually looking Molex connectors and thought 'tis was the same since I didn't see Molex in the the catalog.
Gary M
April 2, 2020
Q&A
Q: Does the Whelen A427 come with a connector or just wires?
Yes, the A427 comes with the wire and connector attached.
Q: Does the A427 Flash Tube Assembly replace the Aeroflash 153-009 Flash tube?
Whelen does not show a cross reference for that aeroflash number.