1-877-4-SPRUCE | info@aircraftspruce.com
Aircraft Spruce & Specialty Co.
Corona, CA | Chicago, IL
Wasilla, AK | Peachtree City, GA
Brantford, ON Canada
EVERYTHING FOR PLANES AND PILOTS SINCE 1965 | 877-4-SPRUCE
WHELEN STROBE SYSTEM A600-PR / A600-PG
From $16.85 to $228.95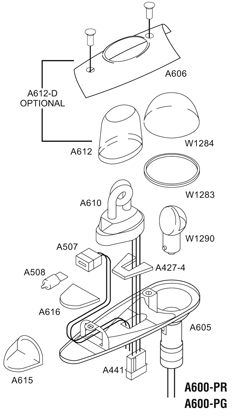 (Hover to zoom | Use mouse wheel for +/-)
| Model # | Description | Part Number | Price | Buy |
| --- | --- | --- | --- | --- |
| A606 | Retainer | | $81.90 | |
| A612 | Magnifying Lens | | $67.75 | |
| A612-D | Radio Shielded Lens Retainer Assembly | | $177.75 | |
| W1284-G | Forward Position Light Lens (Green) | | $88.95 | |
| W1284-R | Forward Position Light Lens (Red) | | $88.95 | |
| W1284-C | Forward Position Light Lens (Clear) | | $228.95 | |
| W1283 | Forward Position Light Gasket | | $21.95 | |
| A610 | Flash Tube Assembly | | $194.75 | |
| A610-M | Flash Tube Assembly | | $117.75 | |
| W1290-14 | 14 Volt Position Light Bulb | | $105.80 | |
| W1290-28 | 28 Volt Position Light Bulb | | $99.85 | |
| A507 | Lamp Socket Assembly for A555 | | $56.75 | |
| A508-14 | HalogLamp for A500, A555, A600 | | $51.75 | |
| A508-28 | Halogen Lamp for A500, A555, A600 | | $52.95 | |
| A427 | Flash Tube Assembly | | $228.00 | |
| A427-M | Flash Tube Assembly with Molex Connector | | $198.95 | |
| A427-4 | Rubber Pad Spacer | | $17.50 | |
| A616 | Gasket for A600 Tail Light | | $17.80 | |
| A605 | Base Plate Assembly | | $144.99 | |
| A615 | Lens for A600 Tail Light | | $119.75 | |
| A441 | AMP Connector and 3 Pins | | $16.85 | |
Overview
WHELEN STROBE SYSTEM A600-PR / A600-PG

Customers Also Viewed
Frequently Purchased With
Reviews
Perfect drop in replacement
Michael A
Verified Purchase

WHELEN W1283 LIGHT GASKET
May 26, 2021
Perfect drop in replacement.
Michael A
Verified Purchase

WHELEN W1284G REPLACEMENT LENS
May 26, 2021
Perfect match
Peter A
Verified Purchase

WHELEN W1284G REPLACEMENT LENS
May 25, 2021
Whelen said my completely dead strobes were due to a shorted tube. They walked me threw diagnosis. Sure enough, this strobe tube solved the problem and restored operation! This is one of the least expensive airplane fixes Ive had. A/S had it in stock and I was good to go in a couple days.
Neil L
February 9, 2021
Love it. Provides just the amount of spacing I needed.
William C
July 13, 2020
This replacement strobe tube assy was for a legacy Grimes system that worked perfectly as a Whelen replacement. It required calling the help line at Whelen, however to find the correct part number. Amazing that Spruce had two in stock! Thank you!!
Brian S
Verified Purchase

WHELEN A427 STROBE TUBE ASSY
June 2, 2021
The position light on our DA 40 was replaced with a cheaper bulb earlier this year and fitting it into the socket was difficult for some reason. It took multiple tries to finally get the bulb to light up. Its just a bulb, right? Well, a few months later the cheaper bulb burned out. So we bit the bullet and bought this one. The bulb went right into the socket, as it should. And it worked the first time. The only reason I didnt give 5 stars was the outrageous price.
Maintenance O
August 24, 2020
Q&A
Q: Whats the difference between the Whelen A610 and the A610-M Flash tube assembly?
The only difference is the connector. The A610 has the standard connector, the A610-M has a Molex connector.
Q: How long is the wiring length of the A610M flash tube assembly with the molex connector attached? Part number 11-03734
The wire lead length is approximately 7-5/8" from the assembly to the end of the molex connector.