1-877-4SPRUCE
1-877-477-7823
Other Customers
Have Also Viewed:
LORD ELASTOMERIC ENGINE MOUNTS - GRUMMAN
See Below for Parts, Pricing, and Ordering
From $61.75 to $269.95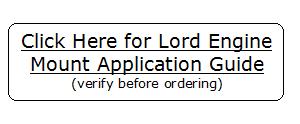 Enter the quantity desired of each item in the Buy column.



Description
Engine Mount
No.
Spruce Part
No.
Price
Buy
Sub-Total
Lord Elastomeric Engine Mount
J-6113-5
08-00387
$61.75
Lord Elastomeric Engine Mount
J-7402-24
07-01115
$137.75
Lord Elastomeric Engine Mount
J-9613-49
07-01128
$181.75
Lord Elastomeric Engine Mount
J-9613-59
07-01132
$269.95

Current Total
Click Add to Cart to add them to your shopping cart
or Add to Wishlist to store them for ordering later.
Note: Please review application guide below to confirm correct part number for your aircraft.

Lord Engine Mount Application Guide (PDF)

These compression type couplings consist of bonded rubber joints pressed into the sockets of metal hubs. These dynafocal engine suspensions provide proper flexible support to isolate engine vibrations and reduce noise transmission to airframe structure in all aircraft applications. Careful design assures maximum strength to hold the engine under ultimate load and emergency conditions. Suspensions also distribute loads in most desirable patterns, control engine motions, accommodate thermal expansion and manufacturers' tolerances.

J-6113-5 J-7402-24 J-9613-49 J-9613-59