1-877-4SPRUCE
1-877-477-7823
Other Customers
Have Also Viewed:
GUARDIAN AVIONICS AERO 353 CO DETECTOR FOR EXPERIMENTAL / HOMEBUILT
Make Selection(s) Below To Order
From $289.00 to $389.00





The AERO 353 has a built-in state-of-the art CO sensor that immediately reacts to the presence of CO. It was designed for pilots who want the unit to be small, so it takes up a minimum of panel space, and provides pilots a peace of mind.

Detector will go into alarm mode within five minutes if CO level is greater than 50 PPM.

The unit has dual light LED alarm; Amber less than 99 PPM and Red 100 PPM and above.
Very simple installation (2-4 hours).
Internal Fan for optimum sensing
Designed for all Piston (Single and Twin Engine Aircraft)
Shielded to prevent EMI (Electro-Magnetic Interference) with Aircraft systems
Audible alarm with varying pitch at 85DB
Front panel lighting (Green and Red)
CO Sensor tested up to 15,000 feet
Temperature ranges 0 F° to 110 F°
Built in Temperature compensating circuit
1 year Limited Warranty
60-day money-back guarantee
AERO 353 is designed to facilitate connection to an external annunciator lamp. This gives an added level of protection if the detector is not within the pilot view.
The annunciator lamp is to be purchased separately. Please see all products section at this web site to order an external lamp.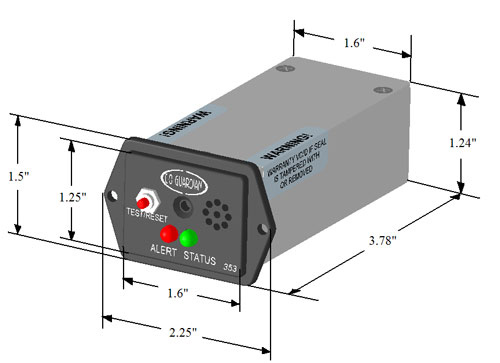 What does the sensor of the CO guardian Aero 353 CO detector do?
The sensor detects the presence of CO and the detector will go into alarm mode within five minutes if CO level is greater than 50 PPM.
---

What is the function of the pressure sensor?
The pressure switch which is the 353P version is for pressurized aircraft. The 353 is for non pressurized aircraft.
---

When the unit is on and no CO is being detected (Almost all of the time) are there any lights on? Please confirm that the product remains dark unless it is in an alarm mode. And that the green LED light is only illuminated when the test button is pressed and the unit tests serviceable.
The green light will always remain on showing the unit is working. In case of a carbon monoxide alert, the pilot will receive an amber alert annunciator light.
---

Does the CO Guardian Aero 353 CO Detector fit a standard Hobbs hole dimensions?
We have added a drawing to the dimensions tab for the CO Guardian Aero 353. Please see the dimensions tab for specific mounting details.
---

Im confused. The specifications include Audible alarm with varying pitch at 85DB but a question about this is the Q+A has an answer that states this unit does not have an audible alarm Which is it?
According to the manufacturer this unit has an audible alarm that will bleep until you press the test/reset button. Once this is done the sound will be muted but the light will remain on.
---