1-877-4-SPRUCE | info@aircraftspruce.com
Aircraft Spruce & Specialty Co.
Corona, CA | Chicago, IL
Wasilla, AK | Peachtree City, GA
Brantford, ON Canada
THE AVIATION SUPERSTORE FOR ALL YOUR AIRCRAFT & PILOT NEEDS | 877-4-SPRUCE
FUEL STIK FOR CIRRUS AIRCRAFT
From $29.50 to $29.50
Overview
Extremely light, high impact plastic tubing with aluminum rings resist damage. Available "Aircraft Specific Scales" Can be downloaded and printed from the website. Can easily be calibrated to any tank using the "Universal" scale. A worksheet, written instructions and even an instructional video are available at the website. We will generate an "Aircraft Specific Scale" from your calibration It's shipping tube doubles as a "Vented Storage Tube". This allows any remaining fuel to evaporate between uses, provides a protection for the life of the unit and reduces manufacturing waste. It's design gives consistent readings even when the fuel in the tank is sloshing around. It's upper and lower rings aide in handling. Large Easy-to-Read numbers observed outside the tank. Quantities given in both Gallons and Pounds! Color coded sections represent approx. 1/3 cruise consumption. It's not limited to your aircraft. Works in tractors, small motors, etc. Will not fall into fuel tank on most aircraft.

100% Made in the USA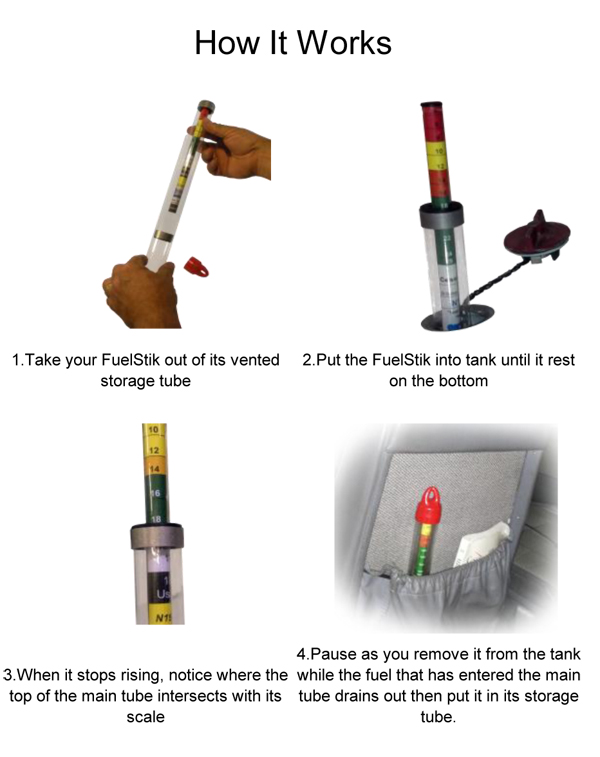 Specifications
Device Size- 10 3/4 In (273 mm) X 1 1/4 in (32mm)
Shipping Tube size- 12 5/8 (320 mm) X 1 1/2 (38 mm)
38g Device Only, 82 g with shipping tube/ documents
Construction: Fuel Resistant Plastic, Aluminum
Videos

//www.youtube.com/embed/yTfs3MecCdg?feature=player_embedded

//www.youtube.com/embed/bTjtHn4ASzw?feature=player_embedded
Customers Also Viewed
Frequently Purchased With
Related Items
Reviews
Easy to use, works like a charm and is accurate. I found my SR22 fuel gages give a good reading but not exactly correct. A bit pricey for something so simple.
Sukumar R
March 17, 2021
Works perfectly with Cirrus SR22 G3 fuel tanks. A quick dip to see how much fuel is in there. Even though I have CiES digital senders, I dip the tanks to cross-check as part of preflight.
Max S
November 13, 2020
I never give anything 5 stars but this product works as advertised appears to be very accurate, is well made, super easy to use and prevents fuel from getting on the wings, could not be any better.
Jr
December 19, 2019
Works in citrus SR22 G6. Nice to be able to accurately set fuel quantity at start up
Bill
August 16, 2019
Well, I figured out why what they are talking about in a 1-star review a hard way. In airplanes with high dihedral (most low-wing aircraft) there is no gas under the filler cap below certain amount. For my Cirrus, unmeasurable with *any* fuel stick quantity is ~12gal per side. The scale on a Fuel Stik for Cirrus indeed starts at 12gal. There is nothing wrong with a stick itself. Its just impossible to stick fuel tanks in some airplanes when fuel level is too low. We are down to the totalizer as the only precise source of fuel remaining. Bummer...
Dmitry
June 12, 2019
I don't understand the one star review that complained that the product could not be used below 24 Gallons. It is capable of accurately reading fuel quantities down to two gallons. Excellent product.
William H
April 21, 2019
Love it! The scale has gallons on one side and pounds on the other. Very good unit.
Tony S
October 25, 2018
I would give this more than five stars if I could. Best fuel stick I have ever used and I have been flying more than 50 years. I was looking for a stick that was calibrated for a SR-22 JEN 1 and this one works perfectly. Really great design.
Roger W
July 15, 2018
Well Done! Works well and is easy to use, will not fall in tank and has a nice storage tube. Very light way and NO CALIBRATION required....properly set up right out of the box!
Mark
February 16, 2018
Excelent
Pedro
May 1, 2017
Q&A
Q: Is this actually calibrated for a Cirrus SR22-G2 or is it just the universal gauge that you have to manually calibrate on your own?
Yes, these are specifically calibrated for the Cirrus aircraft.
Q: Does this work for an SR22 G2 as well?
For the SR22 G2, use part # 05-13079.
Q: Are the SR22 G3 calibrated the same on SR22T G6?
Per Fuel Stik: We have not calibrated one for the G6 but if the total gal are the same it should be okay, however we are not 100% sure.