1-877-4-SPRUCE | info@aircraftspruce.com
Aircraft Spruce & Specialty Co.
Corona, CA | Chicago, IL
Wasilla, AK | Peachtree City, GA
Brantford, ON Canada
EVERYTHING FOR PLANES AND PILOTS SINCE 1965 | 877-4-SPRUCE
FUEL STIK FOR RV AIRCRAFT
From $26.95 to $29.50
Overview
Extremely light, high impact plastic tubing with aluminum rings resist damage. Available "Aircraft Specific Scales" Can be downloaded and printed from the website. Can easily be calibrated to any tank using the "Universal" scale. A worksheet, written instructions and even an instructional video are available at the website. We will generate an "Aircraft Specific Scale" from your calibration It's shipping tube doubles as a "Vented Storage Tube". This allows any remaining fuel to evaporate between uses, provides a protection for the life of the unit and reduces manufacturing waste. It's design gives consistent readings even when the fuel in the tank is sloshing around. It's upper and lower rings aide in handling. Large Easy-to-Read numbers observed outside the tank. Quantities given in both Gallons and Pounds! Color coded sections represent approx. 1/3 cruise consumption. It's not limited to your aircraft. Works in tractors, small motors, etc. Will not fall into fuel tank on most aircraft.

100% Made in the USA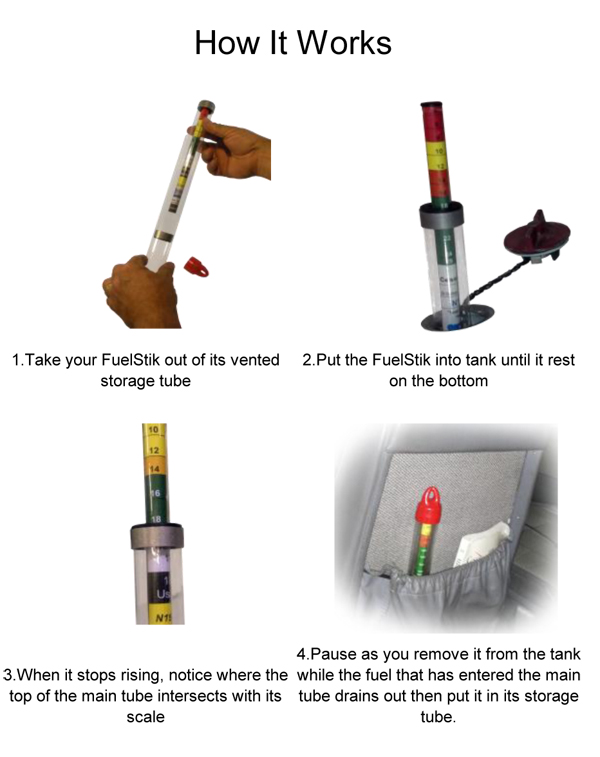 Specifications
Device Size- 10 3/4 In (273 mm) X 1 1/4 in (32mm)
Shipping Tube size- 12 5/8 (320 mm) X 1 1/2 (38 mm)
38g Device Only, 82 g with shipping tube/ documents
Construction: Fuel Resistant Plastic, Aluminum
Videos

//www.youtube.com/embed/yTfs3MecCdg?feature=player_embedded

//www.youtube.com/embed/bTjtHn4ASzw?feature=player_embedded
Customers Also Viewed
Frequently Purchased With
Related Items
Reviews
WORKS GREAT VERY ACCURATE
Al D
October 10, 2019
Does what its supposed to do. Calibrated for my RV8 tanks right out of the box. Since the fuel level sensors in the tanks only read up to 14 gallons, this gives a good way of seeing how much is in each tank from 14 to 21 gal.
Jason R
Verified Purchase

FUELSTIK RV RV8, 21 GAL.
June 24, 2021
Works as advertised. However, they dont tell you that the range is only 10-21 gallons.
Fred M
August 29, 2019
Q&A
Q: Why is this sold as RV specific if it has to be calibrated? All RV models are the same (ie all RV-8 tailwheel). How is it better than a marked rod I make myself? Not to mention I would need to cross-reference a document for the actual fuel quantities. What am I missing?
These do not need to be calibrated, they are pre calibrated for the specific aircraft when ordered. You can change the scale out in these though to use them with different aircraft, those scales would need to be calibrated.
Q: Is there a metric version calibrated litres?
No there is not.