1-877-4-SPRUCE | info@aircraftspruce.com
Aircraft Spruce & Specialty Co.
Corona, CA | Chicago, IL
Wasilla, AK | Peachtree City, GA
Brantford, ON Canada
FREE SHIPPING ON ORDERS OVER $350 (USA ONLY - SOME EXCLUSIONS APPLY) | 877-4-SPRUCE
ROTAX 503 UL REPAIR TOOLS AND GASKET SETS
From $0.79 to $98.50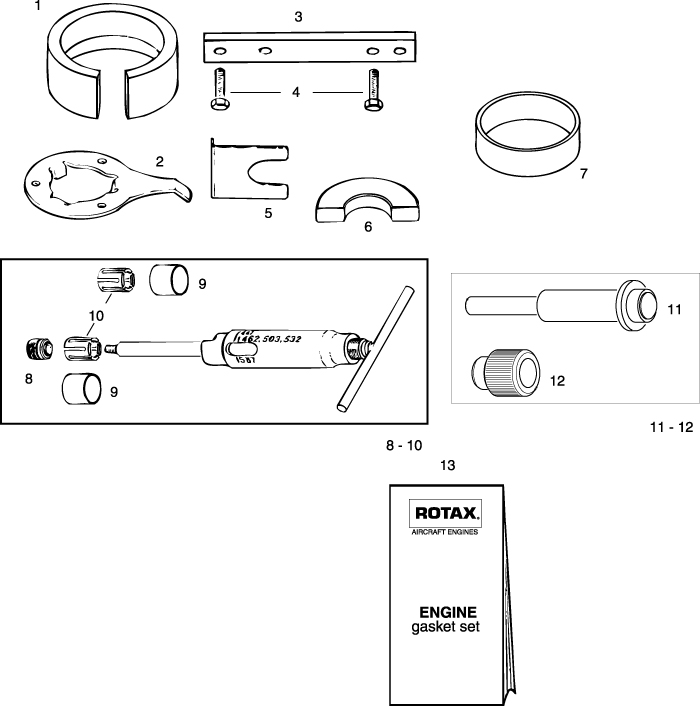 (Hover to zoom | Use mouse wheel for +/-)
Overview
- Items not illustrated
a   for installation of cylinder on the piston 67,5 mm.
b   for installation of cylinder on the piston 72 mm.
c   to hold the fan.
d   for aligning of cylinders at the intake flange.
e   for crankshaft bearing P.T.O. side.
f    for positioning of crankshaft bearing P.T.O. side.
g   for centering of the stator plate.
h   for piston pin 18 mm.
i    for installation of piston pin circlip 18 mm.
j    for the engine.
k   without ignition and externals.
Explanations of symbols and statements in part number charts:
N = Newly introduced part number
s.v. = Still valid. Part was replaced by compatible component and can not be supplied any longer by the producer. Existing stock may be used.
AR = As required. This generally refers to shims, hose, wires, and cable. Measure the amount you need before ordering. Many times there will be multiple listings of different lengths with the same part number. Use individual part descriptions to determine the proper length needed.
n.a or NLA = No longer available, no replacement from Rotax. Part is no longer available due to incompatibility to current production or unavailability of part.
CALL = Please call for price, 800-247-9653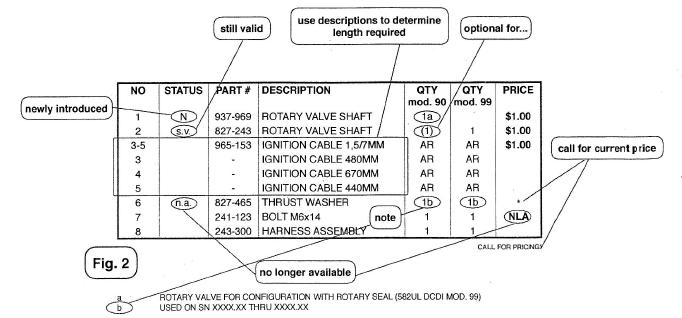 Q&A
Please note, Aircraft Spruce's personnel are not certified aircraft mechanics and can only provide general support and ideas, which should not be relied upon or implemented in lieu of consulting an A&P or other qualified technician. Aircraft Spruce assumes no responsibility or liability for any issue or problem which may arise from any repair, modification or other work done from this knowledge base. Any product eligibility information provided here is based on general application guides and we recommend always referring to your specific aircraft parts manual, the parts manufacturer or consulting with a qualified mechanic.