1-877-4SPRUCE
1-877-477-7823
Other Customers
Have Also Viewed:
INSIGHT G3 GRAPHIC ENGINE MONITOR
See Below for Parts, Pricing, and Ordering
From $328.75 to $3589.00





Reference Chart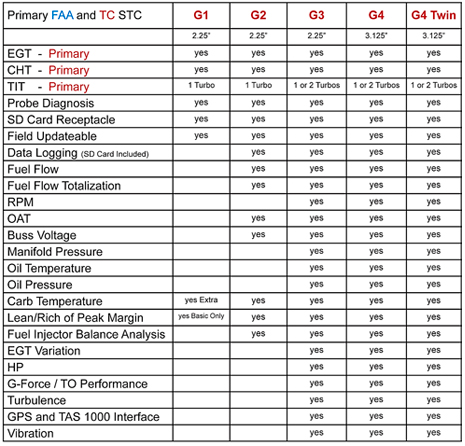 Enter the quantity desired of each item in the Buy column.



Description
Part No.
Price
Buy
Sub-Total
INSIGHT GEM G3 4 CYLINDER 2.25"
10-03195
$3029.00
INSIGHT GEM G3 4 CYLINDER TURBO 2.25
10-04685
$3196.00
INSIGHT GEM G3 6 CYLINDER 2.25"
10-03196
$2995.00
INSIGHT GEM G3 6 CYLINDER TURBO 2.25"
10-04686
$3149.00
INSIGHT GEM G3 4 CYLINDER (2 TURBO
10-05262
$3345.00
INSIGHT GEM G3 6 CYLINDER (2 TURBO
10-05263
$3295.00
INSIGHT G3 2.25 CHEROKEE SIX LANCE SARATOGA
10-06357
$3281.75
INSIGHT G3 2.25 TURBO LANCE SARATOGA
10-06359
$3371.00
INSIGHT G3 2.25 MALIBU
10-06360
$3500.00
INSIGHT G3 2.25 MIRAGE
10-06361
$3530.00
INSIGHT G3 2.25 4 CYLINDER LAKE
10-06362
$2971.00
INSIGHT G3 2.25 6 CYLINDER LAKE
10-06363
$3265.00
INSIGHT G3 2.25 6 CYLINDER TURBO LAKE
10-06364
$3589.00
INSIGHT G3 2.25 ENTROM
10-06365
$3425.00
INSIGHT G3 OIL TEMP PROBE 1/8 NPT
10-06399
$428.75
INSIGHT G3 OIL TEMP PROBE 1/4 NPT
10-06400
$428.75
INSIGHT G3 OIL TEMP PROBE 3/8 NPT
10-06401
$428.75
INSIGHT G3 OIL TEMP PROBE 5/8 18
10-06402
$428.75
INSIGHT G3 OIL PRESSURE SENSOR
10-06403
$328.75

Current Total
Click Add to Cart to add them to your shopping cart
or Add to Wishlist to store them for ordering later.
Insight Graphic Engine Monitor G3
Required Order Form must be completed prior to order.
The original GEM was a solitary player. The G3 instrument has two control knobs that operate combination rotary and push button switches. The top knob in general controls screen selection while the bottom knob controls items within the given screen. Each screen assigns its own functional needs to the controls that may change depending on context. A screen may also label the controls with guidance information like "Push to exit". The G3 is also designed to expand and grow with the times. Less than half of its true potential has been released at this time. The instrument can be updated to acquire new features by loading the SD card via the internet.

Another great feature is why not have the G3 instrument diagnose itself? Then you don't have to disassemble the airplane or even touch the wiring. The probe diagnosis page indications are in green for normal readings and red for readings that fail the criteria set at the bottom of the screen.


G3 Series Introduction

Special Lean Of Peak Functionality

Unparalleled ease of operation
Nozzle balance analysis every time

Extensive Measurement Coverage

Simultaneous EGT, CHT, TIT
Bus voltage, instrument vacuum
Fuel flow, fuel used, alternator temp, OAT
Manifold pressure, RPM, oil temp, oil pressure

Continuous Probe Diagnosis

Confirm system integrity
Save time trouble-shooting

Sophisticated Data Logging

Unlimited storage on standard SD camera card
Integrates data from multiple sources
PC compatible files and directories

Detailed Vibration Analysis

Safely operate lean of peak
Detect early stage mechanical problems
Prevent catastrophic engine failures

Fully Compatible Upgrade

Plug & play with all GEM instruments
New installs or upgrades are quick and easy
GEM trade-in offers available


Insight's 610C Graphic Engine Monitor (G3) color-coded bar graph and digital values may be Primary for CHT , EGT and TIT. All other data shown in cyan at the top of display are to be supplementary. The data-log files stored on the SD card can be easily retrieved by the pilot, in-flight or post-flight, for instant viewing or permanent record-keeping. The G3 is a sophisticated tool for engine management. Its microprocessor performs many tasks that used to be handled by the pilot.
EGT
CHT
Fuel Flow
RPM
Manifold Pressure O
il Temp/Pressure
OAT
TIT
Carb Temp
HP%
Prop Balance
Clock/Calendar
G3 Display Comes in 2-1/4" or (3-1/8" COMING SOON)
Probe Kit (Base on cylinders)

EGT

CHT

TIT (if turbo charged version ordered)

OAT

Oil Pressure

Oil Temp

Carb Temp (If needed)

Fuel Flow




I purchased this product back in November 2012 and have about 50 hours of experience with it. While I love this product I could only give it four stars. The reason is, my mechanic was unable to get the tachometer function to work on the insight G3. He spent approximately 10 hours trying to get it to work per the installation manual but couldn't get it to work. I believe this could be a design flaw. As a result, the percentage of engine power function does not work which is important to know when leaning the mixture to LOP. Everything else on the unit works beautifully and it's nice being able to see CHT's and EGT's in a numerical value rather than a bar graph with numbers as on the older display I had. I thought it was going to have trouble reading the display due to its compact size but have had no such issues so far.

I would definitely recommend this product to somebody looking for an engine monitor. Insights customer service has been excellent. I would probably recommend this product over JPI due to the LOP and ROP function.

As you lean the mixture the EGT's will rise and once they peak, and you go lean, you will start to see the difference in temperature from lean of peak. This is an excellent feature so you know exactly how many degrees lean of peak or rich of peak you are. This makes it very easy to help you stay out of the red box.

All other functions work really well, fuel flow, oil pressure, oil temperature, G-force, data recording, and more. If you're in the market for a very good engine monitor do not overlook the insight G3.
| | |
| --- | --- |
| | We have two of these installed in our aircraft and feel that it's a great idea with lousy execution. The knobs are terrible - sometimes one click moves you one click, sometimes it moves you 30 clicks. It's not very confidence inspiring. The lean-finder mode is terrible unless you go really, really, really slow. We've had problems with probes failing - three EGT probes in less than 300 hours. The installation is pretty half-baked too. If it was this way on one aircraft installation I'd call it a fluke, but it's this way on both of them so I assume it's just the way it is. In summary this unit is unreliable and it's hard to believe it ever got certified. If I could take it back I would and I'd consider another product like the MVP 50 series. |

610C-342 610C-343 610C-362 610C-363 610C-343-TT 610C-363-TT 610C-365 610C-367 610C-364 610C-361 610C-349 610C-369 610C-369T 610C-366 610C-022-1 610C-022-2 610C-022-3 610C-022-5 610C-024