1-877-4-SPRUCE | info@aircraftspruce.com
Aircraft Spruce & Specialty Co.
Corona, CA | Chicago, IL
Wasilla, AK | Peachtree City, GA
Brantford, ON Canada
FREE SHIPPING ON ORDERS OVER $350 (USA ONLY - SOME EXCLUSIONS APPLY) | 877-4-SPRUCE
COMANT VOR/LOC/GS ANTENNA CI-157P
Part# 11-15700
MFR Model# CI-157P
Overview
Frequency 108-118 MHz (VOR/LOC) 329-335 MHz (Glide Slope)
"V" dipole VOR/ Glide Slope antenna with fixed elements designed specifically for compatibility with the Piper Aircraft mounting. Integral ferrite balun provides for higher radiation efficiency replacing cumbersome coaxial baluns previously utilized. Radiating elements are not removable.
Note: Comant Antennas no longer come with a gasket or a template. Must order PN 09-05579 separately.
Not approved for helicopter installations.
Applications
Single engine piston aircraft for applications of this antenna design. Consult your FBO or installation shop for best application information.
Specifications
Electrical

Frequency

108-118 MHz (VOR / LOC)
329-335 MHz (Glide Slope)

VSWR

3.0:1 108-118 MHz (VOR / LOC)
3.0:1 329-335 MHz (Glide Slope)

Polarization

Horizontal

Radiation Pattern

Dipole

Impedance

50 Ohms Nominal

Power

Receive Only

Mechanical

Weight

0.5 lb Maximum

Height

18.00 in. Maximum

Material

Derlin Housing / Stainless Whips

Finish

Black Housing / Stainless Whips

Connector

BNC

Environmental

Temperature

330 KIAS Maximum @ Sea Level

Altitude

4.2 Oz. Maximum

Air Speed

DO-160D

Federal Specifications

RTCA Environmental

DO-160C

FAA TSO

C34c, C38c, C40c

FAA MOPS

DO-192, DO-195, DO-196
Dimensions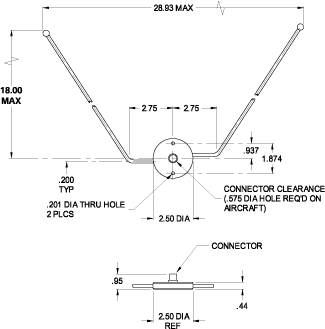 Customers Also Viewed
Frequently Purchased With
Related Items
Reviews
A perfect fit in my vintage Mooney- bolt patten is correct and there is plenty of clearance for coax and connector with no modifications necessary. Mounted with BNC facing up and antennas facing forward.
Dave
March 3, 2019
Had to purchase this bc mine broke. When they manufactured it the drilled a hole that wasn't centered for the roll pin that goes the the antenna wire itself. Vibration eventually broke it. I called the manufacturer direct and left several messages and no reply. I guess when you selling $357.00 cost hangers, you don't have to answer to nobody!
Wayne
May 20, 2019
NOT a drop-in fit for Piper models as designed. BNC connector to vert tail cap interference. HOWEVER, flipping the assembly upside down (BNC on bottom) works with the following modifications: bore whole in metal antenna bracket for BNC connector (~3/4 dia.), increase antenna cutout on each side to accommodate offset Whiskers Bought the antenna knowing about this.
Jan P
June 2, 2017
This antenna is supposed to be a direct replacement for Piper PA/28 however with the BNC connector mounted on top of the antenna, it does not provide for adequate clearance to your rudder balance weight. It will make contact. Now you can mount this antenna anyway you like BNC connector facing down. Whips facing aft. Cut additional room in your fairing to accommodate this type of installation, as the whips are offset. BNC connector down whips facing forward you will be ok although I have heard some say this type of installation causes a weak reception. Others say works fine. For me I fabricated a new mount plate and moved the antenna forward to position the BNC connector directly under my strobe light and replaced my fairing. It was an old plastic type and very brittle. So in the end antenna works fine with a few modifications and a fairing replacement if you do not want a big cut out on each side of your fairing.
Terry B
August 11, 2016
Does not fit into an Arrow III without modifying fairings and mounting. Literature is misleading.
Brian K
April 18, 2019