1-877-4-SPRUCE | info@aircraftspruce.com
Aircraft Spruce & Specialty Co.
Corona, CA | Chicago, IL
Wasilla, AK | Peachtree City, GA
Brantford, ON Canada
EVERYTHING FOR PLANES AND PILOTS SINCE 1965 | 877-4-SPRUCE
Overview
An excellent hot wire system consisting of a controller and transformer. Recommended by Rutan Aircraft Factory as a good system at a very economical price.

Quantity Discount: 15% Discount on 12 units or more. WIRE DIAGRAM FOR HOMEBUILDER'S HOT WIRE KIT
Specifications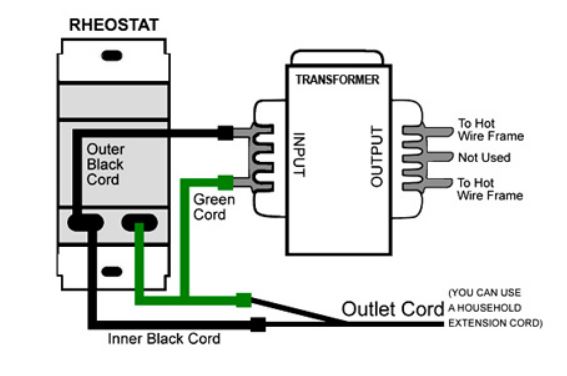 Customers Also Viewed
Frequently Purchased With
Related Items
Reviews
Awesome system. Follow the wiring diagram per the instructions. You may not get an output voltage reading at first, but when you attach your hotwire frame, the system will work as advertised! For a 33 x 0.032 saw, it got to optimal foam cutting speed temp at about 1/3 of a turn.
Brian L
June 21, 2016
If youre building a Long EZ the plans call for a transformer with a 4A output. If youre cutting foam 64 in length per LEZ plans you may find the 3A maximum output insufficient: I burnt out the transformer from this kit while making some large cuts.
Jeremy R
June 20, 2019
Q&A
Please note, Aircraft Spruce's personnel are not certified aircraft mechanics and can only provide general support and ideas, which should not be relied upon or implemented in lieu of consulting an A&P or other qualified technician. Aircraft Spruce assumes no responsibility or liability for any issue or problem which may arise from any repair, modification or other work done from this knowledge base. Any product eligibility information provided here is based on general application guides and we recommend always referring to your specific aircraft parts manual, the parts manufacturer or consulting with a qualified mechanic.
Q: Should transformer be getting hot? Should the controller case have current going through it?
The transformer does get hot, and this kit was designed by a customer or composite instructor, many years ago. The only instructions should have been provided with the unit, but are also on our web site. This is a homebuilders unit, so you may want to consult with an electrician to make any changes to better suit your application.
Q: What are the amp and voltage output of the transformer on the Homebuilders Hotwire Kit?
The voltage is 24 VAC and the amp output is 3 Amps.
Q: What are the specifications of the transformer in the Homebuilder's Hotwire Kit? Apparently it is rated for a 117 volt input, but for how many amps? Watts?
Specifications:
24V 3A POWER TRANSFORMER INPUT/PRIMARY: 117VAC, 60Hz
OUTPUT(SECONDARY): CENTER TAPPED 3-SOLDER LUGS, e.g. 6V-0-6V, 9V-0-9V, 12V-0-12V.
DIMENSIONS: 76MM X 40MM