1-877-4-SPRUCE | info@aircraftspruce.com
Aircraft Spruce & Specialty Co.
Corona, CA | Chicago, IL
Wasilla, AK | Peachtree City, GA
Brantford, ON Canada
THE AVIATION SUPERSTORE FOR ALL YOUR AIRCRAFT & PILOT NEEDS | 877-4-SPRUCE
GILL® G-247 BATTERY
Select Model:
with Acid
without Acid
Overview
The Gill Electric Company was founded by Mr. Lawrence Gill in 1920, in Redlands, California, where the factory remains today. At that time, Gill Electric manufactured lead-acid batteries for the automotive industry. During the war years, Gill manufactured batteries for military ground vehicles and aircraft; some of these batteries are still in production today. Gill Electric improved the drycharged process which provides a fresh charged product when the electrolyte is added. Gill has become the OEM "original equipment battery" for Raytheon, Cessna, LearJet, Mooney, Piper, Ayres, Airtractor, Maule, Scheizer and others in the aviation industry and Gill continues to be the industry's choice for quality battery products.
Application Guide
Piper model: PA-31P-350

Note: The data listed in this chart is intended as a suggested reference guide only. Some installations may vary and require airframe or battery box modification. Installations not shown on D.O.T. FAA/PMA listings will require field approval using FAA form 337 or FAA approved STC.
Specifications
Rate (Amps): 1 hr (C1) 19, 30 min (2C) 32, 60 sec/0 deg F (CCA) 250


Model
Weight
Part No.

G-247
24 Volt
With Acid

42.5 Lbs. (full)
Electrolyte (4 Qts.)
11-01772

G-247
24 Volt
W/O Acid

42.5 Lbs. (full)
Electrolyte (4 Qts.)
11-01662
Reference Chart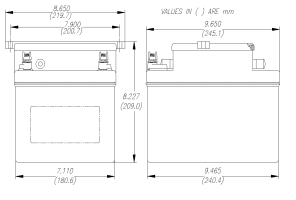 Accessories
Customers Also Viewed
Frequently Purchased With
Q&A
Q: Need size, size drawing of battery, width, length, height
We have added a reference chart with the product drawing.