1-877-4-SPRUCE | info@aircraftspruce.com
Aircraft Spruce & Specialty Co.
Corona, CA | Chicago, IL
Wasilla, AK | Peachtree City, GA
Brantford, ON Canada
FREE SHIPPING ON ORDERS OVER $350 (USA ONLY - SOME EXCLUSIONS APPLY) | 877-4-SPRUCE
MICROPULSE LANDING LIGHT CONTROL
Part# 11-11886
MFR Model# 9100-001-M
Overview
This Micropulse Landing Light Control has 12 to 35 VDC, 0-8 A per channel, Control over 224 Watts per channel in a .9" Inch square by 1.9" Package. Complete compact, light weight, powerful, solid state Landing light controller. The MicroPulse has all the functions you should need.

MicroPulse Function Modes: Switch Positions
OFF Both Circuits Off
L Left on only (CKT1)
R Right on only (CKT2)
L&R Both circuits On
A44 Alternate 44 PPM (STD)
B44 Both Flash 44 PPM
A88 Alternate 88 PPM
A120 Alternate 120 PPM

Capacity:
96 Watts @12 VDC each channel
224 Watts @28 VDC each channel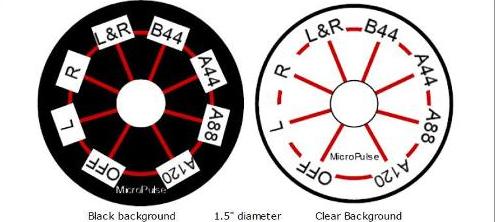 Click Image to Enlarge
Specifications
Voltage Range: 12VDC to 35VDC
Max Current: 8 A per channel
Dual channel device
Install with Standard Supplied solderless ring lug terminal
Operating Temperature Range: -30 degrees C to +65 degrees C
Storage Temperature: -40 degrees C to +100 degrees C
Maximum Internal Temperature: @15A +15 degrees C
Enclosure Material: Avantra 8731 polystyrene Meets UL 94
Flame Rating: Meets UL94V-0 (@ 0.062"/1.5 mm min.) rating
Conforms to RTCA/DO-160E SEC 21: RFE (EMI)
One Year limited warranty
Weight: 1.49 oz including knob
Features
Dual Channel control of Lighting - P/N 9100-001-M
Smallest all self contained Wig Wag and Lighting control
Wig Wag Control, multiple rates, combinations of lighting
No outboard heat sinks, boxes, rheostats, or other packages
RTCA/DO-160E SEC 21: RFE Qualified
Incandescent lights, LED landing lights, HID lights
Configure for Wig Wag or Wing and taxi light pulsing, single
light pulsing etc.
Increased Visibility and Safety for your passengers and yourself
Emergency Vehicles
Hundreds of DC Lighting Control applications
Assembled Totally in the USA.
In The Box
MicroPulse unit
Installation instructions
Color coded terminals
Reference panel label
Knob
Customers Also Viewed
Frequently Purchased With
Q&A
Q: Is this MaxPules landing light control product eligible to be installed on certified aircraft ? PMA , STC etc.. ?
No, this does not have any FAA approvals.