1-877-4-SPRUCE | info@aircraftspruce.com
Aircraft Spruce & Specialty Co.
Corona, CA | Chicago, IL
Wasilla, AK | Peachtree City, GA
Brantford, ON Canada
FREE SHIPPING ON ORDERS OVER $350 (USA ONLY - SOME EXCLUSIONS APPLY) | 877-4-SPRUCE
SOUTHCO DZUS FULL GROMMETS
From $1.07 to $14.75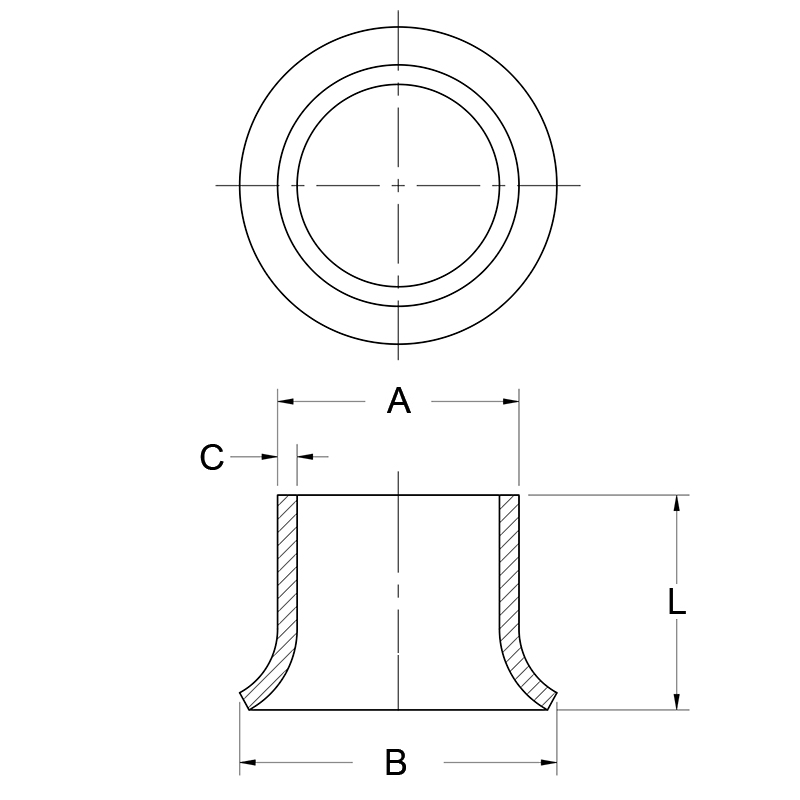 (Hover to zoom | Use mouse wheel for +/-)
| Type | Model | Outer Panel Thickness | Length | A | B | C | Part No. | Price | Buy |
| --- | --- | --- | --- | --- | --- | --- | --- | --- | --- |
| GA | 1271-3175 | .015 - .025 | .175 | .311 | .220 | .015 | | $3.25 | |
| GA | 1271-200 | .026 - .050 | .200 | .311 | .220 | .015 | | $2.13 | |
| GA | 1271-250 | .051 - .094 | .250 | .311 | .220 | .015 | | $1.79 | |
| GA | 1271-4250 | .026 - .050 | .250 | .405 | .311 | .025 | | $1.74 | |
| GA | 1271-4275 | .051 - .075 | .275 | .405 | .311 | .025 | | $1.48 | |
| GA | 1271-4300 | .076 - .100 | .300 | .405 | .311 | .025 | | $2.25 | |
| GA | 1271-5312 | .031 - .062 | .312 | .500 | .374 | .028 | | $1.65 | |
| GA | 1271-5350 | .063 - .094 | .350 | .500 | .374 | .028 | | $1.26 | |
| GA | 1271-5375 | .095 - .125 | .375 | .500 | .374 | .028 | | $2.26 | |
| GA | 1271-6350 | .040 - .065 | .350 | .594 | .437 | .028 | | $1.95 | |
| GA | 1271-6375 | .066 - .100 | .375 | .594 | .437 | .028 | | $2.36 | |
| GA | 1271-6425 | .101 - .135 | .425 | .594 | .437 | .028 | | $3.40 | |
| GA | 1271-7375 | .050 - .095 | .375 | | .531 | .040 | | $5.35 | |
| GF | 1276-4125 | .015 - .025 | .125 | .405 | .311 | .025 | | $6.50 | |
| GF | 1276-4150 | .026 - .050 | .150 | .405 | .311 | .025 | | $14.75 | |
| GF | 1276-4175 | .051 - .075 | .175 | .405 | .311 | .025 | | $3.95 | |
| GF | 1276-4200 | .076 - .100 | .200 | .405 | .311 | .025 | | $8.50 | |
| GF | 1276-5175 | .031 - .062 | .175 | .500 | .437 | .028 | | $1.07 | |
| GF | 1276-5225 | .063 - .094 | .225 | .500 | .437 | .028 | | $2.07 | |
| GF | 1276-5250 | .095 - .125 | .250 | .500 | .437 | .028 | | $2.45 | |
| GF | 1276-6250 | .066 - .100 | .250 | .594 | .437 | .028 | | $2.24 | |
| GF | 1276-7250 | .050 - .095 | .250 | | .531 | .040 | | $5.35 | |
Overview
A full grommet is used when protection of the hole is a definite consideration. It protects panel finish and reduces stud play. A tool is required for installation. The "GA" type full grommet is used with a protruding head stud, and the "GF" type with a flush head stud.
Customers Also Viewed
Frequently Purchased With
Reviews
Robert L
Verified Purchase

GA4-275 Aluminum Full Grommet
July 15, 2021
Excellent part
Andrew M
Verified Purchase

DZUS GROMMETS GA4-250
July 7, 2021
I was in need of the Duzs grommets that I bought from Aricraft Spruce for a motorcycle project that Ive been working for the past couple of years. It has a full road race fairing on it and the fairing sections are held together with Duzs fasteners. In order to remove the Duzs fasteners for painting it destroys the grommets. After some searching on the internet I found the grommets I needed at Aircraft Spruce, at a resonable price. The order was placed and within a few days I had the grommets. Good service, fair price whats not to like???
Neil H
August 10, 2020
Q&A
Q: What is the tool used for installation of these full grommets and do you have it?
These will require a C-Clamp base tool, part number 12-02272.