1-877-4-SPRUCE | info@aircraftspruce.com
Aircraft Spruce & Specialty Co.
Corona, CA | Chicago, IL
Wasilla, AK | Peachtree City, GA
Brantford, ON Canada
FREE SHIPPING ON ORDERS OVER $350 (USA ONLY - SOME EXCLUSIONS APPLY) | 877-4-SPRUCE
YETI™ TUNDRA® 35 COOLER
Select Color:
White
Desert Tan
Seafoam
Overview
The YETI™ Tundra® 35 is the right size for personal hauls or food for a small crew. It boasts up to three inches of PermaFrost™ Insulation and a rugged rotomolded construction for optimum adventure performance. And it fits nicely in an inner tube, making it the perfect, portable cooler to take tubing down the river. Note: All Tundra coolers come with one dry goods basket.
Features
Fatwall™ Design: Extra-thick walls hold up to two inches of insulation for unmatched ice retention.
PermaFrost™ Insulation: Pressure-injected commercial-grade polyurethane foam in the walls and lid makes sure your ice stays ice.
Rotomolded Construction: Makes it armored to the core and virtually indestructible.
T-Rex™ Lid Latches: Heavy-duty rubber latches are made with patented technology so you'll never see another busted latch.
Neverfail™ Hinge System: Two hinge pins and interlocking design prevent the hinge from ever breaking.
Coldlock™ Gasket: A freezer-quality gasket circles the length of the lid to block out the heat and lock in the cold.
Doublehaul™ Handles: Military-grade polyester rope for extra durability.
Bearfoot™ Non-Slip Feed: Prevent sliding to keep your YETI™ in place.
Anchorpoint™ Tie-Down Slots: Molded tie-down slots for easy mounting to your boat, trailer, or truck bed.
Interlock™ Lid System: Creates a form-fitting barrier against the heat.
Lidgrip™ Handles: Stay out of the way and make carrying your catch seem less of a chore.
Vortex™ Drain System: Leakproof, rugged, and designed for quick and easy draining.
Specifications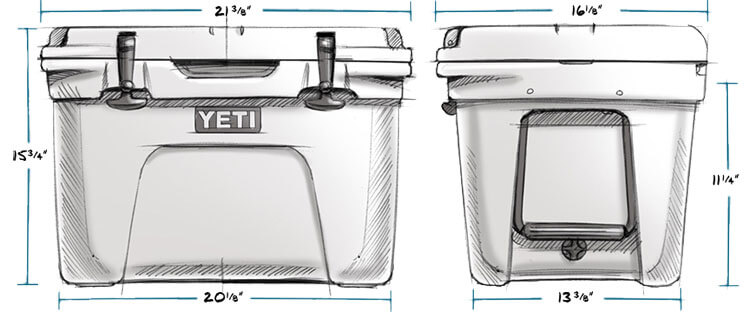 Outside: 16 1/8" × 15 3/4" × 21 3/8"
Inside: 9 3/8" × 10 5/8" × 13 7/8"
Empty Weight: 20 Lbs
21 Cans of Beer
26 Pounds of Ice (Only)
Benefits
FatWall™ Design and extreme insulation means this cooler is sure to keep your ice icy. But there's more to this cooler than meets the eye.



The bear-tested Tundra coolers know how to face off against Mother Nature. They're nearly indestructible and built to withstand whatever the wild throws their way. The Tundra 35 is no exception. It's the all-purpose cooler that will get the job done, whether you're hauling food for a long weekend or keeping some cold ones, well, you know.
Accessories
Customers Also Viewed
Frequently Purchased With
Related Items