1-877-4-SPRUCE | info@aircraftspruce.com
Aircraft Spruce & Specialty Co.
Corona, CA | Chicago, IL
Wasilla, AK | Peachtree City, GA
Brantford, ON Canada
THE AVIATION SUPERSTORE FOR ALL YOUR AIRCRAFT & PILOT NEEDS | 877-4-SPRUCE
CECONITE FABRIC 102 3 OZ / 73" WIDTH
Part# 09-00900
MFR Model# 17-C102
Overview
Standard fabric 102 is recommended for normal service and is widely used on all types of aircraft, regardless of wing loading or horsepower.

Recommended Aircraft: All classics, antiques, and contemporary designs that anticipate normal on-airport operations. 73" Width
Specifications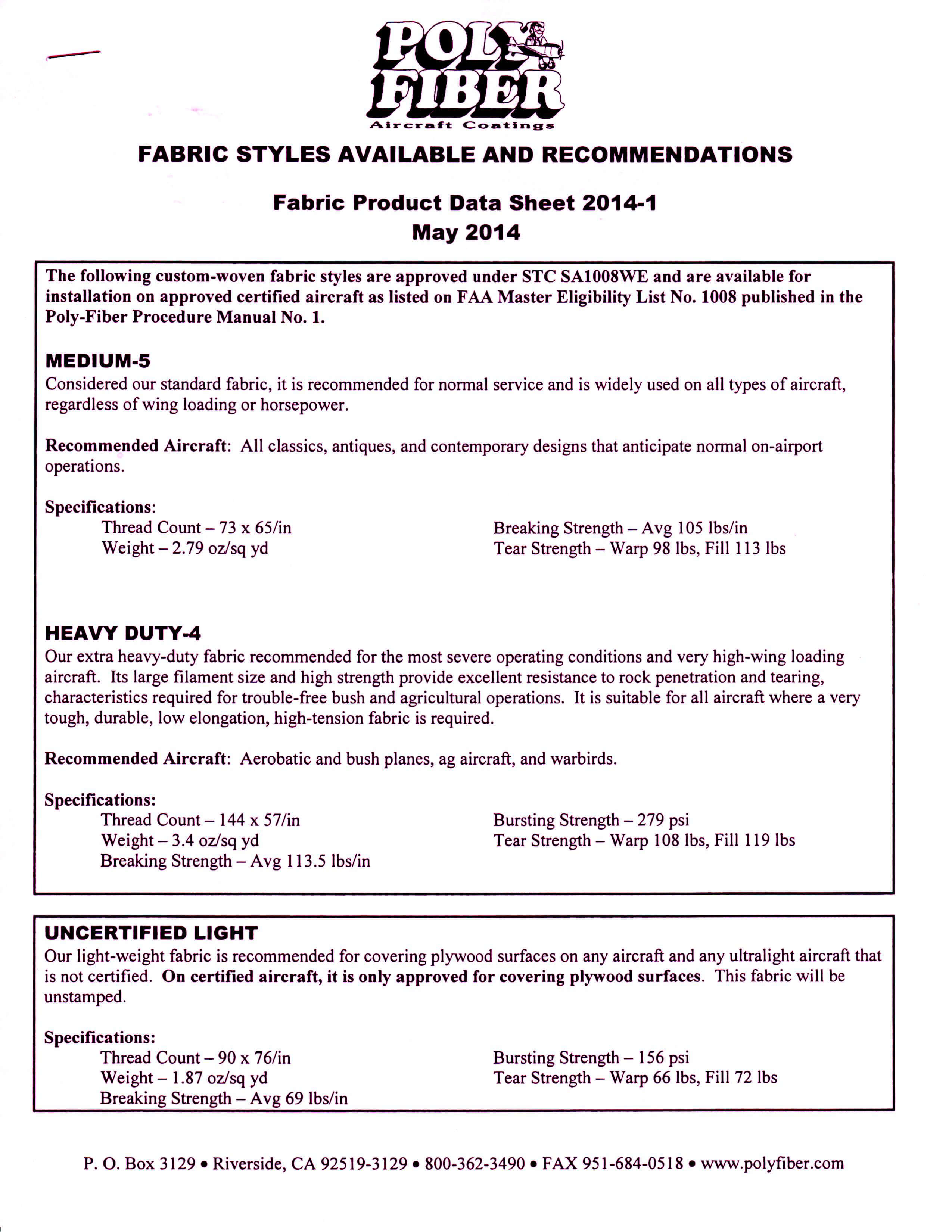 Customers Also Viewed
Frequently Purchased With
Related Items
Reviews
I am always very satisfied with my purchases, and service, from Aircraft Spruce. Keep up the good work. Thank You.
Roger G
August 12, 2020
excellent product and shipping very fast.
Michael A
November 15, 2018
fast shipping and fabric as ordered
Jim K
March 23, 2017
I use it later
Masoud E
March 12, 2020
Promptly delivered. Carefully rolled.
Alan C
March 2, 2019
I should have ordered the Ceconite fabric on a roll. Folded fabric difficult to smooth out.
H. C
July 10, 2017
Q&A
Please note, Aircraft Spruce's personnel are not certified aircraft mechanics and can only provide general support and ideas, which should not be relied upon or implemented in lieu of consulting an A&P or other qualified technician. Aircraft Spruce assumes no responsibility or liability for any issue or problem which may arise from any repair, modification or other work done from this knowledge base. Any product eligibility information provided here is based on general application guides and we recommend always referring to your specific aircraft parts manual, the parts manufacturer or consulting with a qualified mechanic.
Q: We need to cover 2 wings and the fuselage. I know it is sold by the yard but I need to know how many yards there are in a roll of ceconite 102? Thanks for your answer.
The Ceconite 102 generally comes in rolls between 70 and 120 yards.
Q: When using ceconite 102, how much area will a gallon of certified nitrate dope cover?
When reduced 1 to 1, it will cover approximately 200 sq ft.
Q: How wide is the Ceconite fabric 102?
This fabric is 73 inches wide, sold by the yard.
Q: Is the Ceconite 102 heat shrinkable?
Yes, the Ceconite is designed to be shrunk once it is glued to the airframe for tautness, before applying covering materials.