1-877-4-SPRUCE | info@aircraftspruce.com
Aircraft Spruce & Specialty Co.
Corona, CA | Chicago, IL
Wasilla, AK | Peachtree City, GA
Brantford, ON Canada
FREE SHIPPING ON ORDERS OVER $350 (USA ONLY - SOME EXCLUSIONS APPLY) | 877-4-SPRUCE
CECONITE FABRIC 102 3 OZ / 73" WIDTH
Part# 09-00900
MFR Model# 17-C102
Overview
Standard fabric 102 is recommended for normal service and is widely used on all types of aircraft, regardless of wing loading or horsepower.

Recommended Aircraft: All classics, antiques, and contemporary designs that anticipate normal on-airport operations. 73" Width
Specifications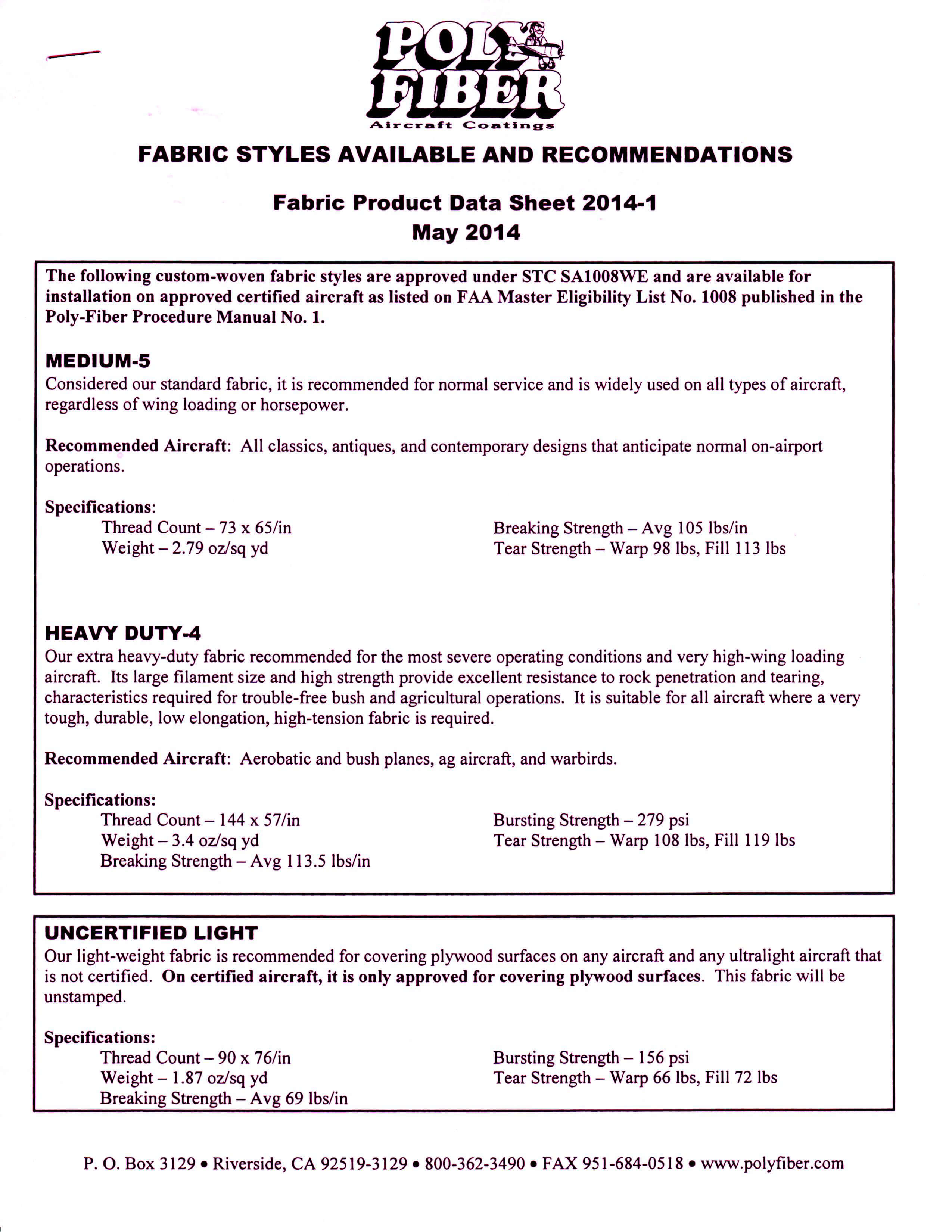 Customers Also Viewed
Frequently Purchased With
Related Items
Reviews
Promptly delivered. Carefully rolled.
Alan C
March 2, 2019
excellent product and shipping very fast.
Michael A
November 15, 2018
I should have ordered the Ceconite fabric on a roll. Folded fabric difficult to smooth out.
H. C
July 10, 2017
fast shipping and fabric as ordered
Jim K
March 23, 2017
Q&A
Q: We need to cover 2 wings and the fuselage. I know it is sold by the yard but I need to know how many yards there are in a roll of ceconite 102? Thanks for your answer.
The Ceconite 102 generally comes in rolls between 70 and 120 yards.
Q: When using ceconite 102, how much area will a gallon of certified nitrate dope cover?
When reduced 1 to 1, it will cover approximately 200 sq ft.
Q: How wide is the Ceconite fabric 102?
This fabric is 73 inches wide, sold by the yard.
Q: Is the Ceconite 102 heat shrinkable?
Yes, the Ceconite is designed to be shrunk once it is glued to the airframe for tautness, before applying covering materials.