1-877-4-SPRUCE | info@aircraftspruce.com
Aircraft Spruce & Specialty Co.
Corona, CA | Chicago, IL
Wasilla, AK | Peachtree City, GA
Brantford, ON Canada
EVERYTHING FOR PLANES AND PILOTS SINCE 1965 | 877-4-SPRUCE
POLY-FIBER COLOR CHART #50
Part# 09-00234
MFR Model# 11-CCARD
Overview
Poly-Fiber Color Chart #50.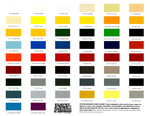 DOWNLOAD THE COLOR CHART
Note:These samples are an approximate computer representation of the actual color and are to be used for reference only.
Click here to download the Poly Fiber Color Chart in pdf.
Customers Also Viewed
Frequently Purchased With
Reviews
Thanx for the new one! I still have my old one, but its getiing pretty beat up. Greasy fingerprints and all that.
Bruce E
Verified Purchase

POLY-FIBER COLOR CHART # 50
August 21, 2021
Very helpful, thank you!
Dave C
Verified Purchase

POLY-FIBER COLOR CHART # 50
June 8, 2021
Prompt delivery of the manufacturer's color chart. Thanks
Mat N
February 9, 2021
great reff.
John
October 6, 2020
all good
Richard S
October 13, 2019
The color chart was free, but I was charged $10+ for shipping. It could have been shipped by US mail for a fraction of that cost.
Fil F
November 3, 2019
Q&A
Please note, Aircraft Spruce's personnel are not certified aircraft mechanics and can only provide general support and ideas, which should not be relied upon or implemented in lieu of consulting an A&P or other qualified technician. Aircraft Spruce assumes no responsibility or liability for any issue or problem which may arise from any repair, modification or other work done from this knowledge base. Any product eligibility information provided here is based on general application guides and we recommend always referring to your specific aircraft parts manual, the parts manufacturer or consulting with a qualified mechanic.
Q: What is the approximate coverage per gallon of urathane enamel and/or poly finish? I will be covering primed alumuminum and a new covered polyfiber finished with poly spray uv protection. I am using a conventional syphon cup gun for spraying.
Poly Fiber Aerothane will cover approximately 225 sq ft per 1 gallon of catalyzed material(one coat). Poly Fiber Poly Tone will cover approximately 200 sq ft per gallon (one coat).