1-877-4-SPRUCE | info@aircraftspruce.com
Aircraft Spruce & Specialty Co.
Corona, CA | Chicago, IL
Wasilla, AK | Peachtree City, GA
Brantford, ON Canada
THE AVIATION SUPERSTORE FOR ALL YOUR AIRCRAFT & PILOT NEEDS | 877-4-SPRUCE
Overview
A high gloss, fast drying enamel for use on primed metal or fiberglass. Enamels match all 50 Poly-Fiber, Aerothane, "Poly-Tone" and classic Aero Dope colors. Not for use on fabric.

Applications: Thin 5 parts enamel to 1 part enamel reducer. For best results use over EP420 Epoxy Primer.

Note: Aerothane requires catalyst sold separately.

Important Notice: All mixed paints are special order and are non-returnable.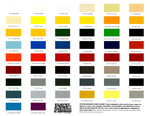 DOWNLOAD THE COLOR CHART
Note:These samples are an approximate computer representation of the actual color and are to be used for reference only.
Click here to download the Poly Fiber Color Chart in pdf.
Accessories
Customers Also Viewed
Frequently Purchased With
Related Items
Reviews
I had orange peel straight from the can perfect result after mixing 5:1 with enamel reducer. Good quality paint.
Tango D
Verified Purchase

P/F ENAMEL 173 TRUE BLUE GL
August 31, 2021
great!!
Mathew C
Verified Purchase

P/F ENAMEL 142A C.E. YEL ORANG
August 24, 2021
perfect match
Andy W
Verified Purchase

P/F ENAMEL 120 DAYTONA WHITE QT
May 25, 2021
Quality single-stage enamel that was a perfect color match for the PolyTone paint on the fabric!
Paul N
November 13, 2020
What the manufacturer doesnt tell us is this stuff is water based, and thats why it has fire resistance. But what it also means is youll be wiping mildew off it every so often for the life of your plane. It mildews like crazy. Id much rather just use conventional dope. When Stits first developed it he created this advertising scheme based on its fire resistance. But the previous materials used didnt catch fire often, practically never. Usually when someone dropped a lit cigarette. Solution, dont smoke in fabric planes. So this fear based advertising was used to sell this mildew producing paint.
Ted S
October 20, 2020
Q&A
Please note, Aircraft Spruce's personnel are not certified aircraft mechanics and can only provide general support and ideas, which should not be relied upon or implemented in lieu of consulting an A&P or other qualified technician. Aircraft Spruce assumes no responsibility or liability for any issue or problem which may arise from any repair, modification or other work done from this knowledge base. Any product eligibility information provided here is based on general application guides and we recommend always referring to your specific aircraft parts manual, the parts manufacturer or consulting with a qualified mechanic.
Q: I am looking for Federal Grey - # 213A and I don't see it on your list of colors. Why is it missing?
It was an oversight by our web site team. We have since added it to the color list in the quart size. Please check the web page.
Q: Is there a color chart somewhere so I can see what the color will look like prior to ordering?
Yes, please search our site for part number 09-00234. It will take you to the web page for the no charge Poly-Fiber color chart. On that page, there is a link to download the color chart as well.
Q: Do you sell 105 Insignia White?
No, not in the Poly-Fiber enamel. PTI has Insignia White enamel. Poly-Fiber offers it in the Mark II.
Q: Should enamel be thinned with reducer prior to spraying?
It can be thinned with Poly Fiber enamel reducer if needed.
Q: Can poly fiber enamel be put over Butyrate dope?
No, as the dope shrinks over time the enamel would not. It would fail pretty quickly.
Q: I am looking for Rancho Silver - # 222M and I dont see it on your list of colors. Why is it missing?
We have added 222M Rancho Silver to the available list. It is only available in quart size at this time.