1-877-4-SPRUCE | info@aircraftspruce.com
Aircraft Spruce & Specialty Co.
Corona, CA | Chicago, IL
Wasilla, AK | Peachtree City, GA
Brantford, ON Canada
THE AVIATION SUPERSTORE FOR ALL YOUR AIRCRAFT & PILOT NEEDS | 877-4-SPRUCE
EARTHX ETX900-VNT AIRCRAFT LITHIUM BATTERY
Part# 11-16211
MFR Model# ETX900-VNT
Overview
Note: Not FAA Approved. Intended for use in experimental aircraft only.

The ETX900-VNT designed for in-cabin installations!

This battery is based on the ETX900 design with the same cranking, capacity and electronic protections (BMS) but also has the addition of built-in thermal runaway containment and venting for in-cabin installation with 1 venting tube that is 6 feet in length, 1/4″ inside diameter, 5/16″ outside diameter. Under the accessories button, you can order custom lengths of tubing if needed. It is 5.4 pounds and can be used in an aircraft that has an alternator/generator with 80 amps output or less and smaller than 550ci. The ETX900-VNT meets all of the DO-347 lithium battery use in aircraft testing requirements. This is not a TSO or PMA part number.

This battery also comes with an LED battery fault light indicator on the battery itself plus it can be programmed into your EFIS or wired to the control panel of your aircraft with a simple 12V LED light that alerts you to the state of charge and state of health of the battery. (Please see the manual for details)

The battery management system (BMS) protects the cells from:

Over discharge

Over charge

Short circuit

Heat

Cell balancing technology

PLUS these protections are redundant for another layer of protection.
Features
The ETX Hundred series is fully protected by an integrated Battery Management System that protects the cell's from over discharge, over charge, short circuit, thermal protection and built in cell balancing to ensure charge levels are equal (balanced) 100% of the time for optimal performance
and life.
The most trusted and used lithium battery on the market. Multiple experimental aircraft manufacturers and experimental engine manufacturers such as Rotax Engines, Continental Motors, UL Power Engines and Viking Engines approve the EarthX brand.
LiFePO4 chemistry, the most abuse tolerant of all lithium battery chemistries.
Higher voltage while cranking mean faster starts.
Extremely light weight, 70-80% lighter than your lead acid battery.
4,000 charge cycle life versus 350 charge cycle life of a lead acid battery. Can last up to 8 years.
Environmentally friendly, no hazardous lead or acid, will not corrode or sulfate.
Wider operational temperature range than a lead acid battery. (-22° F to 140° F, -30 ° C to 60° C) . A lead acid's operational range is(-40° F to 113° F or -40° C to 45° C).
Vibration tested to DD-311 FAA standard.
Low self discharge rate and fast charging.
Specifications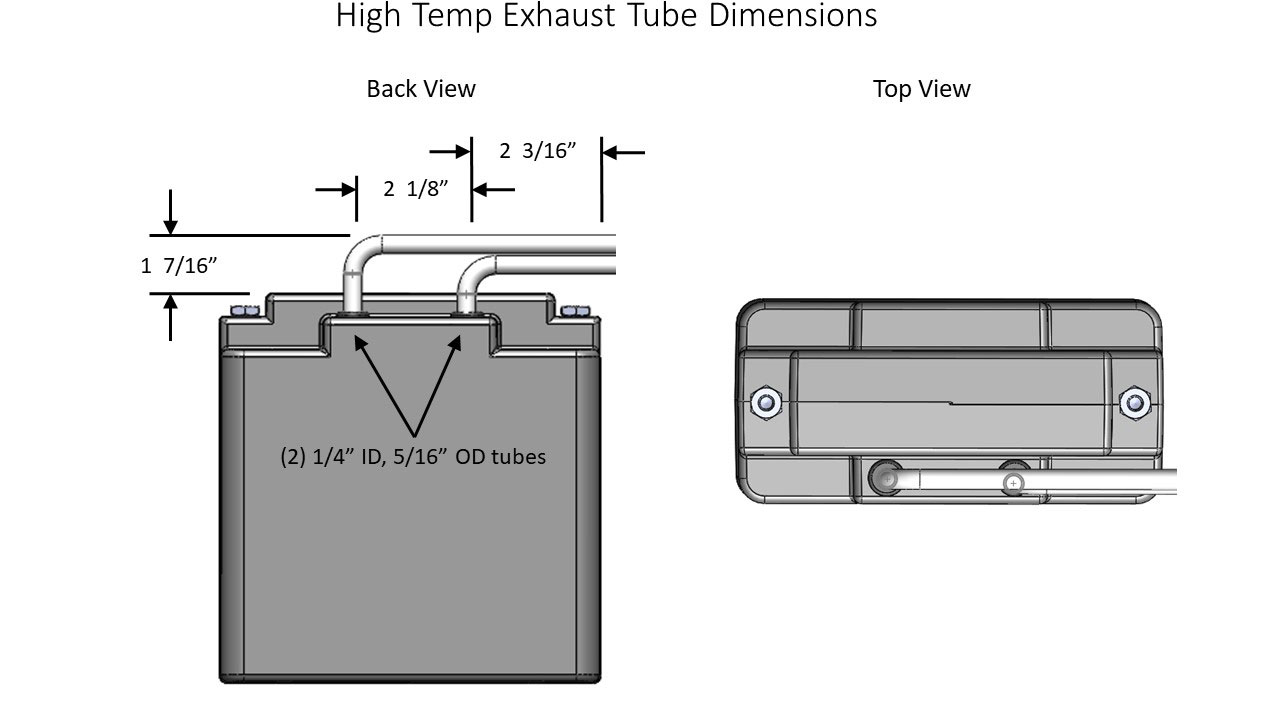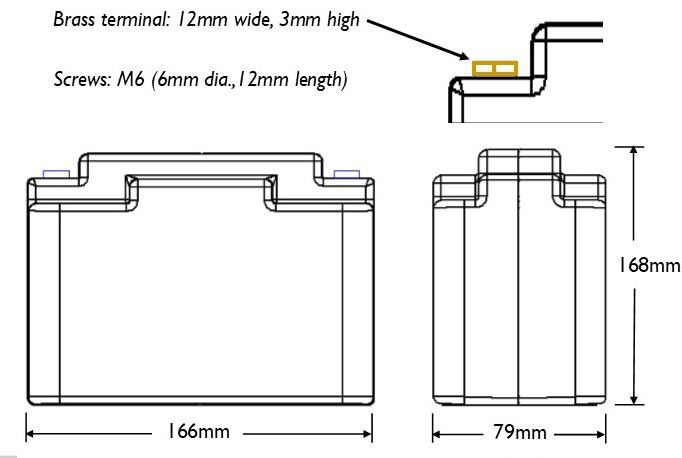 Voltage
13.2V
Capacity
16Ah @ I C Rate (See charts Below)
Capacity vs Temperature
25°C= 100%
0°C= 92%
-30°C= 80%
Self-Discharge Rate
<3% / month @ 25°C
Pulse Crank Amps (PCA)
840A (3 sec @ 25°C, voltage >9V
Cold Crank Amps (CCA)
400A (modified SAE test, 3 sec @ 0°F, volts > 7.2V)
Continuous Discharge Amps
150A
Standard Charge Voltage
13.9 - 14.6V
Maximum Charge Voltage
15V
Recommended Charge Voltage
5 - 20A
Max Charge Amps
80A (from vehicle charging system)
Life (Charge cycles, 80% depth of discharge)
4000 cycles @ 1°C discharge rate,
25°C 2000 cycles @ 10°C discharge rate, 25°C
Life (Years)
8 Years
Weight
5.4 lb. (1.8kg)
Dimensions
6.5 in (L) x 3.1 in (W) x 6.6 in (H)
166mm (L) x 79mm (W) x 168mm (H)
Environmental Rating (resistance to water intrusion)
IP 66 (wash down with a high pressure washer)
Operating Temperature
-30°C to +60°C
Storage Temperature
-40°C to +70°C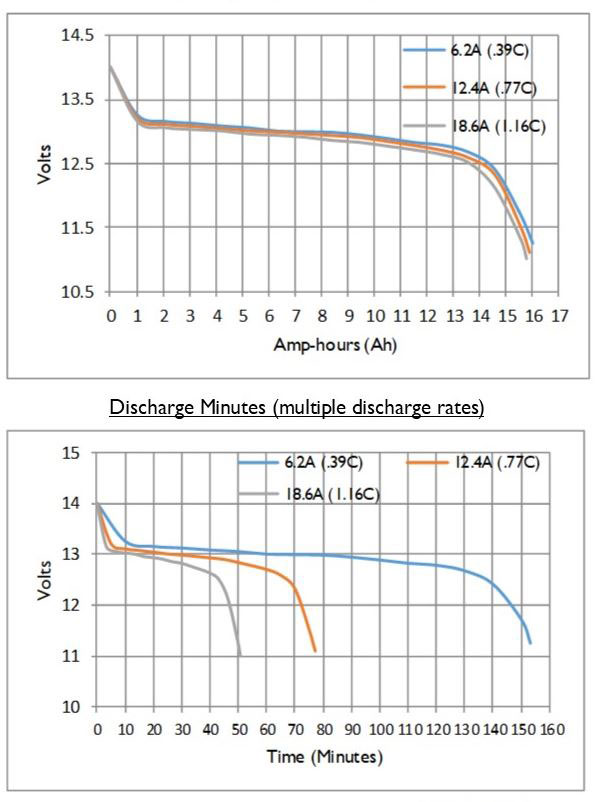 Why Choose EarthX
You will instantly remove 11+ pounds compared to the lead acid battery in your experimental aircraft! Now that is a huge weight savings.
Significant increase in cranking power. If you have been using the PC680, you will increase your CCA's from 170 to 320 and the PCA's from 520 to 680! Now that's power to crank your engine!
Now you can easily have a backup battery and not worry about the additional weight. In fact, if you switch from a lead acid battery and add a backup battery, so you have a primary and a backup, you still have decreased your overall weight by 50%! Note that only the ETX680C/680/900/1200 have the aircraft specific BMS.
Innovative and sophisticated BMS designed and engineered with redundancy for safety, reliability, and performance. These are EXCLUSIVE features!
Videos
Accessories
Customers Also Viewed
Frequently Purchased With
Related Items
Q&A
Q: Does this include the vent kit?
No the vent kit is not included.