1-877-4-SPRUCE | info@aircraftspruce.com
Aircraft Spruce & Specialty Co.
Corona, CA | Chicago, IL
Wasilla, AK | Peachtree City, GA
Brantford, ON Canada
THE AVIATION SUPERSTORE FOR ALL YOUR AIRCRAFT & PILOT NEEDS | 877-4-SPRUCE
ASA FLIGHT TIMER
Part# 13-02357
MFR Model# ASA-TIMER-2
Overview
Ergonomically designed and engineered for reliability, ease and convenience, the ASA Flight Timer should be considered essential equipment for all aviators.

Pilots will be able to accurately calculate time to the next waypoint, fuel tank changes, turns in holding or an instrument approach with complete confidence. The Flight Timer has been designed to meet the needs of all aviators, from student pilots working on their first cross-country to flight instructors and seasoned veterans. Applicable to both VFR and IFR flights, an ASA Flight Timer should be in every pilot's flight bag.

This part has no FAA Approval.
Features
The ASA Flight Timer has been created with pilot functionality in mind, featuring:

Large, easily readable LCD backlight display
Multi-function clock (AM/PM, Universal Coordinated "Zulu" time, and military time options); reset function prevent accidental resets
Three simultaneous timer options
Exclusive digital notepad for squawk codes or frequencies
Approach timer allows pilots to store up to 12 different approach times
Audible and visual alarm modes
Fuel timer
Stopwatch with 1/10th and 1/100th-second digits
Intuitive push and rotate dial for quickly and easily setting times
Multiple mounting options
Specifications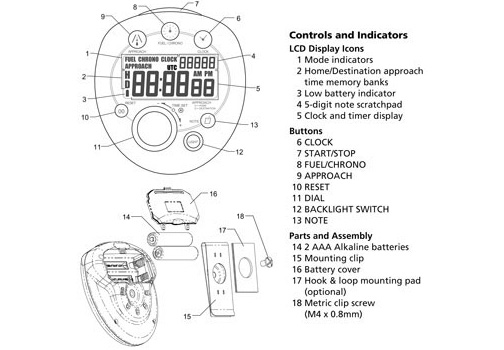 Dimensions: Approx. 3-1/4" tall x 3" wide x 1" deep
Weight: Approx. 0.85 lbs.
Customers Also Viewed
Frequently Purchased With
Reviews
I like it but it the viewing angle is critical. Viewed directly at it is great. Viewed from an angle,not good.
David
May 23, 2021
Very well made and easy to use. Good for fuel management.
Mike
April 2, 2021
Easy to understand. You can use it with glove. The back light was nice. Easy to read and work. Just one thing, perhaps à auxiliary currant (like 12 v adaptor) with batterie in back up could be fine.
Jf R
October 29, 2018
Does what its supposed to do. The biggest flaw is that the LCD display is only clearly readable from a low angle -- essentially looking up at the display from below. If it can be mounted at an angle that allows that, it works great. If it is flat against the panel, below your eyes, it is unreadable.
Stephen L
July 12, 2018
This clock has many nice features. It is hard to imagine needing a timing function that you couldn't do with this device. The one thing I don't like is the viewing angle most likely to occur in my cabin, doesn't have good screen visibility, the digits seem to wash out (looking straight on or from below straight on works well, above straight on not). So when is sits clipped on to the panel at zero degrees, I look down on it and find it almost unreadaable. It is fine if you build a bracket to change angle.
Stan S
November 19, 2014
The battery door will open so you you will need to modify it to keep it closed or it will reset. Impossible to read unless straight on. The clamp tilts the unit down making it harder to see. It was bought because the price was slashed. Not worth more than $20 because you will need to fabricate.
Martin H
May 16, 2020
This clock is very hard to see even though it has large numbers. I found that if it is mounted at any angle other than directly on, numbers wash out. Back light is poor as well. Relegated to the junk drawer now and back to the panel clock which has very few functions. Extremely disappointed for what it costs.
Donald S
November 6, 2015
Q&A
Please note, Aircraft Spruce's personnel are not certified aircraft mechanics and can only provide general support and ideas, which should not be relied upon or implemented in lieu of consulting an A&P or other qualified technician. Aircraft Spruce assumes no responsibility or liability for any issue or problem which may arise from any repair, modification or other work done from this knowledge base. Any product eligibility information provided here is based on general application guides and we recommend always referring to your specific aircraft parts manual, the parts manufacturer or consulting with a qualified mechanic.
Q: Is this one water resistant? How does it mount? How is it powered? What are the dimensions? Regarding Part #13-02357
No, there is no mention of water resistance for this product. There are multiple mounting capabilities such as the included clip and velcro. It is powered by 2 AAA batteries that are easily replaced. It is roughly 3-1/4 inches tall x 3 inches wide x 1 inch deep.
Q: Does this ASA Flight Timer read in zulu time?
Yes, this has a multi-function clock. (AM/PM, Universal Coordinated "Zulu" time, and military time options)