1-877-4-SPRUCE | info@aircraftspruce.com
Aircraft Spruce & Specialty Co.
Corona, CA | Chicago, IL
Wasilla, AK | Peachtree City, GA
Brantford, ON Canada
EVERYTHING FOR PLANES AND PILOTS SINCE 1965 | 877-4-SPRUCE
FUEL STIK FOR CESSNA AIRCRAFT
From $26.95 to $29.50
Description
Usable Fuel
Tank Size
Part Number
Price
Buy
Cessna 150-152
12.25 Gal.
$29.50
Cessna 172-A
18.5 Gal.
$29.50
Cessna 172
19 Gal.
$29.50
Cessna 172
21.5 Gal.
$29.50
Cessna 172 N-Q (Long Range)
25 Gal.
$29.50
Cessna 172 R-S
26.5 Gal.
$29.50
Cessna 177 Cardinal A-B (Including RG)
30.5 Gal.
$26.95
Cessna 177
25 Gal.
$29.50
Cessna 182 A-D
27.5 Gal.
$29.50
Cessna 182 P
30 Gal.
$29.50
Cessna 182 Q
37 Gal.
$29.50
Cessna 210 G-N (Including Turbo)
44.5 Gal.
$26.95
Cessna 182 T
43.5 Gal.
$29.50
Overview
Extremely light, high impact plastic tubing with aluminum rings resist damage. Available "Aircraft Specific Scales" Can be downloaded and printed from the website. Can easily be calibrated to any tank using the "Universal" scale. A worksheet, written instructions and even an instructional video are available at the website. We will generate an "Aircraft Specific Scale" from your calibration It's shipping tube doubles as a "Vented Storage Tube". This allows any remaining fuel to evaporate between uses, provides a protection for the life of the unit and reduces manufacturing waste. It's design gives consistent readings even when the fuel in the tank is sloshing around. It's upper and lower rings aide in handling. Large Easy-to-Read numbers observed outside the tank. Quantities given in both Gallons and Pounds! Color coded sections represent approx. 1/3 cruise consumption. It's not limited to your aircraft. Works in tractors, small motors, etc. Will not fall into fuel tank on most aircraft.

Note: Will not work with the Monarch Fuel Cap.

100% Made in the USA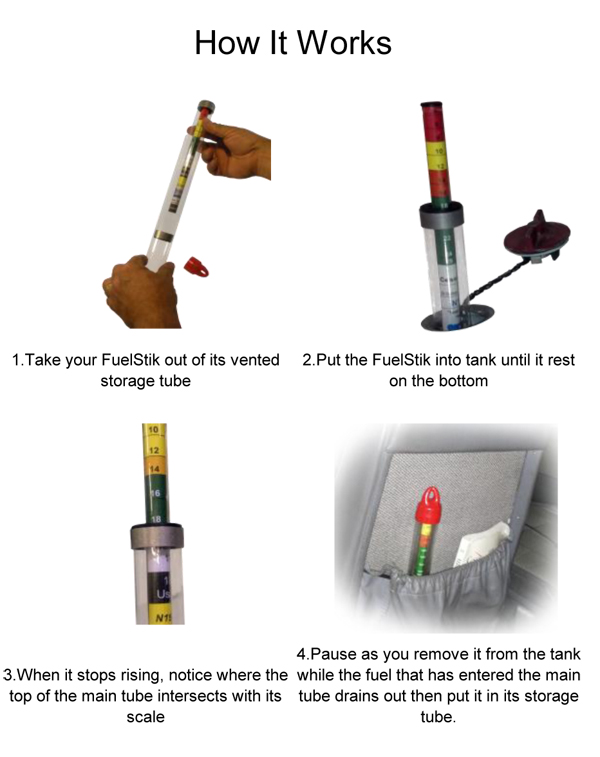 Specifications
Device Size- 10 3/4 In (273 mm) X 1 1/4 in (32mm)
Shipping Tube size- 12 5/8 (320 mm) X 1 1/2 (38 mm)
38g Device Only, 82 g with shipping tube/ documents
Construction: Fuel Resistant Plastic, Aluminum
Videos

//www.youtube.com/embed/yTfs3MecCdg?feature=player_embedded

//www.youtube.com/embed/bTjtHn4ASzw?feature=player_embedded
Customers Also Viewed
Frequently Purchased With
Related Items
Reviews
Dickson S
Verified Purchase

FUELSTIK CESSNA 182 A-D, 27.5 GAL
June 10, 2021
To soon to give a fair. Review but it does look great and does give easy readings
Gregory H
Verified Purchase

FUELSTIK CESSNA 150-152, 12.25 GAL
June 10, 2021
The fuelstik works well even with Monarch fuel caps. HOWEVER, they tend to stick on the flapper valve when you try to retract them due to the lip at the bottom of the fuelstik. This is easily resolved if you have a small instrument that will slip between the fuelstik and the flapper. Otherwise, you may have a problem getting it out.
Michael S
Verified Purchase

FUELSTIK CESSNA 177 CARDINAL A-B (INCL RG 72-78), 30.5 GAL
May 23, 2021
This works great and I love the tube that comes with it so there is no fuel in the plane.
Rhonda
March 23, 2021
The Fuel Stik is an easy way to check fuel levels even when wearing gloves. Its fast, accurate, and easy to read, and not likely to be dropped into the fuel tank.
Keith M
January 12, 2021
This is a great product. Simple to use.
John H
December 4, 2020
Really nice way to measure the fuel in the tanks. Easy to read. The storage tube keep it from getting damaged.
Kenneth M
October 2, 2020
Fast & easy to use, getting accurate readings!
Alex
August 7, 2020
We have a 1975 Cessna T210L. This definitely works for what it is designed for. You put the stick in. It tells you how much fuel there is. Very simple. Very helpful if one of your tank gauges doesnt work.
Joel S
July 31, 2020
With a Cardinal 177B, it works perfect. There are no other fuel tubes (sticks) I could find calibrated for a 177. I did see a comment that it may have an issue if you have Monarch fuel caps. I dont and it works great on my plane. N30820!
Victor C
July 11, 2019
Q&A
Q: Before I place my order - Please confirm that the FuelStik Master will work on any of the listed aircraft provided that I download and print the specific aircraft fuel data from the website? So Im guesiing that the option for Cessna FuelStik and Piper FuelStick is exactly the same? Apart from the fact that you receive different printouts to go with the FuelStick... So the numbering/levels that are engraved on the outside of the FuelStick, are all the same for Piper, Cessna, Cirrus etc?
Yes, all the FuelStiks are physically the same. However there is no printing on the actual product, only on the scale that slips inside the float tube. While it is true that any of the available scales can be printed from the website, we stock most of them ready to go for the available aircraft so that step would not be required.