1-877-4-SPRUCE | info@aircraftspruce.com
Aircraft Spruce & Specialty Co.
Corona, CA | Chicago, IL
Wasilla, AK | Peachtree City, GA
Brantford, ON Canada
FREE SHIPPING ON ORDERS OVER $350 (USA ONLY - SOME EXCLUSIONS APPLY) | 877-4-SPRUCE
MINI-SOFTIE EMERGENCY PARACHUTES
$2795.00/Each
Add to cart for current price
Overview
The Mini Softie is an extremely small, lightweight and comfortable backpack parachute system designed for use in today's restricted cockpit enviroments.
The Mini Softie is for use by persons weighing up to 240 lbs. It is available with your choice of Conventional Harness or Aerobatic Harness.

The container is 2.25" thick x 15" wide x 23" long
Custom Sizing Available
Canopy Type: Steerable Conical
Total weight: 15 lbs
Please specify your harness choices and any options when ordering.



Conventional or Aerobatic Harness


Each Softie Emergency Parachute System comes with your choice of Conventional Harness or our exclusive Aerobatic Harness. You may also choose from a number harness and container options to customize your Softie to your individual needs.
Conventional Harness
The conventional harness has a fully adjustable main lift web which permits the harness to be adjusted to fit a wide range of individuals. The harness has connection points on each leg strap and on on the chest strap. The leg straps come standard with B12 Snap connectors. As an option, we offer Thread Thru Adapters or Quick Ejectors on the legstraps. The chest strap comes standard with a Thread Thru Adapter, a Quick Ejector is optional on the chest strap.

Aerobatic Harness
Our unique crossover style Aerobatic Harness is designed specifically for pilots doing high NEGATIVE G aerobatic manuvers. The harness is designed so that the legstrap connecting hardware is moved away from the hips where it can dig in and cause pain and discomfort during high negative G aerobatic manuvers. The harness is attached by having the legstraps pass through a high strength soft loop at the hip and then cross over and buckle on the opposite side of the harness just below the rib cage This unique design has proven to be very popular with aerobatic pilots.
Harness Option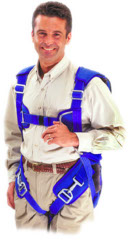 Conventional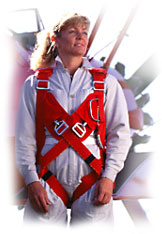 Aerobatic
Color Chart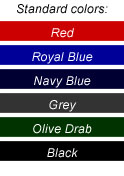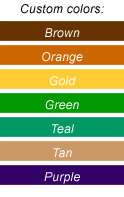 Q&A
Please note, Aircraft Spruce's personnel are not certified aircraft mechanics and can only provide general support and ideas, which should not be relied upon or implemented in lieu of consulting an A&P or other qualified technician. Aircraft Spruce assumes no responsibility or liability for any issue or problem which may arise from any repair, modification or other work done from this knowledge base. Any product eligibility information provided here is based on general application guides and we recommend always referring to your specific aircraft parts manual, the parts manufacturer or consulting with a qualified mechanic.
Q: What is the minimum altitude required for a successful deployment?
Per the vendor, "minimum altitude is 400-500 feet."
Q: How often do you recommend repacking?
Here in the US it is 180 days (approx 6 months).