1-877-4-SPRUCE | info@aircraftspruce.com
Aircraft Spruce & Specialty Co.
Corona, CA | Chicago, IL
Wasilla, AK | Peachtree City, GA
Brantford, ON Canada
THE AVIATION SUPERSTORE FOR ALL YOUR AIRCRAFT & PILOT NEEDS | 877-4-SPRUCE
ULLMAN MAGNETIC PICK-UP TOOLS
Overview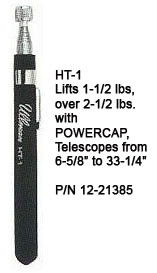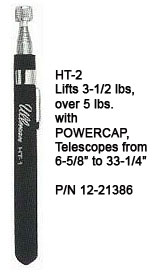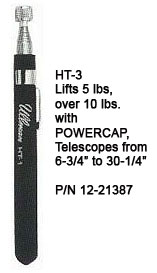 These Ullman pick-up tools with Powercap offer a unique combination of features which make them ideal for work around aircraft. The stainless steel telescoping handle is strong, long, and lightweight, and the comfortable, textured cushion grip keeps handle secure even in wet or oily hands. The head features a compact industrial strength magnet for retrieving heavy objects in tight places. The powercap shields magnet side so that the head can be easily guided past ferrous metal objects.
Customers Also Viewed
Frequently Purchased With
Q&A
Q: Could you please provide the diameter of the magnetic head for the HT-1, HT-2 and HT-3 models? Thanks.
HT-1 is approx 1/2" dia. HT-2 is approx 5/8" dia. HT-3 is approx 3/4" dia.