1-877-4SPRUCE
1-877-477-7823
Other Customers
Have Also Viewed:
INSIGHT G2 SERIES SINGLE ENGINE COLOR MONITOR - COMPLETE SYSTEM
Make Selection(s) Below To Order
From $1899.00 to $2405.00





Cylinders:

Version:

 
 
Part Number:
Reference Chart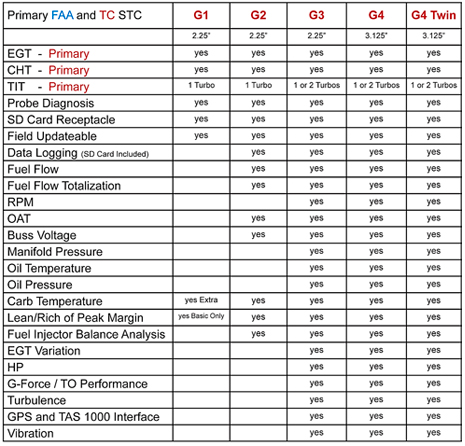 Insight G2 Series Single Engine Color Monitor
Complete Required Order Form prior to order
Complete System - 2.25 Bezel

Save Fuel, Save Money, Save Your Engine!
Affordable Engine Monitoring you can't afford to be without.

Top reasons to install a G2:
Best lean of peak process in the industry

The only

n

ozzle balance analysis, the key to lean of peak

The only probe diagnostic scree

Comprehensive data log

- windows files SD card


Over the web software updates

-

constant improvement




GEM plug compatible

- easy install

Best technical support
Includes:
Top Rotary Control Knob



Carburetor Temperature
Fuel Flow
Buss Voltage
CHT Redline
CHT Graphic Bar (Turns red at 465, yellow is at 410)
EGT Graphic Bar
CHT Numeric Indication
Bottom Rotary Control Knob
Photo Detector
Outside Air Temperature
TIT Redline
EGT Peak
TIT Bar
Peak Fuel Flow
TIT Numeric Indication
Cylinder Number
EGT Numeric Indication
Removable Non-Volatile SD Memory Card
Available in 4 or 6 Cylinder / Standard, Turbo, or Dual Turbo (2 Turbo's per Engine).


Although the description indicates that it is capable of measuring it, does the Insight G2 package also include all of the measure probes and transducers, including for fuel flow and carb heat?
No, carb heat and fuel flow probe/transducer are not included and must be ordered as an option.
---

Does the G2 Series Single engine color monitor, come with the fuel flow sensor or is it sold separately?
Yes, the fuel flow probe is included with purchase. For aircraft with an existing Fuel Flow sensor that will remain, an Insight Fuel Flow Signal Adapter will be included to allow the sensor to interface with this unit.
---

Does the G1 or the G2 replace the primary installed single point EGT and CHT, or do they both have to remain installed and operable? If so, how are the probes all mounted?
You will only need to keep your primary probes if you are intending on keeping your old steam gauges. If you no longer want steam gauges you can replace the EGT and CHT senders.
---

Does this unit come with a STC for tha aircraft you are putting it in? Can it be used in a certified aircraft ?
We have added the STC paperwork to the documents tab for this part. Please check the STC to make sure your aircraft is listed. It is approved for primary use on a certified aircraft for the functions listed with a "yes"" next to them on the reference chart.
---

Will I need the fuel flow transducer to take advantage of the Lean/Rich feature?
According to the manufacturer you will need the transducer to do this, and the transducer comes with the G2.
---

Can oil temperature be added to G2?
Per the manufacture, no, oil temperature can not be added to the G2.
---

610C-242 610C-243 610C-262 610C-263
Enter the quantity desired of each item in the Buy column.