1-877-4SPRUCE
1-877-477-7823
Other Customers
Have Also Viewed:
ELECTRIC SOLENOID ENGINE PRIMER VALVE
Make Selection(s) Below To Order
From $55.75 to $67.75





These new electric solenoids are recommended by Co-Z Development Corp. as ideal electric engine primers for homebuilt aircraft. These normally closed 2-way valves are direct acting and have only two moving parts, a viton plunger and stainless steel spring. Can be installed in any position and are easy to inspect without removing from the line. Pipe size is 1/8" NPT. Orifice dia. 1/8". Wt. 5 oz. #1 port is out, #2 port is in. Will handle max. PSI of 60.

Mounting Bracket
A universal stainless steel mounting bracket for the 1/8" NPT valves may be ordered separately. The mounting bracket can be assembled to the valve body utilizing the body mounting holes. See accessories.

05-04368: 12V SOLENOID VALVE 751-50010

05-04369: 24V SOLENOID VALVE 751-50030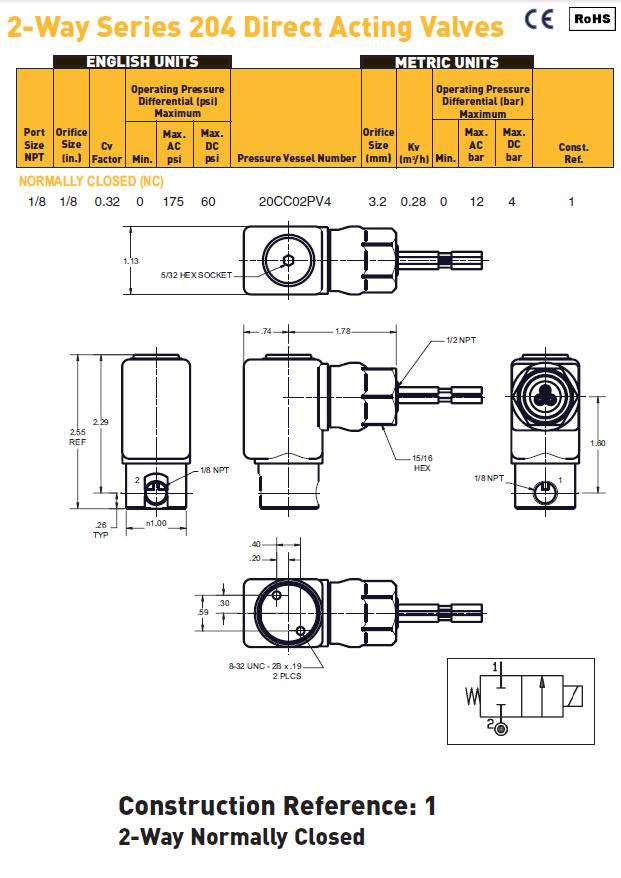 | | |
| --- | --- |
| | Simple economical primer eliminates a lot of plumbing in the cockpit and that useless expensive manual plunger primer. |


Can you please supply a Technical Data Sheet for P/N 05-04368? Thank you in advance.
We have added the available technical data to the "Specifications" tab on this web page.
---

Regarding this electric solenoid engine primer valve: How is this solenoid controlled? Toggle switch or something else?
It is a 12V unit and can be controlled by a switch of the builders choice. It will depend on the application. The manufacturer does not have specific installation instructions.
---

Does this pressurize the primer line? That is, does it replace a hand primer or does it need input pressure to work?
This is a solenoid only, and requires input pressure. It has been used in primer lines for the fuel to flow to the cylinders when an electric fuel pump is on.
---

What port (1 or 2) is in and what port is out?
Per the instructions with the unit, #2 port is in, and the #1 port is out.
---

How many amps does the 24V version of electric primer valve # 05-04369 draw?
This will be .33 amps.
---

751-50010 751-50030
Enter the quantity desired of each item in the Buy column.