1-877-4-SPRUCE | info@aircraftspruce.com
Aircraft Spruce & Specialty Co.
Corona, CA | Chicago, IL
Wasilla, AK | Peachtree City, GA
Brantford, ON Canada
SAME DAY UPS SHIPPING ON ORDERS PLACED BY 4 PM | 877-4-SPRUCE
EYEBALL SWIVEL VENT
Select Color:
Black
Gray
Overview
This high quality, economical swivel air vent is made from 2024T351 aluminum and is available anodized black or grey. Diameter of the flange is 2.75" and the vent is designed to attach with a standard 2" air duct flange. The vent hole of this eyeball swivel vent is 7/8". The knurled collar on the vent swivels 60° to adjust air volume anddirect air flow as desired.

The vent features 4 mounting holes (1/8" dia.) which are spaced 2-3/8" apart or a mounting plate with a thickness of .71".
Specifications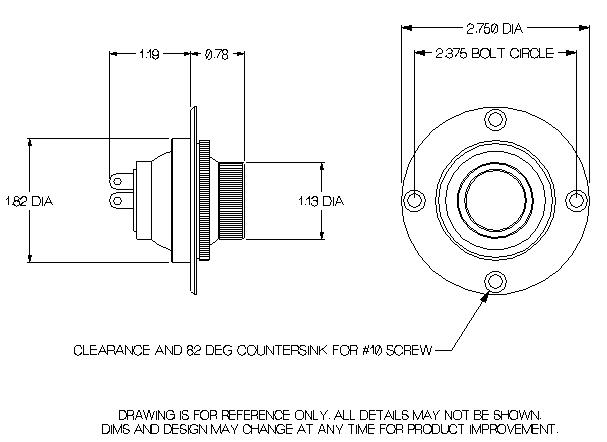 Accessories
Customers Also Viewed
Frequently Purchased With
Reviews
Very nice quality. There is a small air leak if extra lubricant is not applied. Read the included instructions, disassemble and add lubricant.
Tony
February 7, 2019
The vent looks nice and well made. However, trying to open or close the vent turns the direction but does not close the vent. Tightening the ring around the swivel portion (needs two hands) enables the vent to open or close but the swivel is so tight the direction of flow cannot be changed. So, to change the direction or flow volume is a long winded and two handed exercise. I wish I had spent twice as much.
Duncan K
February 22, 2020
Q&A
Q: Can this vent be turned completely off? How is it installed? Thanks
Yes, this vent can be rotated fully closed by turning it 90 degrees clockwise. Here are the installation details: "The body of the air vent requires a 1.850 diameter or larger clearance hole. The vent is secured using 4 #10 screws located on a 2.375 diameter bolt circle. The ball and nozzle subassembly can be removed for access to the back if machine screws and nuts are used rather than sheet metal screws."
Q: What is the weight of this ACS eyeball swivel vent?
0.13 lbs.
Q: What is the recommended flange size for this swivel vent? I would like to know the flange diameter and SCAT tube diameter that work best with this vent. How is the flange attached to the vent? I am guessing that a hole pattern that matches the pattern on the vent is drilled into the flange and then mounted on the back side using the 4 #10 crews.
The manufacturer offers a round flange, part number 10350-8, but it does not have the mounting holes drilled. The installer must drill the holes. 10-32 flush head screws can be used to mount the unit. The vent on the panel, and the flange mounted on the back side, as mentioned in the question.
Q: Does this swivel to direct air flow?
Yes, it does.
Q: Are these priced and sold as a pair of vents or individually?
These are priced and sold individually. 1 vent for an order of 1.
Q: What size supply hose?
This unit will accept a 1-7/8" ID ducting.