1-877-4-SPRUCE | info@aircraftspruce.com
Aircraft Spruce & Specialty Co.
Corona, CA | Chicago, IL
Wasilla, AK | Peachtree City, GA
Brantford, ON Canada
FREE SHIPPING ON ORDERS OVER $350 (USA ONLY - SOME EXCLUSIONS APPLY) | 877-4-SPRUCE
ARTEX WIRE WHIP ANTENNA 110-324
Part# 110-324
MFR Model# 110-324
Overview
Black whip antenna with inductor. For use with 121.5 and 243 MHz. Designed for speeds up to 200 knots TAS.
Specifications
Frequency: 121.5, 243 MHz &
VSWR: 2.0:1 Max for 121.5/243 MHz
Polarization: Vertical
Height: 17.4" Max
Connector: RF Connector, BNC Series (female)
Temperature: -55˚ C to + 85˚ C
Altitude: 50,000 feet
Air Speed: 200 Knots TAS
Color: Black
Drawing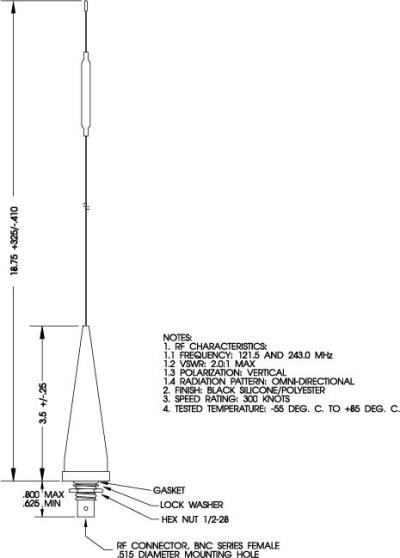 Customers Also Viewed
Frequently Purchased With
Reviews
Perfect fit. Fast shipping!
Dude
November 23, 2018
Good product
Russell
March 12, 2018
Reasonably priced product. The previous one on my Globe Swift obviously separated in flight from the base and was lost, so replacement was an easy process of undoing the old base and installing the new one into the same hole. I have no doubt the old one was quite old but hopefully this wont come apart like the last one.
Jim R
March 29, 2018
Q&A
Q: Is this antenna aircraft spruce P/N 110-324, Artex P/N 465-9000? I need a replacement antenna for a Narco ELT 10. Thank you, Greg
ELT's come with a TSO'd antenna in the box. Unfortunately, while the Artex Wire Whip Antenna is a TSO'd ELT antenna, we can not recommend using another type of antenna as it was not certified for the Narco ELT.
Q: Is this item the same as Artex p/n 455-9000?
No, Artex does not have any reference to p/n 455-9000. Part number 110-324 is an Artex part number.
Q: Will this Artex Wire Whip Antenna work on an artex 345?
The Artex 345 already comes with an antenna. According to the manual the only approved antenna is the one it comes with.
Q: My antenna for my Ameri-King 451 is missing. Is this a good replacement for the antenna? I know Ameri-King ELTs have an AD on them, so the option of replacing the whole unit is still on the table.
No, we recommend using the Rami AV-200 antenna.
Q: Since its the same frequency band and capable of handling transmit power can this antenna be used for a backup portable transceiver?
No, this antenna is specifically for the Artex ELT's only.