1-877-4-SPRUCE | info@aircraftspruce.com
Aircraft Spruce & Specialty Co.
Corona, CA | Chicago, IL
Wasilla, AK | Peachtree City, GA
Brantford, ON Canada
FREE SHIPPING ON ORDERS OVER $350 (USA ONLY - SOME EXCLUSIONS APPLY) | 877-4-SPRUCE
CARLING SWITCHES AND COVERS
From $1.90 to $43.65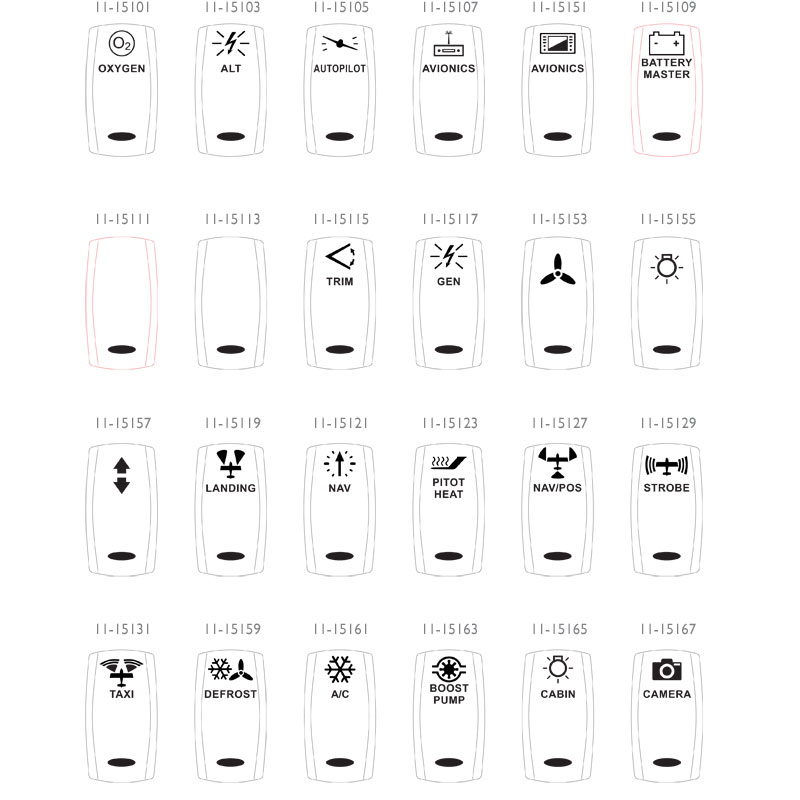 (Hover to zoom | Use mouse wheel for +/-)
| Steps | Model Number | Description | Contact | Part Number | Price | Buy |
| --- | --- | --- | --- | --- | --- | --- |
| 1. Pick Your Switches | V1D1-S00B | On-Off No Light | SPST | | $9.55 | |
| -- | VLD1-S00B | (On)-Off-(On) No Light | DPDT | | $15.65 | |
| -- | V8D1S00B | (On)-Off-(On) No Light | SPDT | | $9.86 | |
| -- | VJD1-S00B | On-Off-On No Light | DPDT | | $13.00 | |
| -- | V6D1-D66B | On-Off-On No Light | SPDT | | $13.50 | |
| -- | V1D1-B60B | On-Off White Light | SPST | | $12.50 | |
| -- | V2D1-S00B | (On)-Off White Light | SPST | | $12.95 | |
| -- | VJD1-D66B | On-Off-On White Light | DPDT | | $24.70 | |
| -- | VLD1-A60B | (On)-Off-(On) White Light | DPDT | | $23.50 | |
| -- | V1D1-G66B | On-Off White Light | SPST | | $18.95 | |
| -- | V2D1-A60B | (On)-Off White Light | SPST | | $16.50 | |
| -- | V4D1-A60B | On-On White Light | SPDT | | $27.50 | |
| -- | V7D1-A60B | On-Off-(On) White Light | SPDT | | $23.65 | |
| -- | VJD2-U66B | On-Off-On White Light | DPDT | | $30.95 | |
| -- | V1D1-GCCB | On-Off Red Light | SPST | | $24.60 | |
| -- | V2D1-ACOB | (On)-Off Red Light | SPST | | $27.50 | |
| -- | VJD2-ACOB | On-Off-On Red Light | | | $39.50 | |
| -- | VLD1-ACOB | (On)-Off-(On) Red Light | DPDT | | $34.50 | |
| -- | V1D1-GXXB | On-Off Blue Light | SPST | | $32.50 | |
| -- | V2D1-AXOB | (On)-Off Blue Light | SPST | | $27.50 | |
| -- | VJD2-UXXB | On-Off-On Blue Light | DPDT | | $43.65 | |
| -- | VLD1-AXOB | (On)-Off-(On) Blue Light | DPDT | | $35.50 | |
| 2. Pick Your Covers | -- | Oxygen | -- | | $15.00 | |
| -- | -- | Alternator | -- | | $13.99 | |
| -- | -- | Autopilot | -- | | $17.50 | |
| -- | -- | Avionics | -- | | $17.50 | |
| -- | -- | Battery Master Avionics | -- | | $17.50 | |
| -- | -- | Red Blank | -- | | $17.50 | |
| -- | -- | Black Blank | -- | | $17.50 | |
| -- | -- | Trim | -- | | $17.50 | |
| -- | -- | Generator | -- | | $17.50 | |
| -- | -- | Landing | -- | | $17.50 | |
| -- | -- | Nav | -- | | $17.50 | |
| -- | -- | Pitot Heat | -- | | $17.50 | |
| -- | -- | Nav/Pos | -- | | $17.50 | |
| -- | -- | Strobe | -- | | $17.50 | |
| -- | -- | Taxi Custom Switch | -- | | $17.50 | |
| -- | -- | Glass Panel Avionics | -- | | $17.50 | |
| -- | -- | Fan | -- | | $17.50 | |
| -- | -- | Light | -- | | $17.50 | |
| -- | -- | Up/Down | -- | | $17.50 | |
| -- | -- | Defrost | -- | | $13.99 | |
| -- | -- | Air Conditioning | -- | | $13.99 | |
| -- | -- | Boost Pump | -- | | $17.50 | |
| -- | -- | Cabin Light | -- | | $17.50 | |
| -- | -- | Camera | -- | | $17.50 | |
| 3. Pick Your Brackets | -- | End | -- | | $3.95 | |
| -- | -- | Middle | -- | | $3.95 | |
| -- | -- | Single | -- | | $3.95 | |
| 4. Pick Your Mounts | 44385 | VHP Mounting Panel Plug | -- | | $1.90 | |
Overview
Carling Technologiesí sealed V-Series Contura switches are well known for their cutting edge design, high quality, maximum performance and unmatched reliability. These switches are a staple in the marine and transportation industries and have passed a range of environmental, corrosion, temperature, vibration, shock and sealing tests including MIL Std 202F, MIL Std 510.1, UL 1500, ISO 8846, IEC 60529 and BS 5490 among others, making them one of the most rugged and reliable switches ever manufactured.
Features
Certified to IP66/68 with dual seals around lamps and rocker stem.
Silver plated butt contact mechanism provides reliability up to and beyond 100K electrical cycles
Greaseless construction withstands temperature extremes down to -40 ̊C
The switch accommodates up to 10 terminals and endless illumination and circuit options.
The switch connector allows the user to preload FQC terminals for ease of assembly.
Numerous choices of removable rockers allow for style change without having to retest or re-qualify the switch base.
Customers Also Viewed
Frequently Purchased With
Reviews
Carling Switches and accessories are very good quality. Solid dimensionally and properly designed for long use, in my opinion. Aircraft Spruce should carry the quick connect box so we dont have to buy the from Newark Products on line.
Bark
April 15, 2018
Great product. Solid. Dimensionally sound and easy to work with. Suggestion for Aircraft Spruce..... begin to carry the 8-post VCH-01 Quick Connect box for these switches so I dont have to go to Newark Products to buy them.
Bark
April 15, 2018
Gave two stars do to poor description. Needed more info in the description. The (On)-Off SPST was not clearly stated, in fact it is only described in a question buy a user, down in the Q&A. I thought that the (On) described the Light operation on the switch but it turns out it is a momentary On switch. Order two new On-Off SPST switches.
Darrin T
July 20, 2020
Q&A
Q: Switch part numbers v1d1-gxxb and v2d1-axob. the word in parentheses, does that mean when the light is on?
No, if the on or off is in parenthesis, for example (on) or (off), that means the function is momentary. If you release it, it will return to the previous position. For example, if you have a switch that is (on) - off - (on), that means that it is off in the middle, if you press it either way it will go on, but when you release it will return to the center off position.
Q: Are these Carling switches and covers for certificated aircraft?--Looking for a PA-16
These switches do not have any FAA Approval.
Q: Is the lighting of the Carling switches LED or incandescent?
The white lights are incandescent, the blue and red are LEDs.