1-877-4SPRUCE
1-877-477-7823
Other Customers
Have Also Viewed:
AN386 TAPER PIN
See Below for Parts, Pricing, and Ordering
From $6.25 to $22.70





Reference Chart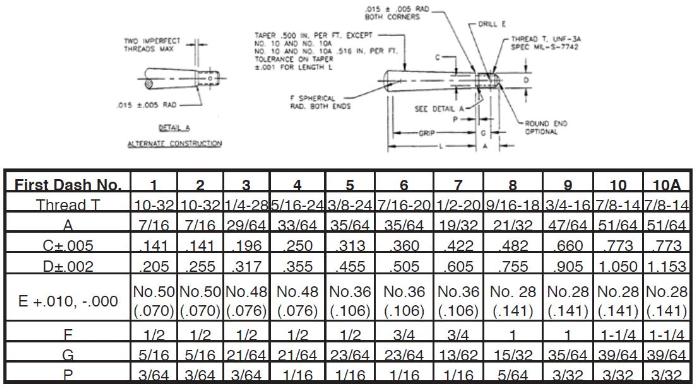 Enter the quantity desired of each item in the Buy column.



Part Number
Price
Buy
Sub-Total
AN386-1-6
$6.50
AN386-1-6A
$6.25
AN386-1-7
$8.50
AN386-1-7A
$6.95
AN386-1-8
$7.90
AN386-1-9
$9.50
AN386-1-9A
$7.92
AN386-1-10A
$6.50
AN386-1-11
$7.95
AN386-2-8
$14.90
AN386-2-9A
$6.94
AN386-2-10
$9.65
AN386-2-12
$13.60
AN386-2-13
$13.50
AN386-2-14
$8.75
AN386-3-12
$22.70
AN386-3-12A
$15.90
AN386-3-14
$9.80
AN386-4-13
$19.50
AN386-3-12A - New Surplus
$14.75

Current Total
Click Add to Cart to add them to your shopping cart
or Add to Wishlist to store them for ordering later.
Manufactured from alloy steel, minimum tensile strength 125,000 PSI. Cadmium plated. Taper: 0.500"/ft. Use with AN975 taper pin washer, AN320 shear castle nut and cotter pin or with AN364 elastic stop nut. When installed, the small end of the tapered shank should protrude no more than 1/16" above the surface of the assembly. The first dash number is the Brown & Sharpe taper pin reamer number and the second dash number is the grip length in eighths of an inch. For undrilled threaded shank add the letter "A" after second dash number.

To order taper reamers, please click here.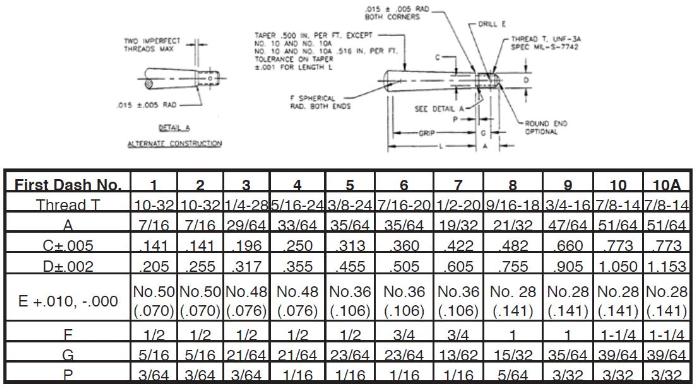 | | |
| --- | --- |
| | I used a taper pin on the control arms for my ailerons. They worked great and took all the play out that had previously existed with just a thru bolt. Be careful when installing to use the correct drill size for the initial hole and to approach the final taper diameter carefully to prevent overshooting the desired level of penetration. A small increase in diameter of the taper results in a very large increase in penetration depth. |

10503-1 12192-1 10505-1 12202-1 68360-1 10512-1 12220-1 10680-1 12155-1 10587-1 13141-1 13015-1 13019-1 13020-1 13023-1 14349-1 12226-1 25830-1