The Sport EX puts a Primary Flight Display EFIS in your panel at an unbeatable price. Software options let you purchase what you need now, and expand later, without removing the EX from your panel. Built on more than two decades of avionics experience, and using the industry's only AHRS that can operate unaided, the base model provides primary flight functions and engine pages which can be driven by any GRT EIS engine monitor. The base model even includes synthetic approach to any runway, and depiction of obstacles on the PFD screen.

Synthetic Vision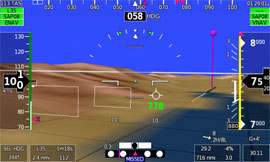 The optional synthetic vision, with its 10 mile range, provides intuitive terrain awareness. This awareness is essential whey flying in mountainous areas, and also creates a natural sense of height above the ground, location, and direction of flight. 3-D way-points, obstacles and runways, make navigation simple and help protect you from the threat of towers.


Split-Screens

Ten split-screen combinations are included, combining two or three views into one screen of the PFD, map and HSI, and engine monitoring. Information is clearly presented, making it practical to fly with a single screen and rarely touch a button. For dual screen installations the split-screens provide a single-screen reversionary mode suitable for IFR flight.