1-877-4-SPRUCE | info@aircraftspruce.com
Aircraft Spruce & Specialty Co.
Corona, CA | Chicago, IL
Wasilla, AK | Peachtree City, GA
Brantford, ON Canada
FREE SHIPPING ON ORDERS OVER $350 (USA ONLY - SOME EXCLUSIONS APPLY) | 877-4-SPRUCE
ROCHESTER 3080-38 TEMPERATURE PROBE 3/8-24 NF3 250-550F
Part# 3080-38
MFR Model# 3080-00038
Overview
Temperature Probe 3080-38 for cluster-type instrument.

Probe comes with (2) nuts, (1) lockwasher and (1) copper mounting gasket in the included hardware kit packaged separately.
Specifications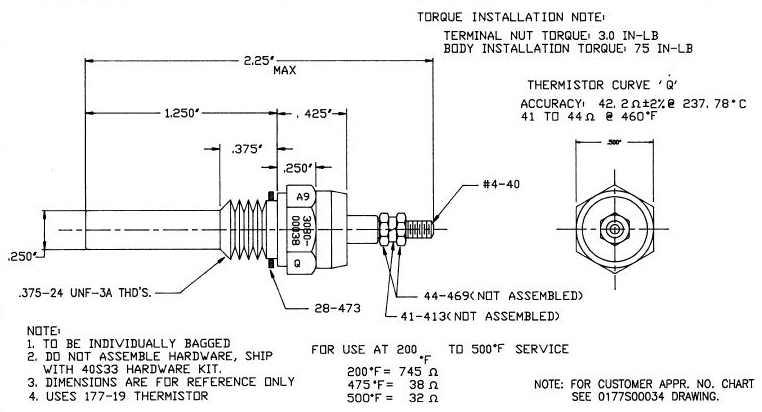 Customers Also Viewed
Frequently Purchased With
Related Items
Reviews
Fixed the problem with my Mooney OEM guage
Ralph B
June 1, 2020
top service
Sue C
November 11, 2019
Works perfectly
Rick
February 12, 2018
Good value for money!
Patrick
February 12, 2018
Great sensor. Less expensive than Cessna/Piper brands. Same part#
John
March 4, 2013
Delivered on time. Works as advertised.
Webbco L
March 13, 2020
Ive had success with these probes, but they have a nut and a locknut, and if the nuts are tightened too hard the ceramic core will move and make the probe fail. Trouble is - they usually dont fail immediately. I snug them gently then use locknut to ensure the nuts dont work their way off.
P.b.
July 21, 2018
This is not an aircraft quality part. As others have mentioned, the center section will loosen under vibration and give intermittent false readings. My first sender lasted several hundred hours (Lycoming 0-360), the second a couple of hundred.
Kim H
July 18, 2018
Dont seem to last much past 100hrs on my lycoming 0360 before center section becomes loose then gives intermittent readings. Just purchased two and one arrived with the center section already loose. Installed it and it works but probably not for long.
Albert Q
March 5, 2018
The resistance of this probe is not what is shown on the chart.
Lee
April 8, 2021
Q&A
Q: I am looking at the cylinder head temperature gauge for lycomings. The part number 3080-38 is for the probe. Is this a probe or the gauge you have listed on your web site?
We have updated the website to reflect the correct description. It is the probe that is listed on this page.
Q: Will this probe work for a 1965 Debonair 35-C33?
If you are replacing an existing Rochester probe 3080-00038 then yes as you had approval before otherwise no as it is not a TSO'd (certified) probe.
Q: Will the 3080-00038 work in a Cessna with original Stewert Warner gauge Cessna sender P/N S-1372-2?
No, this probe is only approved for replacing an existing 3080-38.
Q: Is this for a 12V or 24V system?
These do not connect to aircraft power. The probe connects to your instrument directly.