1-877-4-SPRUCE | info@aircraftspruce.com
Aircraft Spruce & Specialty Co.
Corona, CA | Chicago, IL
Wasilla, AK | Peachtree City, GA
Brantford, ON Canada
FREE SHIPPING ON ORDERS OVER $350 (USA ONLY - SOME EXCLUSIONS APPLY) | 877-4-SPRUCE
BRACKETT TOWBAR ADAPTERS
From $7.50 to $83.95
Brackett Model No.
Aircraft
Size
Part Number
Price
Buy
T-1030
Aerostar 600, 700P
Baron, Bonanza Axle Towing (L)
2 Required
$17.85
T-1100
Universal
1.1 OD .750 OD (2 Required)
$31.50
T-1375
Universal
1.375 ID 1.750 OD (2 Required)
$25.50
T-1500
Universal
1.500 OD (2 Required)
$19.95
T-260
Universal
2.60 OD (2 Required)
$17.85
T-349
Universal
.349 OD (2 Required)
$17.85
T-375
Socata Trinidad, Tobago
2 Required
$17.85
T-451
Pilatus PC12 / TBM 700
.451 OD (2 Required)
$19.95
98404A011
Quick Release Pin
--
$7.50
T-840
Extender / Piper / Arrow / Lance
.840 OD .640 ID
$17.85
T-820
Malibu / Mirage / Meridian
.820 OD (2 Required)
$21.85
T-475
Universal
--
$17.00
T-515
Bell
.515 ID (2 Required)
$17.00
T-535
Epic LT
2 Required
$18.00
T-625
Augusta 109
2 Required
$17.00
T-700
Diamond DA-42
.700 ID (2 Required)
$17.85
T-730
L-39 Jet / T-28 Lancair
Albatros Aero L39C / L39ZA (L)
.730 OD .320 ID (2 Required)
$17.85
T-MAULE
Maule Tailwheel
--
$83.95
T-750
Commander
2 Required
$17.85
T-795
Piper / Lance / Saratoga
.795 OD .320 ID (2 Required)
$17.85
T-PC6
Pilatus PC-6
2 Required
$17.00
TWA-10
Champion Aircraft
2 Required
$22.95
TWA-11
Howard DGA
2 Required
$22.95
TWA-DH
Baron, Bonanza Axle Towing (R)
Dehaviland Beaver DHC-2
2 Required
$28.70
T-910
Albatros Aero L39ZA (R)
--
$16.99
T-960S
--
2 Required
$15.95
T-960
Albatros Aero L39C (R)
--
$17.85
T-DEX
Duchess
.750 OD (2 Required)
$22.95
T-N182
Cessna 152, 172, 182, 206
.625 ID (2 Required)
$17.85
T-P228
Piper PA-22, 28 / YAK 18 / GIPPSAERO GA8
(2 Required)
$17.85
Overview
Note: Quick release pins are included with adapters.

Brackett Adapters.


Aircraft Application Guide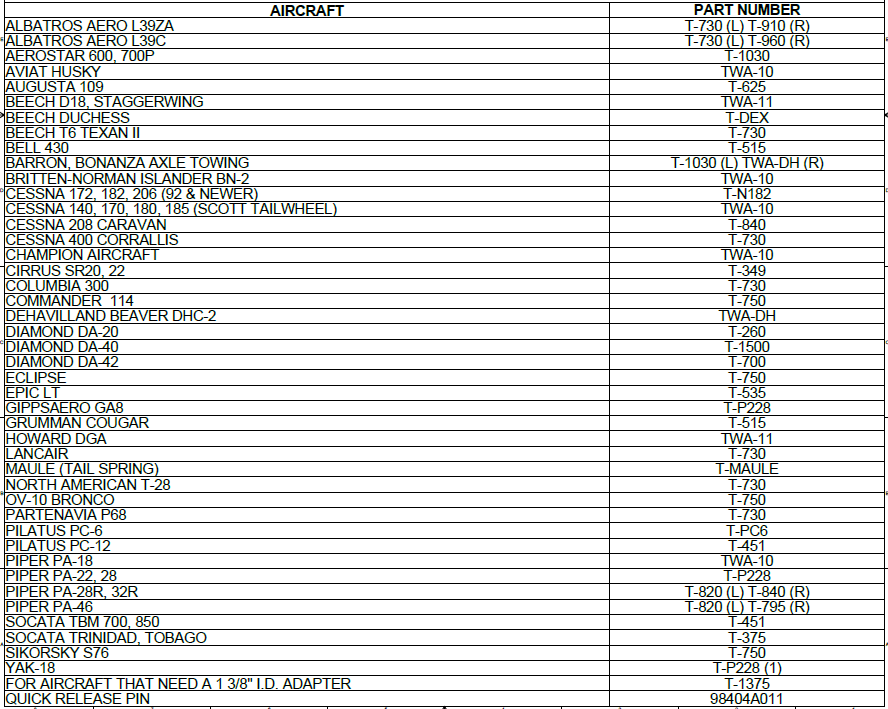 Customers Also Viewed
Frequently Purchased With
Reviews
Good fit.
Bob C
Verified Purchase

BRACKETT UNIVERSAL ADAPTER CIRRUS .349 OD REQUIRES 2
June 6, 2021
Great product works well, well made. Recommend to everyone
David K
May 13, 2021
Bought 2 T-750 tips for use on RV nosewheel, as recommended. They are beautifully made. But two notes. 1/ the tips come with the needed pins, so the two pins I bought are not needed. I didnt see a comment on that in the item page, but I see it in the comments of Jim F. 2/ the T-750s are short, too short to get through the existing hole in my nosewheel fairing. I could try to enlarge the hole, but will see if the T-N182 tips, which have a longer reach, will accommodate the RV nosewheel axle bolt.
Michael C
January 1, 2019
Well-machined part that shows typical good Brackett quality. The description needs to be updated to let you know that the part includes a set of .25 quick release pins so that you dont order an additional set unnecessarily (like I did!).
Jim F
December 14, 2017
Bought for HA420 Hondajet for use on a Brackett 34 towbar. They come with quick remove pins and fit snug in the tow bar. However they do have a lot of clearance on the nosegear so there is some slop at that point. Looked at several suppliers that had 3-4 week delivery, Aircraft Spruce had 3 of the 6 I required in stock and I had them in Canada within a few days of the order.
John S
January 14, 2019
I had hoped the quick release pin would fit my tow bar, but my tow bar requires a 1/4 pin and this pin is much smaller (3/16 or smaller?)
David F
January 14, 2019
Q&A
Q: Which adapter (if any) do I need for a 1963 Cessna 172D?
You will need two of P/N# 13-16106.
Q: Which p/n would I need for a Cessna Cardinal RG 1977
This aircraft would not require an adapter to work with the Brackett tow bars.