1-877-4-SPRUCE | info@aircraftspruce.com
Aircraft Spruce & Specialty Co.
Corona, CA | Chicago, IL
Wasilla, AK | Peachtree City, GA
Brantford, ON Canada
EVERYTHING FOR PLANES AND PILOTS SINCE 1965 | 877-4-SPRUCE
ROTAX 447 UL ENGINE BING DOUBLE-FLOAT CARBURETOR 36 MM, MODEL 96 PARTS
From $0.13 to $48.50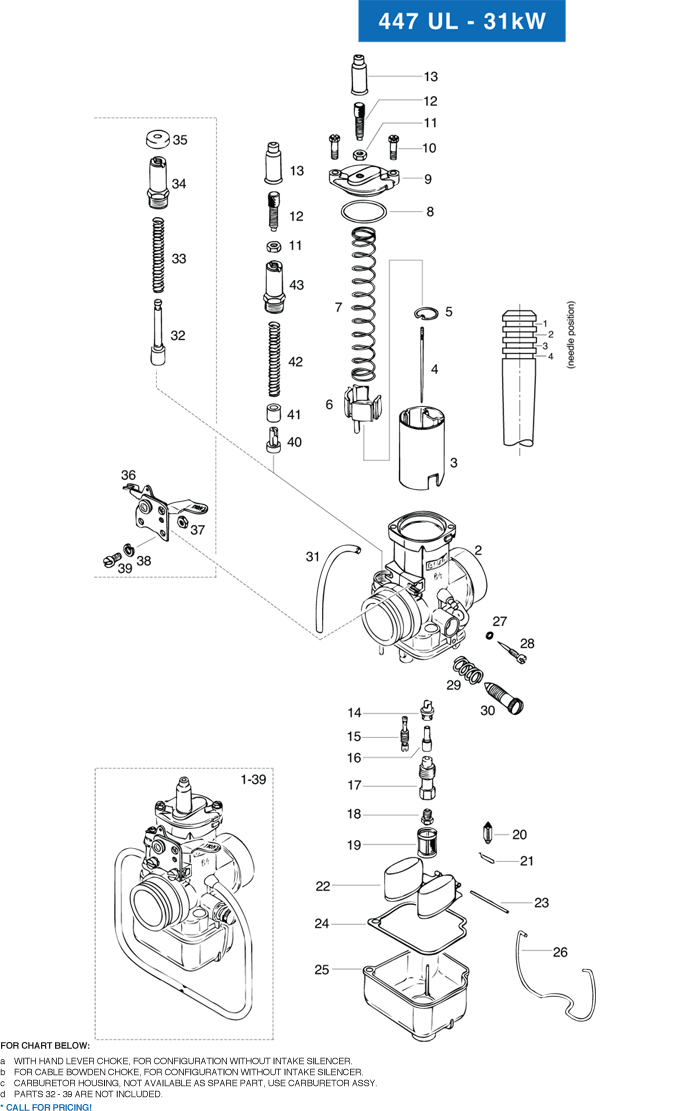 (Hover to zoom | Use mouse wheel for +/-)
| No. | Status | Rotax Number | Description | Qty 447 | Part Number | Price | Buy |
| --- | --- | --- | --- | --- | --- | --- | --- |
| 10 | | 241-430 | HEX. SCREW M5X12 | 1 | | $1.10 | |
| 12 | | 241-440 | ADJUSTMENT SCREW M6X0,75 | 2 | | $4.15 | |
| 15 | | 963-140 | IDLE JET 50 | 1 | | $34.50 | |
| 16 | | 261-608 | NEEDLE JET 2,70 | 1 | | $27.50 | |
| 17 | | 963-130 | MIXING TUBE | 1 | | $23.75 | |
| 18 | | 268-980 | MAIN JET 135 | 1 | | $12.50 | |
| 19 | | 261-625 | SIEVE SLEEVE | 1 | | $7.00 | |
| 23 | | 929-702 | PIN | 1 | | $2.16 | |
| 24 | | 830-720 | GASKET | 1 | | $19.10 | |
| 25 | | 963-170 | FLOAT CHAMBER | | | $48.50 | |
| 26 | | 963-180 | SPRING CLIP | 1 | | $11.50 | |
| 27 | | 831-713 | O-RING 3,2X1,8 | 1 | | $4.35 | |
| 31 | | 861-940 | AIR VENT LINE | 1 | | $13.65 | |
| 38 | | 945-750 | LOCK WASHER A5 | 2 | | $0.13 | |
Overview
Rotax 447 UL engine bing double-float carburetor 36 mm, model 96 parts.

Explanations of symbols and statements in part number charts:

N = Newly introduced part number
s.v. = Still valid. Part was replaced by compatible component and can not be supplied any longer by the producer. Existing stock may be used.
AR = As required. This generally refers to shims, hose, wires, and cable. Measure the amount you need before ordering. Many times there will be multiple listings of different lengths with the same part number. Use individual part descriptions to determine the proper length needed.
n.a or NLA = No longer available, no replacement from Rotax. Part is no longer available due to incompatibility to current production or unavailability of part.
CALL = Please call for price, 800-247-9653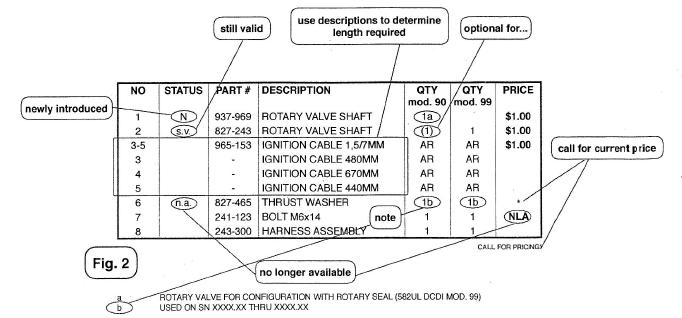 Notes
Status

Part No.

Description

447

503

582
m90

582
m99

618

Price

CARBURETOR HOUSING

261-600

COVER PLATE

 
Customers Also Viewed
Frequently Purchased With
Q&A
Please note, Aircraft Spruce's personnel are not certified aircraft mechanics and can only provide general support and ideas, which should not be relied upon or implemented in lieu of consulting an A&P or other qualified technician. Aircraft Spruce assumes no responsibility or liability for any issue or problem which may arise from any repair, modification or other work done from this knowledge base. Any product eligibility information provided here is based on general application guides and we recommend always referring to your specific aircraft parts manual, the parts manufacturer or consulting with a qualified mechanic.