1-877-4-SPRUCE | info@aircraftspruce.com
Aircraft Spruce & Specialty Co.
Corona, CA | Chicago, IL
Wasilla, AK | Peachtree City, GA
Brantford, ON Canada
FREE SHIPPING ON ORDERS OVER $350 (USA ONLY - SOME EXCLUSIONS APPLY) | 877-4-SPRUCE
CABLE END "B" NUT
From $11.85 to $11.85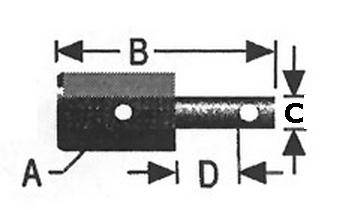 (Hover to zoom | Use mouse wheel for +/-)
Overview
This universal NAP assembly will eliminate bent or smashed push-pull cable ends and get a strong hold at the same time. The cable end lays in a machined channel at the bottom of the screw hole. Tightening the compression screw snugs down on the cable end thus eliminating any potential crimping or smashing of the cable. Eliminates wear, possible cable breakage and enhances smooth push-pull operation. Complete with washers and cotter pin. All stainless steel, computer machined and easy to install.
Customers Also Viewed
Frequently Purchased With
Reviews
Best way to end a control cable. Product is perfect, totally as described.
Raymond J
August 19, 2018
Great product! Good Quailty! Works like a Charm!
Kevin
May 14, 2018
works very well. as intended.
Larry
March 29, 2018
Works great
Dennis
March 19, 2018
A bit pricy, but the perfect part for this application. Ive tried making my own part by drilling AN3 bolts. Doesnt work well or consistently. My only negative is that my order took about 2 months to get. Not sure why.
Gordon
October 15, 2017
Works real good, would use again
Kenneth M
May 6, 2017
I have used on a fuel valve ball handle with great success. I now have one on my alternate air source arm and works great there too. The set screw really locks good and the size I have is the large one. Great stuff for all kinds of applications.
James E
April 22, 2017
Perfect part.
Thomas L
April 20, 2017
I got a B nut that was not tapped deep enough for the Allen set screw to capture the .050 cable I used it on. When I tried to tighten it further my allen wrench broke off in the set screw rendering the whole thing useless. THE GOOD NEWS is that upon telling AS&S of my problem, they sent a new one and that one did the job very well. Great service without ANY hassle and expedited shipping. 4 stars only due to the first part sent. Otherwise 5 stars.
Richard C
December 16, 2018
Good part for certain tasks where you need this thing to swivel. Most of the time, I use the threaded type with castellated nut, which has no play when installed. As another mentioned, took a long time (about a month) to arrive.
Volo A
October 22, 2017
Q&A
Q: Is this Cable End "B" Nut approved for use in certified aircraft? Does it come with paperwork or is it a reasonable alternate that my mechanic can designate as airworthy?
No. This unit is not FAA approved. Used on experimental aircraft only.
Q: Is A dimension the diameter of the cable hole?
Yes, it is the diameter of the cable hole.