1-877-4-SPRUCE | info@aircraftspruce.com
Aircraft Spruce & Specialty Co.
Corona, CA | Chicago, IL
Wasilla, AK | Peachtree City, GA
Brantford, ON Canada
EVERYTHING FOR PLANES AND PILOTS SINCE 1965 | 877-4-SPRUCE
PIPER PULLEYS
From $13.50 to $165.85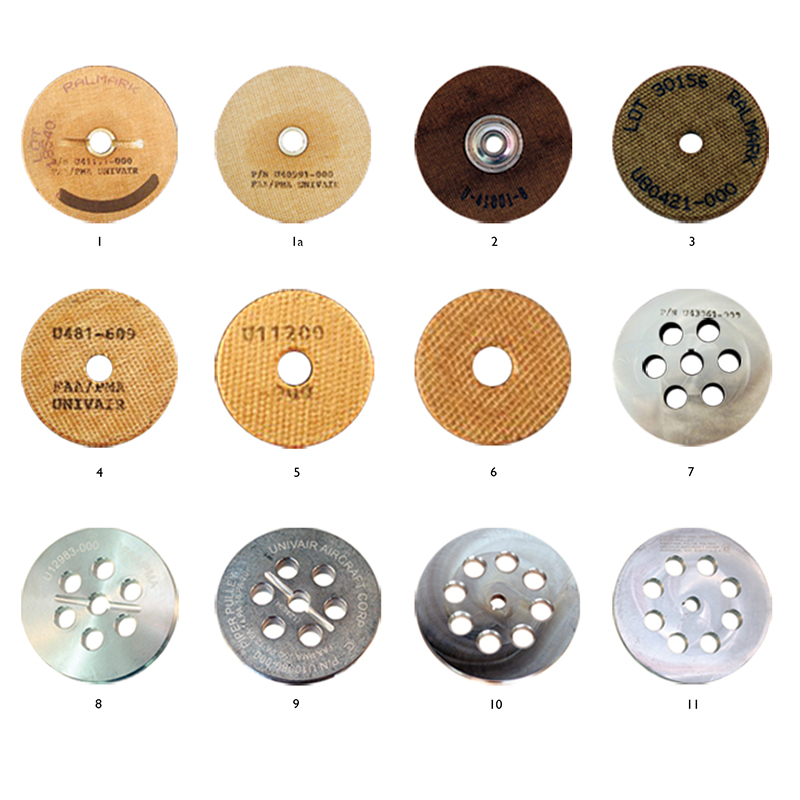 (Hover to zoom | Use mouse wheel for +/-)
| Fig | Reference No. | Description | O.D. (in.) | I.D. (in.) | Part No. | Price | Buy |
| --- | --- | --- | --- | --- | --- | --- | --- |
| 1 | 41171-000 | Pulley, trimcrank with bushing (fiber) | 2-3/4 | 3/8 | | $70.75 | |
| 1a | 40991-000 | Pulley (no slot) | 2-3/4 | 3/8 | | $18.75 | |
| 2 | 41001-008 | Pulley with bearing (fiber), (41001-010) | 2-3/4 | 5/16 | | $59.75 | |
| 3 | 80421-000 | Pulley (fiber) | 1-3/4 | 1/4 | | $13.50 | |
| 4 | 481-609 | Pulley(fiber) | 1-1/2 | 1/4 | | $14.50 | |
| 5 | 11200-000 | Pulley(fiber) | 1-1/8 | 1/4 | | $16.65 | |
| 6 | 43001-000 | Pulley (fiber) | 1 | 1/4 | | $18.85 | |
| 7 | 43061-000 | Pulley,Stabilizer screw (aluminum) | 2-3/4 | 3/8 | | $113.75 | |
| 8 | 12983-000 | Pulley, double groove (aluminum) | 2-3/4 | 3/8 | | $64.75 | |
| 9 | 10080-000 | Pulley, trimcrank (aluminum) | 2-3/4 | 3/8 | | $145.75 | |
| 10 | 11008-000 | Pulley adj. screw (aluminum) single groove | 4 | 3/8 | | $165.85 | |
| 11 | 12982-000 | Pulley, adj. screw (aluminum) double groove | 4 | 3/8 | | $123.75 | |
Customers Also Viewed
Frequently Purchased With
Reviews
Good pulley, works as expected
J&s A
Verified Purchase

PIPER PULLEY U41001-008
July 25, 2021
Perfect parts for our Piper L18.
Uwe H
April 28, 2019
Q&A
Q: Is there any certification paperwork available on these?
These parts are FAA / PMA Approved and will be stamped. No certs are included. 8130 forms are available for additional charge and must be requested at time of order.
Q: Is the 41001-008 pulley a replacement for the 41001-000?
They are essentially the same pulley. The only difference is the -008 has a heavy duty bearing in it.