1-877-4-SPRUCE | info@aircraftspruce.com
Aircraft Spruce & Specialty Co.
Corona, CA | Chicago, IL
Wasilla, AK | Peachtree City, GA
Brantford, ON Canada
FREE SHIPPING ON ORDERS OVER $350 (USA ONLY - SOME EXCLUSIONS APPLY) | 877-4-SPRUCE
CAMLOC 2600 STUDS
From $2.15 to $12.50
| Type | Description | Part No. | Price | Buy |
| --- | --- | --- | --- | --- |
| Cad Plated Slotted | Camloc Fastener Stud | | $6.60 | |
| Cad Plated Slotted | Camloc Fastener Stud | | $5.90 | |
| Cad Plated Slotted | Camloc Fastener Stud | | $2.70 | |
| Cad Plated Slotted | Camloc Fastener Stud | | $2.20 | |
| Cad Plated Slotted | Camloc Fastener Stud | | $2.15 | |
| Cad Plated Slotted | Camloc Fastener Stud | | $2.15 | |
| Cad Plated Slotted | Camloc Fastener Stud | | $8.95 | |
| Cad Plated Slotted | Camloc Fastener Stud | | $3.80 | |
| Cad Plated Slotted | Camloc Fastener Stud | | $6.50 | |
| Cad Plated Slotted | Camloc Fastener Stud | | $6.55 | |
| Cad Plated Slotted | Camloc Fastener Stud | | $10.50 | |
| Cad Plated Slotted | Camloc Fastener Stud | | $6.50 | |
| Cad Plated Slotted | Camloc Fastener Stud | | $8.95 | |
| Cad Plated Slotted | Camloc Fastener Stud | | $7.90 | |
| Stainless Steel Slotted | Camloc Fastener Stud | | $11.50 | |
| Stainless Steel Slotted | Camloc Fastener Stud | | $6.99 | |
| Stainless Steel Slotted | Camloc Fastener Stud | | $7.70 | |
| Stainless Steel Slotted | Camloc Fastener Stud | | $3.95 | |
| Stainless Steel Slotted | Camloc Fastener Stud | | $11.55 | |
| Stainless Steel Slotted | Camloc Fastener Stud | | $5.95 | |
| Stainless Steel Slotted | Camloc Fastener Stud | | $11.50 | |
| Stainless Steel Slotted | Camloc Fastener Stud | | $9.50 | |
| Stainless Steel Slotted | Camloc Fastener Stud | | $8.50 | |
| Stainless Steel Slotted | Camloc Fastener Stud | | $12.50 | |
| Cad Plated Phillips | Camloc Fastener Stud | | $8.50 | |
| Cad Plated Phillips | Camloc Fastener Stud | | $2.90 | |
| Cad Plated Phillips | Camloc Fastener Stud | | $2.45 | |
| Cad Plated Phillips | Camloc Fastener Stud | | $2.45 | |
| Cad Plated Phillips | Camloc Fastener Stud | | $2.45 | |
| Cad Plated Phillips | Camloc Fastener Stud | | $2.75 | |
| Cad Plated Phillips | Camloc Fastener Stud | | $8.65 | |
| Cad Plated Phillips | Camloc Fastener Stud | | $3.35 | |
| Cad Plated Phillips | Camloc Fastener Stud | | $4.35 | |
| Cad Plated Phillips | Camloc Fastener Stud | | $7.75 | |
Overview
2600 STUD LENGTH SELECTION
Total material thickness "G" consists of the thickness of all materials to be fastened. This must include the thickness of the material "P" to which the stud assembly is attached, the material "F" to which the receptacle is attached plus gaskets (if used) and allowance for paint or other protective finishes. If the total thickness is near the upper limit of the stud grip range, the next longer stud should be used. This will still maintain positive locking of the fastener under vibration.

P (panel thickness)..................... .062
F (frame thickness................... + .062
GRIP (total thickness).............. = .124


STUD SELECTION TABLE
Using 212-12 Receptacle

Total Grip Thickness

Use 2600

.020-.059

2600-1

.060-.089

2600-2

.090-.119

2600-3

.120-.149

2600-4

.150-.179

2600-5

.180-.209

2600-6

.210-.239

2600-7

.240-.269

2600-8

.270-.299

2600-9

.300-.329

2600-10

.330-359

2600-11

.360-389

2600-12

.390-.419

2600-13

.420-.449

2600-14

2600, 2700 SERIES RETAINING WASHER
Retaining washers are required for studs of -5 length or greater. Use split washer 2600- SW2 where it is desirable to have the stud fall away for minimum internal projection. Use internal tooth washer 2600-LW where it is desirable to retain the stud assembly rigidly.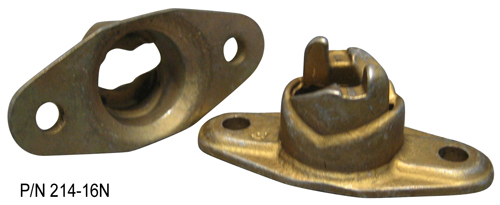 2600, 2700 SERIES RECEPTACLES
| | |
| --- | --- |
| Rivet Holes | 2600, 2700 Series Part No. |
| Plain | 212-12N |
| Countersunk | 212-12ND |
Accessories
Customers Also Viewed
Frequently Purchased With
Reviews
Ok
Peter H
Verified Purchase

CAMLOC FASTENERS 2600-2 STUDS
September 15, 2021
We ordered a variety of lengths to allow for minor variations in thickness of the fiberglass that these will be passing through. They are very forgiving though.
Patrick S
May 10, 2021
Quick delivery. Good price. To spec.
John S
February 19, 2021
Spruce sells only the best quality hardware. These are exactly on spec.
Robin H
January 12, 2021
I needed this badly and arrived very quickly. Thank you.
Thomas B
June 7, 2020
My only complaint is the freight cost.
Neil R
March 26, 2020
Very good I havent received the back ordered studs as of yet.
Neil R
March 12, 2020
I did get the -3s
Paul A
May 2, 2019
These worked well on my 1969 C150. They made the cowl fit much tighter. As always, they were delivered quickly by Aircraft Spruce, a great company in my experience.
James
March 22, 2018
A small item but was shipped promptly and was exactly what I needed.
Josh
March 8, 2018
Q&A
Please note, Aircraft Spruce's personnel are not certified aircraft mechanics and can only provide general support and ideas, which should not be relied upon or implemented in lieu of consulting an A&P or other qualified technician. Aircraft Spruce assumes no responsibility or liability for any issue or problem which may arise from any repair, modification or other work done from this knowledge base. Any product eligibility information provided here is based on general application guides and we recommend always referring to your specific aircraft parts manual, the parts manufacturer or consulting with a qualified mechanic.
Q: What material are 2600-8 and 212-12N made of? Are they stainless steel? Thanks.
No, they are not stainless steel. Both 2600-8 and 212-12N are yellow cadmium plated steel.
Q: What are the S dimensions of 2600-4, 2600-5, and 2600-6? I have one of them but I don't know which it is. I know it fits correctly and I can most easily measure this stud length S.
This is the formula to figure out the S dimension:

S= .73 + (.03 x Dash No.)

Example: 2600-4 S=.73 +(.03 x 4) , stud length is .85"
Q: Are the 26S8-X series of Studs compatible with the 212-12ND and 214-16ND Receptacles?
No, they can not be used with the 214-16ND units. The 214-16ND require the 4000 series studs. The 212-12ND does work with the 2600 series studs.
Q: What is the difference between the 2600 studs & the Camloc C-spec 2600 studs? Are they interchangeable?
Camloc is manufactured by Alcoa, and C-Spec is manufactured by Milspec Products, but are interchangable. The stud head appearance are slightly different, but function the same.
Q: Do the cad plated 2600s have a spring that requires less force than the stainless steel version? Im concerned about the force required to lock it in an oil door application where the door and flange are aluminum.
The spring force is not listed in the Camloc information. We have no records of any difference in the spring strength either.