1-877-4SPRUCE
1-877-477-7823
Other Customers
Have Also Viewed:
POLY-FIBER ENAMELS
Make Selection(s) Below To Order
From $27.00 to $183.95





Color:

Size:

 
 
Part Number:
A high gloss, fast drying enamel for use on primed metal or fiberglass. Enamels match all 50 Poly-Fiber, Aerothane, "Poly-Tone" and classic Aero Dope colors. Not for use on fabric.

Applications: Thin 5 parts enamel to 1 part enamel reducer. For best results use over EP420 Epoxy Primer.

Note: Aerothane requires catalyst sold separately.

Important Notice: All mixed paints are special order and are non-returnable.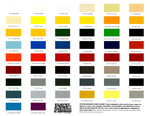 DOWNLOAD THE COLOR CHART
Note:These samples are an approximate computer representation of the actual color and are to be used for reference only.
Click here to download the Poly Fiber Color Chart in pdf.


I am looking for Federal Grey - # 213A and I don't see it on your list of colors. Why is it missing?
It was an oversight by our web site team. We have since added it to the color list in the quart size. Please check the web page.
---

Is there a color chart somewhere so I can see what the color will look like prior to ordering?
Yes, please search our site for part number 09-00234. It will take you to the web page for the no charge Poly-Fiber color chart. On that page, there is a link to download the color chart as well.
---

15-1803 15-804 15-1893 15-208A3 15208A-04 15-2083 15-2084 15-1653 15-1733 15-2153 69.615 15-213A3 15-1404
Enter the quantity desired of each item in the Buy column.
Part Number
Description
Price
09-00681
POLY FIBER ENAMEL HARDENER/GLOSS ADDITIVE
$33.85 Add to cart for current price
Click here
for details