1-877-4-SPRUCE | info@aircraftspruce.com
Aircraft Spruce & Specialty Co.
Corona, CA | Chicago, IL
Wasilla, AK | Peachtree City, GA
Brantford, ON Canada
EVERYTHING FOR PLANES AND PILOTS SINCE 1965 | 877-4-SPRUCE
COMANT VOR/LOC/GS ANTENNA CI-158C-2
Part# 11-06806
MFR Model# CI-158C-2
Overview
Frequency • 108-118 MHz (VOR/LOC)
329-335 MHz (GS)

"V" Dipole VOR/LOC/GS antenna with detachable elements mounts on top of the vertical fin stabilizer offering the four-hole mounting configuration found on many beech aircraft. RF design similar to the CI 157P. Integral ferrite balun provides for higher radiation efficiency. Detachable elements result in a significantly smaller shipping and storage carton than fixed element versions.
Note: Comant Antennas no longer come with a gasket or a template. Must order PN 09-05579 separately.
Not approved for helicopter installations.
Applications
Single engine piston aircraft for applications of this antenna design. Consult your FBO or installation shop for best application information.
Specifications
MODEL CI 158C-2 V- DIPOLE

Electrical

Frequency

108-118 MHz (VOR/ LOC)

329-335 MHz (Glide Slope)

VSWR

3.0:1 108-118 MHz (VOR/ LOC)

3.0:1 329-335 MHZ(Glide Slope)

Polarization

Horizontal

Radiation Pattern

Dipole

Impedance

50 Ohms Nominal

Power

Receive Only

Mechanical

Weight

.35 lb. Maximum

Height

17-5/8 in. Maximum

Material

Derlin Housing/ Stainless Whips

Finish

Black Housing/ Stainless Whips

Connector

BNC

Environmental

Temperature

-55ºC to +85ºC

Altitude

50,000ft.

Air speed

250 Knots TAS @ 25,000 ft

Federal Specifications

RTCA Environmental

DO-160

FAA TSO

C34e, C38e, C40c

RTCA MOPS

DO-192, DO-195, DO-196
Dimensions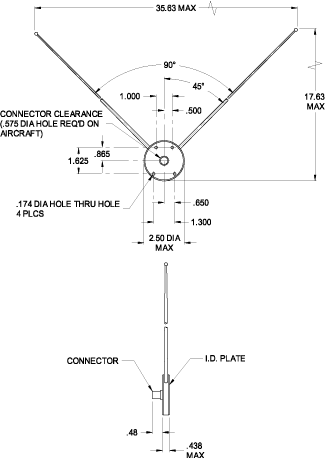 Customers Also Viewed
Frequently Purchased With
Related Items
Q&A
Q: What are the dimensions of the Comant CI-158C-2?
The height is 17-5/8 inches for each rod and the weight is 0.35 lbs.
Q: The description says the elements detatch. How do they detatch? Are they simply threaded? Are replacement elements availabe?
The CI 158C-2 has antenna's which are tapped and threaded for ease of installation and replacement. The replacement parts are not on hand, however they can be special ordered.
Q: What is the difference between the CI158C and the CI158C-2 antennas?
Per Comant: the difference is the CI-158C is made for Cessna type aircraft and has a 2 hole mounting. The CI-158C-2 is made for Beechcraft and has a 4 hole mounting.