The G307 stick grip has four trim switches, a faceplate slotted vertically and horizontally for two-axis trim, a PTT switch and two additional SPDT momentary contact pushbutton switch

The new G307 stick grip features four individual SPDT momentary contact switches to control one or two axis electric trim. The switches are triggered via a traditonal 4-way "hat" type activator. These switches are high quality, 15 amp Honeywell Microswitches specifically chosen for their superior tactile characteristics. The G3 grips are 6.5" (165 mm) tall.

Ray Allen Company modern design stick grips can be wired directly to Ray Allen trim servos. This eliminates the need to wire relays in your trim system. However, if two grips are used, you will need either relays or a switch to transfer the control of trims from one grip to the other. The G1 and G2 series hand grip is made of semi-soft UV and oil resistant foam and the upper switch housing is lightly textured nylon. The G3 series grip is a lightly textured, BASF UV resistant composite. All Ray Allen Stick Grips come as a complete kit including pre-cut and stripped 26 gage Teflon™ wires. RAC grips are designed to fit a 1" stick diameter with spacers included for easy installation on 3/4", 7/8" stick tubes. The G3 grip will also fit over 1 1/8" stick tubes. All RAC grips have insets for labels and come with a customized, die-cut label sheet.





A die-cut label sheet with 50 different labels is supplied with all G3 grips.
The labels are lexan coated for long service life and fit in their own recesses for a professional appearance.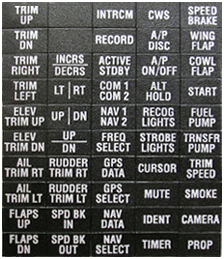 The above label is included
with each G3 grip.