1-877-4-SPRUCE | info@aircraftspruce.com
Aircraft Spruce & Specialty Co.
Corona, CA | Chicago, IL
Wasilla, AK | Peachtree City, GA
Brantford, ON Canada
FREE SHIPPING ON ORDERS OVER $350 (USA ONLY - SOME EXCLUSIONS APPLY) | 877-4-SPRUCE
RAY ALLEN G303 STICK GRIP
Part# 11-02538
MFR Model# G303
Overview
The G303 stick grip has two trim switches, a faceplate slotted vertically for one-axis trim and a PTT switch.

The new G303 stick grip features four individual SPDT momentary contact switches to control one or two axis electric trim. The switches are triggered via a traditonal 4-way "hat" type activator. These switches are high quality, 15 amp Honeywell Microswitches specifically chosen for their superior tactile characteristics. The G3 grips are 6.5" (165 mm) tall.

Ray Allen Company modern design stick grips can be wired directly to Ray Allen trim servos. This eliminates the need to wire relays in your trim system. However, if two grips are used, you will need either relays or a switch to transfer the control of trims from one grip to the other. The G1 and G2 series hand grip is made of semi-soft UV and oil resistant foam and the upper switch housing is lightly textured nylon. The G3 series grip is a lightly textured, BASF UV reisistant composite. All Ray Allen Stick Grips come as a complete kit including pre-cut and stripped 26 gage Teflon™ wires. RAC grips are designed to fit a 1" stick diameter with spacers included for easy installation on 3/4", 7/8" stick tubes. The G3 grip will also fit over 1 1/8" stick tubes. All RAC grips have insets for labels and come with a customized, die-cut label sheet.



A die-cut label sheet with 50 different labels is supplied with all G3 grips.
The labels are lexan coated for long service life and fit in their own recesses for a professional appearance.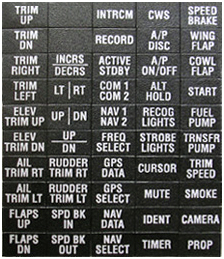 The above label is included
with each G3 grip.
Similar Items
G305
(shown with gray faceplate)
G307
(shown with tan faceplate)
Click Here
Click Here
The G305 stick grip has four trim switches, a faceplate slotted vertically and horizontally for two-axis trim and a PTT switch.

The G307 stick grip has four trim switches, a faceplate slotted vertically and horizontally for two-axis trim, a PTT switch and two additional SPDT momentary contact pushbutton switches.
Customers Also Viewed
Frequently Purchased With
Related Items
Reviews
Only has two switches and will only control one axis of trim. Good quality and easy to install. Instructions are clear.
Michael W
March 22, 2017
Q&A
Please note, Aircraft Spruce's personnel are not certified aircraft mechanics and can only provide general support and ideas, which should not be relied upon or implemented in lieu of consulting an A&P or other qualified technician. Aircraft Spruce assumes no responsibility or liability for any issue or problem which may arise from any repair, modification or other work done from this knowledge base. Any product eligibility information provided here is based on general application guides and we recommend always referring to your specific aircraft parts manual, the parts manufacturer or consulting with a qualified mechanic.