1-877-4-SPRUCE | info@aircraftspruce.com
Aircraft Spruce & Specialty Co.
Corona, CA | Chicago, IL
Wasilla, AK | Peachtree City, GA
Brantford, ON Canada
FREE SHIPPING ON ORDERS OVER $350 (USA ONLY - SOME EXCLUSIONS APPLY) | 877-4-SPRUCE
SAF-AIR OIL DRAIN VALVE M12175
Part# 07-00876
MFR Model# M12175
Overview
LOCK OPEN OIL DRAIN VALVES
Changing hot engine oil has never been easier! With the SAF-AIR oil drain valve, no wrench is needed to remove the drain plug. A simple push and turn of the SAF-AIR valve locks it in the open position. The valve is made completely from anodized aluminum and stainless steel components. These materials are used throughout the aircraft industry due to their strength and durability. FAA & PMA APPROVED.

Product Notes:

NEVER fly the aircraft with the drain hose attached to the oil drain valve.
Make sure that your landing gear will not activate the oil drain valve when you retract the gear inside the fuselage.
Remember, the valve may fit on your engine, but it is your responsibility to make sure that the valve will work with your application.
Download the Application Chart in PDF.

Features
Push and turn to lock open
Effortless operation with a sure-grip knob
Double-sealed to prevent leakage
All valves can be rebuilt
Specifications
MATERIAL: 6061 aluminum and 302 stainless steel
FINISH: Anodized
TEMPERATURE: -60° to +260°F (-51° to +127°C)
O-RINGS: Seal kits available
O-Ring Replacement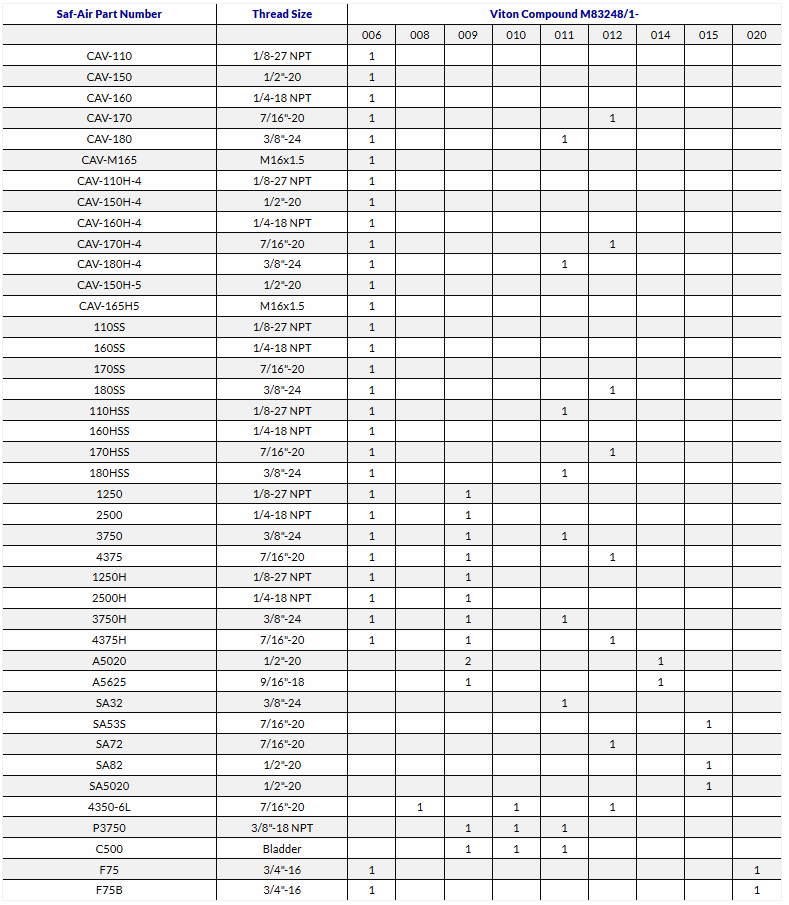 Customers Also Viewed
Frequently Purchased With
Related Items
Reviews
Grea
Steve W
April 2, 2021
Simple, straight forward replacement. Ease of use is beyond compare.
Bart G
April 17, 2020
I installed this valve and the adapter in my Rotax 912 yesterday. They installed easily, as expected.
Jim
March 19, 2020
Should have noted that a spacer was required for newer Rotax oil tanks.
J M
February 11, 2021
Purchased two for my Aircam after reading the application chart provided by ACS. Nothing stating that they do not fit the late model tanks. But if you check the entire accessories listed you will find there is an adaptor required on late models as the baffles have changed. My problem is I dont have roam for the adaptor. Because I was stupid (according to ACS) I cannot return as they have been installed. Only found out they will not work when I tried to drain oil . Lesson learned
Ronald
October 13, 2020
Q&A
Q: Do you have one of these listed models have 1/2 - 20 UNF threads?
Yes, see Part# 05-00986, SAF-AIR S5020J OIL DRAIN VALVE.
Q: Which o rings do I need for 07-00876?
Their chart shows 3 total o-rings. MS28775-009, MS28775-010, and MS28775-011.
Q: What size diameter hose fits on this Saf-Air M12175 to drain oil from engine to a bucket?
This will use a 3/8" ID hose.
Q: Is it OK to mount your M12175 in a horizontal position? What size wrench fits the M12175 and the max diameter?
The M12175 can be mounted horizontally. The valve has a 3/4 inch hex on it.