1-877-4-SPRUCE | info@aircraftspruce.com
Aircraft Spruce & Specialty Co.
Corona, CA | Chicago, IL
Wasilla, AK | Peachtree City, GA
Brantford, ON Canada
EVERYTHING FOR PLANES AND PILOTS SINCE 1965 | 877-4-SPRUCE
FUEL CAP ONLY - VENTED
Part# 05-01058
MFR Model# 3487-2
Overview
A variety of cap neck styles and materials accommodate oil, fuel, hydraulic or water applications. Accessory options let you build the filler assembly you need. Three different strainers (see Similar Items) provide varying degrees of filtration for 300 Series caps and necks to help you maintain clean fluids within your engine system. Special mountings match the type of connections you require.
Drawing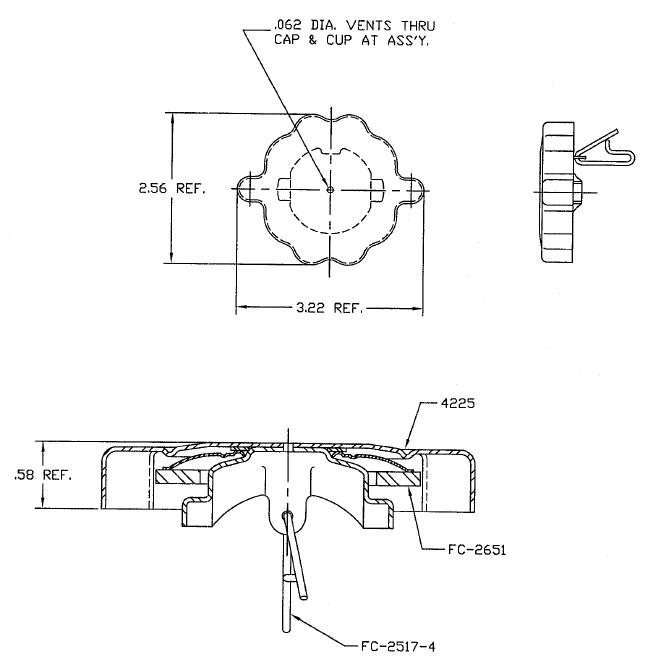 Customers Also Viewed
Frequently Purchased With
Related Items
Reviews
on time with what I ordered.
Jack
March 15, 2020
as Advertised
Michael N
October 7, 2019
The vent means there is a hole drilled in the top.
Hugh J
September 25, 2017
Q&A
Q: What are the dimensions of this fuel cap? I'm trying to determine if it will fit and existing tank & neck. Thanks.
We have added the drawing to the "Drawing" tab of this web page. Please review it there.
Q: What is the diameter of the part that goes inside the tank neck?
1.5" not counting the tabs.
Q: Are these FAA-PMA?
No these do not have certification.