1-877-4-SPRUCE | info@aircraftspruce.com
Aircraft Spruce & Specialty Co.
Corona, CA | Chicago, IL
Wasilla, AK | Peachtree City, GA
Brantford, ON Canada
FREE SHIPPING ON ORDERS OVER $350 (USA ONLY - SOME EXCLUSIONS APPLY) | 877-4-SPRUCE
SAF-AIR DRAIN VALVE 4375 7/16-20
Part# 4375
MFR Model# 4375
Overview
SAF-AIR Products, Inc. has taken its very dependable fuel drain valve and added a new feature – it locks in the open position! This valve makes the operation of the pre-flight check for contamination and water in the fuel system very easy. This valve is so unique that SAF-AIR Products, Inc. received a United States patent on its design. Models 1250 & 1250H are popular choices to install on gascolators. FAA & TSO-C76 APPROVED.
Features
Eight models in two styles, with or without 1/4" hose adapter
All valves can be rebuilt
New feature - it locks in the open position
Standard fuel resistant Viton® o-rings included
Push-to-test, or push-and-turn to lock open
Effortless operation with sure grip knob
Double-sealed to prevent leakage
O-Ring Replacement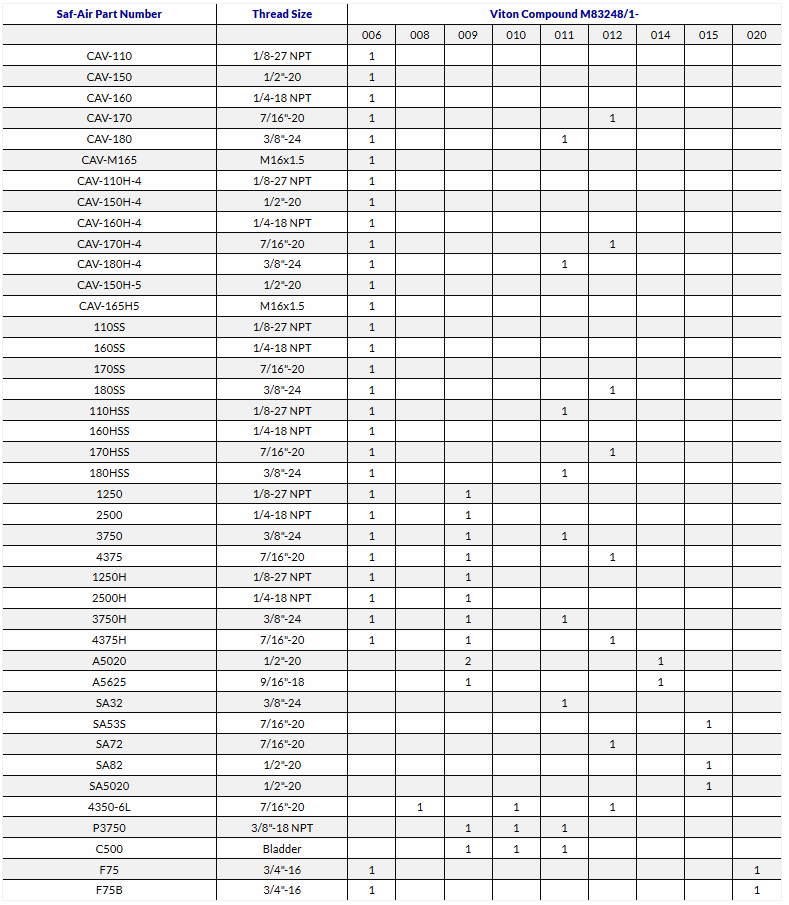 Specifications
MATERIAL: 360 Brass
FINISH: Natural
TEMPERATURE: -60° to +260°F (-51° to +127°C)
O-RINGS: All valves M83248/1 Size -006
PRESSURE: 60 PSI max
Customers Also Viewed
Frequently Purchased With
Related Items
Q&A
Please note, Aircraft Spruce's personnel are not certified aircraft mechanics and can only provide general support and ideas, which should not be relied upon or implemented in lieu of consulting an A&P or other qualified technician. Aircraft Spruce assumes no responsibility or liability for any issue or problem which may arise from any repair, modification or other work done from this knowledge base. Any product eligibility information provided here is based on general application guides and we recommend always referring to your specific aircraft parts manual, the parts manufacturer or consulting with a qualified mechanic.