1-877-4-SPRUCE | info@aircraftspruce.com
Aircraft Spruce & Specialty Co.
Corona, CA | Chicago, IL
Wasilla, AK | Peachtree City, GA
Brantford, ON Canada
FREE SHIPPING ON ORDERS OVER $350 (USA ONLY - SOME EXCLUSIONS APPLY) | 877-4-SPRUCE
AVEO ULTRA DAYLITE™ 3-IN-1 NAVIGATION / POSITION / STROBE LED LIGHTS
Part# 11-15067
MFR Model# AVE-WPSTR/G-65T
Overview
The Ultra Daylite™ is only 34 millimeters in height (1.34 inches), but does not sacrifice performance or standards. With exclusive advanced optics and chrome reflector system, unmatched power and led management circuity, and the lowest-drag profile in the industry. The Ultra Daylite™ gives unmatched power and features, while being lower, narrower, shorter, and lighter than the competition.

For Experimental Use Only.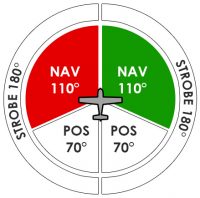 Features
3-in-1 Navigation/Position/Strobe
Lower, narrow, and shorter than other industry lights
Lightweight at 127 grams
9-36 volt DC input range
Unmatched circuit technology
Limited Warranty - Product must be registered within 30 days of purchase Here
Specifications
Dimensions (mm): 100.3 mm x 46 mm x 34 mm

Dimensions (inches): 3.949" x 1.814" x 1.34"
Weight (g): 127 g

Weight (oz): 4.48 oz

Operating Voltage Range: 9 – 36 VDC

Input Current – Position / Nav - green: 0.30A @28V, 0.61A @14V, 0.86A @9V

Input Current – Position / Nav – red: 0.24A @28V, 0.47A @14V, 0.77A @9V

Input Current – Strobe: 1.3A @28V, 2.3A @14V, 2.8A @9V

Output Power – Position / Nav - green: 7.6 W

Output Power – Position / Nav - red: 5.6 W

Output Power – Strobe: 23.4 W (@9-18 VDC)

34.1 W (@18-36 VDC)

Repetition Rate of Strobe: 50 cycles per minute

Ambient Temperature: from -55°C to +85°C

from -67°F to +185°F

Overheat Protection: YES (+85°C)

Recommended size of mounting screw: M4

Reverse Polarity Protection: YES

Transient Voltage: 80V at 2sec max, both polarities

Under-Voltage Protection (lockout): YES (9V)

Over-Voltage Protection (lockout): YES (36V)

Waterproof, Dust-proof, Shock-proof, Vibration-proof: YES

Customers Also Viewed
Frequently Purchased With
Related Items
Reviews
This product was basically a plug and play after removing the strobe power supply. Screws were 1/2 smaller then needed but Ace Hardware 10-24 2 long screws with lock nut did the job. Light is nice and bright. Great replacement on my Mooney. Very pleased.
Nick
October 27, 2020
I bought a pair of Aveo Ultra Aurora 5 years ago. I just loved them, they were bright and just worked great until recently. I was really disappointed and finally resigned myself to take them off my aircraft and send them in to Aveo to see if they could be repaired. Well it turned out that they could not be repaired so they sent a brand-new replacement pair, free of charge! I was so impress with their service, I bought a RedBaronMaxiMini and an Atlas Landing Light on the spot. Great service from Damien, fast turn around. I highly recommend Aveo.
Georges
April 25, 2018
Q&A
Q: Is Part # 11-15067 AVEO ULTRA DAYLITE sold in pairs or individually?
These are priced and sold in pairs.
Q: Do the Aveo Ultra Daylight 3-in-1 lights meet FAA requirements for night flight (in an experimental)?
Per Aveo: Please refer to 14 CFR 91.319.
Q: In the specifications the red and greeen light current requirements are listed separately but the strobe doesnt indicate whether the current draw is for one or both strobes. ie Red + Green + Strobes= 3.38A, or is it Red + Green + Strobes=5.68A??
The strobe input current requirements are per light/strobe, not total for the pair.
Q: How is the Aveo Ultra Daylite 3 in 1 different than the Aveo Ultra Galactica 3 in 1, which one is brighter or what is the output for each in lumens?
The only difference between the two is that the Ultra Galactica is certified and the Ultra Daylite is not. They both share the same specs according to Aveo's data sheets.
Q: Can you sync the Aveo Ultra Daylights to blink at the same time or are they independent?
Per the specsheet from the manufacturer, you can wire the lights to sync with each other.