1-877-4-SPRUCE | info@aircraftspruce.com
Aircraft Spruce & Specialty Co.
Corona, CA | Chicago, IL
Wasilla, AK | Peachtree City, GA
Brantford, ON Canada
FREE SHIPPING ON ORDERS OVER $350 (USA ONLY - SOME EXCLUSIONS APPLY) | 877-4-SPRUCE
AIRCRAFT LED WINGTIP NAV LIGHT 4W-A-1512
Part# 11-11369
MFR Model# BAY15SWCS-4W-A-1512
Overview
Note: For Experimental aircraft use only. Not FAA/PMA Approved.

NavStrobe Aircraft Wingtip Nav Light 4W-A-1512

Rapco Equivalent: 1512,7079B-12,7512-12

Emitter Type: SMD 5050
Total Emitters: 13
Power: 4W
Color BIN: White
Rated Voltage: 8-28VDC
Draws <400ma @ 14.2VDC
Luminous Flux: 1310LM (0 degrees), 520LM (90 degrees)
Color Temperature: 6000~6500K
2 modes: constant & fast strobe
Base Type: BAY15s = Single contact with single pin. (A-1512)
Application: Wingtip Navigation Light replacement.
Contains 1 light bulb per pack
Dimensions: 1.73 in x 0.60 in (4.4 cm x 1.5 cm)
Weight: 0.32 oz (9 g)

Turn on first: Constant lighting / Turn on second time <3s: Fast Strobe. Switch between modes in fog/cloud etc

Application Info:
NavStrobe Wingtip Bulbs: Will replace the following commonly installed bulbs: W1290-14, W1290-28, T7572-12V, T7572-24V, or any BAY15S base lamp. See "Dimensional Drawing" tab to confirm dimensions will work with currently installed bulb on your aircraft.
Dimensional Drawing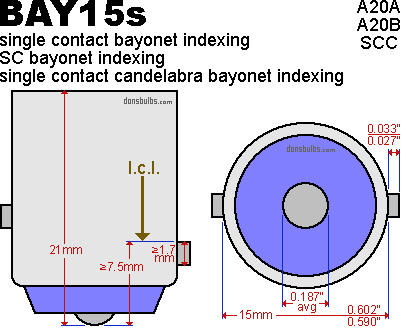 Videos
Customers Also Viewed
Frequently Purchased With
Related Items
Reviews
1- Too short for my plane. 2- When I turn them on, one flashes and the other one does not. NOT ACCEPTABLE. Anyway, nav. lights should NEVER flash.
Pierre C
September 29, 2018
Look very cool, much cheaper than the side reflector bulbs for wing tips, quite bright. Cause RF interference in all modes (strobe or steady). They are a tad short for my wingtip lights. Should have bought the 3 led row model, not this 2 row one, but that is my fault for being over-cautious on whether they would fit!
Rob S
December 21, 2016
Bad RF interference. Will have to remove and try something different.
Brendan W
December 9, 2019
Q&A
Please note, Aircraft Spruce's personnel are not certified aircraft mechanics and can only provide general support and ideas, which should not be relied upon or implemented in lieu of consulting an A&P or other qualified technician. Aircraft Spruce assumes no responsibility or liability for any issue or problem which may arise from any repair, modification or other work done from this knowledge base. Any product eligibility information provided here is based on general application guides and we recommend always referring to your specific aircraft parts manual, the parts manufacturer or consulting with a qualified mechanic.
Q: How do you switch between steady and flash mode? Do these just plug in to existing sockets?
You got it. They install in to the current socket, and when turned on they stay constant on, then if the navlight switch is turned off and on again, the bulbs will strobe.
Q: Will the Aircraft LED wingtip Nav light fit as replacement bulbs in a set of Aeroflash nav/strobe combo units on a Cessna 172?
The Aircraft LED wingtip Nav Lights are for Experimental aircraft use only. They are not FAA/PMA approved.