1-877-4-SPRUCE | info@aircraftspruce.com
Aircraft Spruce & Specialty Co.
Corona, CA | Chicago, IL
Wasilla, AK | Peachtree City, GA
Brantford, ON Canada
EVERYTHING FOR PLANES AND PILOTS SINCE 1965 | 877-4-SPRUCE
AIRCRAFT LED WINGTIP NAV LIGHT 5W-A-1512
Part# 11-11374
MFR Model# 5W-A-1512
Overview
Note: For Experimental aircraft use only. Not FAA/PMA Approved.

NavStrobe Aircraft Wingtip Nav Light 5W-A-1512

Rapco Equivalent: 1512,1524,7079B-12,7079B-24,7512-12,7512-24

Emitter Type: SMD 5050
Total Emitters: 27
Power: 5W
Color BIN: White
Rated Voltage: 8-30VDC
Draws <400ma @ 14.2VDC
Luminous Flux: 3060LM (0 degrees), 745LM (90 degrees)
Color Temperature: 6000~6500K
2 modes: constant & fast strobe
Base Type: BAY15s = Single contact with offset pins. (A-1512)
Application: Wintip Navigation Light replacement.
Contains 1 light bulb per pack
Dimensions: 1.9 in x 0.7 in (49.0 mm x 1.8 cm)
Weight: 0.32 oz (9 g)

Turn on first: Constant lighting / Turn on second time <3s: Fast Strobe. Switch between modes in fog/cloud etc

Application Info:
NavStrobe Wingtip Bulbs: Will replace the following commonly installed bulbs: W1290-14, W1290-28, T7572-12V, T7572-24V, or any BAY15S base lamp. See "Dimensional Drawing" tab to confirm dimensions will work with currently installed bulb on your aircraft.
Dimensional Drawing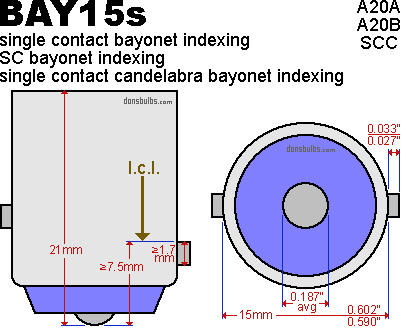 Videos
Customers Also Viewed
Frequently Purchased With
Related Items
Reviews
Very bright, like the strobe mode, work as advertised
Brad
December 7, 2018
Very bright strobe / Nav light. Low amp draw to alternator. Great product.
Eric E
October 25, 2018
they work great. very bright.
Hank
May 23, 2017
These are at least 50% brighter than the standard Grimes 14v Nav lights and they are a whiter light also. Durability to be determined. I think they rock. The strobe model is great too. It may give you anti collision light capability if your regular beacon burns out you can switch to the strobe mode on this model. Basically a back up anti collision capability. Beats the heck out of paying $1200 for a set of LED fixtures and they fit a standard Grimes Nav light fixture.
Kurt E
October 5, 2013
Works as advertised
Michael G
November 18, 2019
Everyone should keep in mind that flashing nav lights are NOT legal (homebuilt or cert.) The nav lights should be solid on steady.
Rme
October 8, 2017
A little more pricey than some led nav lights but very easy to install. The strobe function doesnt always work. Once they get warmed up I cant get the strobe function to work at all.
Michael R
August 25, 2017
When in strobe mode, they create a high level of RF interference which the COM and NAV radios pick up. If you are talking to ATC, you will not be able to hear them when the LED is in strobe mode. The frequency that is most affected is above 120.00 MHz. It seems that at 119.9 and below, the interference is far less. Operationally, they are bright and easily fit in my standard NAV light mounts. The strobe mode is very effective.
Sam L
April 10, 2016
I installed in a Cessa wingtip and look great,they cause static on aircraft radio when on
Ed
November 29, 2014
Very bright but causes so much static on 2 X KX-155 had to remove. Spent considerable $$ on vendors recommended fix but in the end went for another brand as the static was never resolved.
Mark
December 12, 2019
Q&A
Q: Are these PMA'd or TSO'd?
No, at this time these are not FAA Approved for use in certified aircraft. A 337 field approval would be necessary for installation.
Q: What other item do I need to install this strobe light in the wing tip?
Please note that this is just a replacement bulb, not a strobe system. It is a direct plug-n-play replacement for the original Grimes A-1512 bulb, and therefore no other item is required to replace it.
Q: You displayed the dimensions of the metal base. I need the diameter and length of the bulb. Do you have it?
Yes, the length is approximately 1-15/16 inches from bottom of base to tip of bulb. The diameter of the bulb is approximately 3/4".