1-877-4-SPRUCE | info@aircraftspruce.com
Aircraft Spruce & Specialty Co.
Corona, CA | Chicago, IL
Wasilla, AK | Peachtree City, GA
Brantford, ON Canada
FREE SHIPPING ON ORDERS OVER $350 (USA ONLY - SOME EXCLUSIONS APPLY) | 877-4-SPRUCE
NAVSTROBE AIRCRAFT LED TAILFIN NAVIGATION LIGHT 4W-1156
Part# 11-11371
MFR Model# 4W-1156
Overview
Note: For Experimental aircraft use only. Not FAA/PMA Approved.

GE Equivalent: 305,307,309,311,1665,1680,1691,1777,1982

00 Emitter Type: SMD 5050
Total Emitters: 13
Power: 4W
Color BIN: White
Rated Voltage: 10-15VDC
Draws 117ma @ 14.2VDC
Luminous Flux: 216LM (0 degrees), 92LM (90 degrees)
Color Temperature: 6000~6500K
2 modes: constant & fast strobe
Base Type: BA15s = Single contact with inline pins. (GE1691 & 1156)
Application: Tailfin Navigation Light replacement.
Contains 1 light bulb per pack
Dimensions: 1.73 in x 0.60 in (4.4 cm x 1.5 cm)
Weight: 0.32 oz (9 g)

Turn on first: Constant lighting / Turn on second time <3s: Fast Strobe. Switch between modes in fog/cloud etc

Application Info:
NavStrobe Tailfin Bulbs: Will replace the following commonly installed bulbs: A7079B-12, A7079B-24, or any BA15S base lamp. See "Dimensional Drawing" tab to confirm dimensions will work with currently installed bulb on your aircraft.
Dimensional Drawing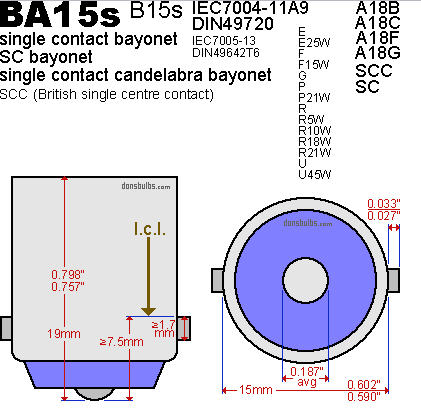 Videos
Customers Also Viewed
Frequently Purchased With
Related Items
Reviews
This works ok as long as your grounds are all cleaned up. The more LED bulbs that I put on my plane, the more my Garmin comm starts to freak out. I noticed its on the borderline of squelching and as soon as you turn off an LED or two, it goes back to being crystal clear.
Jake F
August 7, 2017
Nice idea but useless for aviation because of the rf spurious the led produces which opens the squelch of your comm equipment. The bulb attachment to the housing is very fragile and needed resoldering..
Verroen
December 6, 2019
Q&A
Q: What is the total length of this bulb, Tailfin 4W-1156 part # 11-11371?
Approximately 1-1/2 inches.
Q: Can these bulbs be used on a certified aircraft since they are experimental?
No, these are intended for Experimental aircraft use only. Not FAA/PMA Approved.